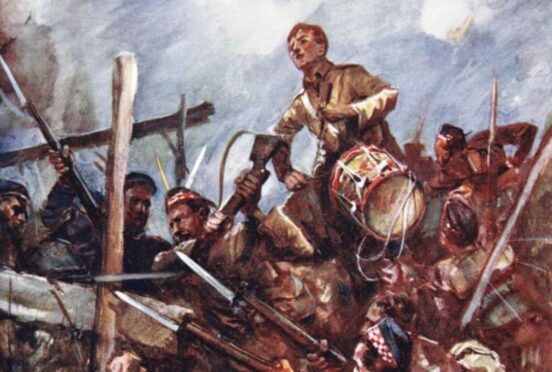 A war hero, who won the Victoria Cross after sounding the charge on his bugle amid the carnage of the Somme, was so timid as a child he would let his sister fight bullies for him, a forgotten Sunday Post interview has revealed.
Walter Ritchie, a 24-year-old drummer from Glasgow, entered the annals of British military legend when he mounted the parapet of a trench to rally his comrades under heavy fire on July 1, 1916.
Historian Richard Pursehouse has discovered forgotten details of Ritchie's life and an interview with his proud mum and dad in The Sunday Post from the time.
Ritchie was shy about his military heroism and very timid as a child, so much so that his sister had to defend him from playground bullies, according to Pursehouse.
He said: "I have started researching a book on Victoria Cross recipients who were musicians in the Great War.
"I came across details of Ritchie's story in a newspaper archive. I loved the article from The Sunday Post where his family said he was so timid that he used to get his sister to fight for him.
"Those kind of details bring the hero to life and show that these men were human beings."
The news comes as Ritchie's medal will go up for auction on Thursday at Spink and Son with a guide price of up to £280,000.
The Battle of the Somme was one of the biggest offensives of the First World War. On the opening day of the attack, July 1, 1916, the Army suffered more than 50,000 casualties, including 19,240 killed.
It remains the bloodiest day in the history of the British Army. The offensive finally stalled in mid-November after a brutal five-month struggle which failed to secure a major breakthrough.
Ritchie was also recognised for his repeated delivery of messages under fire and his "initiative". He had smuggled the bugle into the line of fire, against orders.
Ritchie rose to become a drum major before leaving the army in 1929. He returned to serve briefly in the Second World War before being discharged owing to ill health and died in 1965. His other medals are also on sale.
A story in The Sunday Post from September 1916 details his parents' pride. At the time, Mrs Ritchie said: "I can hardly realise that he has won the Victoria Cross. For today I seem to recall him just as a wee boy of eight or nine years of age.
"Then he used to get his sister to fight for him, or at least, to stick up for him, he was so timid."
Ritchie was wounded in the First Battle of Ypres in 1914. A bullet hit his forehead and he almost lost the sight in his right eye.
Due to his injury, he then had to fire his rifle from his left shoulder.
His mother added: "It's only a month or two since he was home but he scarcely spoke of anything that happened at the front.
"It was so difficult to drag it out of him that at last we just desisted entirely from questioning him.
"He liked best of all when we talked about his chums and old friends."
Ritchie's citation for the VC reads: "For most conspicuous bravery and resource, when on his own initiative, he stood on the parapet of an enemy trench, and, under heavy machine-gun fire and bomb attacks, repeatedly sounded the charge thereby rallying many men of various units who, having lost their leaders were wavering and beginning to retire.
"This action showed the highest type of courage and personal initiative. Throughout the day Drummer Ritchie carried messages over fire-swept ground, showing the greatest devotion to duty."
Pursehouse, who wrote the book Prisoners on Cannock Chase, said: "It is such an honour to find out more about these soldiers. I had a laugh when I read about how he used to get his sister to fight for him – I have a younger sister so that took me back.
"These details bring them alive as human beings that we can relate to rather than superheroes. Mr Ritchie was undoubtedly a brave man.
"He was also Mentioned in Dispatches, awarded the Mons Star – the bar across the ribbon states August-November 1914 which means he was on active overseas service before November.
"These people are ordinary guys and then something clicks and they do something extraordinary on the battlefield."
Marcus Budgen, head of the medal department at London auctioneers Spink, said: "The VC awarded to Drummer Ritchie is of huge historical significance. His bravery and disregard for his own safety inspired his comrades and undoubtedly saved the day for his battalion, on the most costly day for the British Army in history.
"Armed only with his trusty bugle, he exposed himself to the Germans and drew the enemy fire away from his comrades and sounded the rallying charge. This gallant Scot deserves his place as one of the heroes of the Great War and we have high hopes for the auction."
The interview
A news report in The Sunday Post on September 10, 1916, headlined "Glasgow Drummer Wins the V.C." detailed the Seaforth Highlander's "unparalleled deed of bravery".
The article tells how a journalist spoke to Drummer Ritchie's friends and his mother at the family home.
A friend is quoted: "If ever a fellow made a name for himself Wattie Ritchie has. Wattie's gallant deed is said to have moved all who were connected with that part of the line.
"Wattie is the hero of the hour and the officers can't do enough for him."
Ritchie's mother, "her face illumined with motherly pride", said: "He never told me anything about it. His comrade wrote to me and never said a truer word than that 'he knew Wattie would not write himself about it'."
Another report in The Courier, published the following day also recorded his heroics dubbing him "A Young Hero In The Big Push".
It read: "Mr and Mrs Ritchie, of Port Dundas Road, Glasgow, received an official telegram on Saturday afternoon informing them that their son, Drummer Walter Potter Ritchie, of the Seaforth Highlanders, has been awarded the Victoria Cross for "most conspicuous bravery" during the "big push" on the Somme in July, when he rallied the troops under heavy fire and sounded the call of "charge," which resulted in the winning of a trench aimed at.
"This young hero, who has also been awarded the French Croix de Guerre, is about 26 years of age, and has been in the army for eight years.
"He came through the Mons retreat unscathed but was injured at the first battle at Ypres. For two years after leaving school the drummer was apprenticed to a blacksmith, but he had a liking for the Army, and joined the Seaforths.
"When his proud father and mother received the telegram the former remarked 'He is a brave lad'."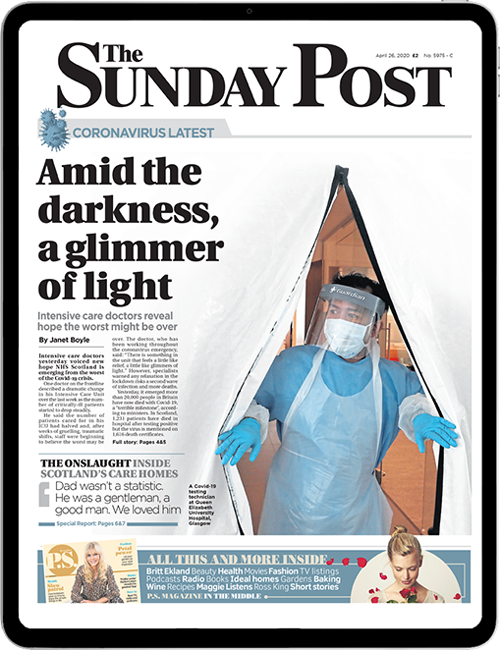 Enjoy the convenience of having The Sunday Post delivered as a digital ePaper straight to your smartphone, tablet or computer.
Subscribe for only £5.49 a month and enjoy all the benefits of the printed paper as a digital replica.
Subscribe