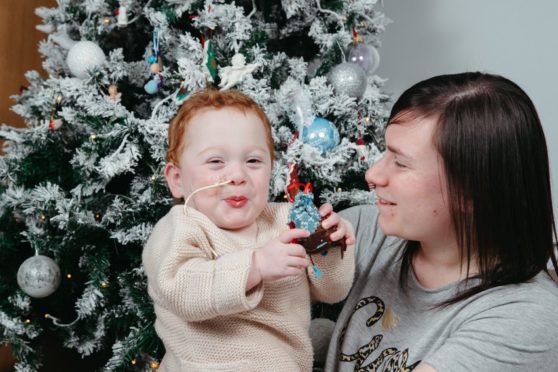 That look of excitement on a child's face on Christmas morning as they open the door to reveal presents from Santa is a truly magical moment.
And this year, Emily McKenzie will experience it for the first time. The two-year-old weighed just 1lb when she was born three-and-a-half months premature in November 2018 – and was so small she fitted into the palm of a hand.
Emily spent her first two Christmases in hospital. But, on Friday, she will be home and will celebrate Christmas Day with her family for the first time in her life.
"It's the best present we could ask for," said mum Kirsty. "We can't wait to wake up with Emily this Christmas. It will definitely be an extra-special Christmas for us this year."
Emily faced a fight for survival from the moment she was born, just 26 weeks into pregnancy. And her early arrival meant she needed round-the-clock care, first at Simpsons Neonatal Unit, in Edinburgh, then at the city's Royal Hospital for Sick Children for her first year of life.
Kirsty, 27, had realised something was wrong in the second trimester of pregnancy when she began bleeding. "I had a hematoma," said Kirsty. "Which is basically a huge blood clot near the placenta."
Sadly, Kirsty and partner Stephen had lost son Max to stillbirth at 25 weeks pregnant just the year before. "This time, we held off telling anyone we were pregnant until a bit later, just to be sure everything was OK."
The constant bleeding meant regular trips to hospital to ensure the baby was healthy. But, at 22 weeks, Kirsty's waters broke. She recalled: "A scan revealed there were no waters left for the baby. We went home knowing it would go one of two ways.
"I would either lose the baby like I did with Max or it would be born early and we would have to cross our fingers everything would be OK. It was a scary time."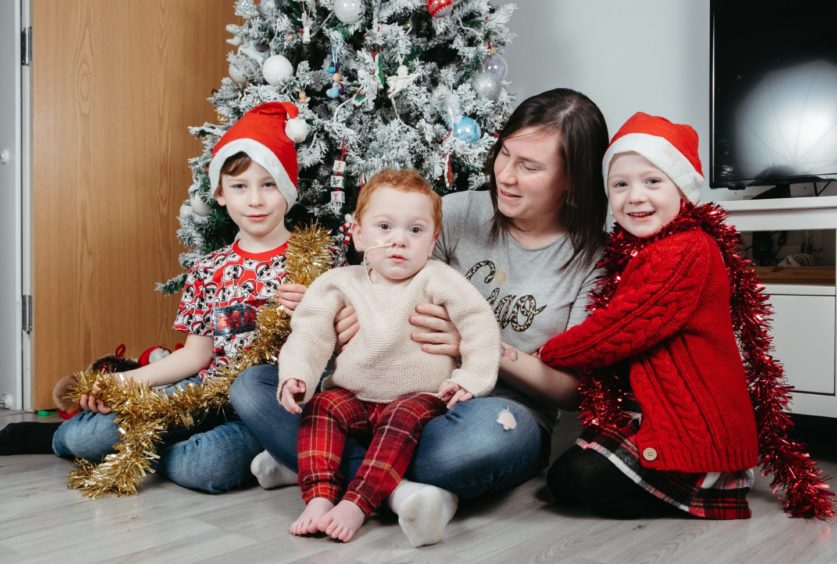 Four weeks later, little Emily arrived by caesarean section. She needed help with her breathing and was placed on a ventilator. She also experienced problems with her bowels and needed to be fed through a central line.
Hospital became her full-time home for the next 13 months, which placed a huge strain on the family, including siblings Kody, aged seven, and five-year-old Kayla.
"Emily was tiny," said Kirsty. "It was hard to believe she had made it, but we were delighted. With two children at home, spending such a long time in hospital was always hard.
"For that first year I would drop the kids off at school and nursery and go straight to the hospital and sit with Emily until it was time to pick them back up again. Then, when Kody and Kayla were tucked up in bed, I would go back to the hospital again."
The former dementia support worker added: "The first year, she was just a baby and needed so much support, and it was the best place she could be. But last year, saying goodbye on Christmas Eve was hard.
"The staff are amazing and made sure they spent time with Emily when I couldn't, which makes a world of difference. We did get to bring her home for a short time on Christmas Day, but then had to drop her back on the ward.
"Around that time, Stephen and I were being trained on the equipment we would need to bring Emily home for good. And I think knowing that day was near helped take the edge off it a little."
Now Emily is thriving at home in Edinburgh. "2020 has been a tough year, but Emily's best one so far," said Kirsty. "She's started walking, and she's just like a typical two-year-old, full of beans. She's just amazing. She just surprises us every day. We have so much to be thankful for this year."
---
The charity
Kirsty and her family say projects funded by the Edinburgh Children's Hospital Charity greatly improved Emily's lengthy stay in hospital and meant she didn't miss out at Christmas.
Victoria Buchanan, from ECHC, said: "After such a difficult year, ECHC needs help now. Every year, ECHC makes Christmas magical for children in hospital by creating a living advent calendar around the wards with a new surprise behind each door. It's going to be a little different this year, but we are determined to make this the biggest and best Christmas yet, with everything from a real ballerina to festive magic sessions and silent discos around the wards!
"We also fund the parents' accommodation so families can stay close to their children at Christmas, the hospital play team and Christmas gifts. We rely solely on donations in order to do this. Please help by making a donation to ECHC this Christmas. You could give a child in hospital their Christmas back."
Donate at echcharity.org/christmas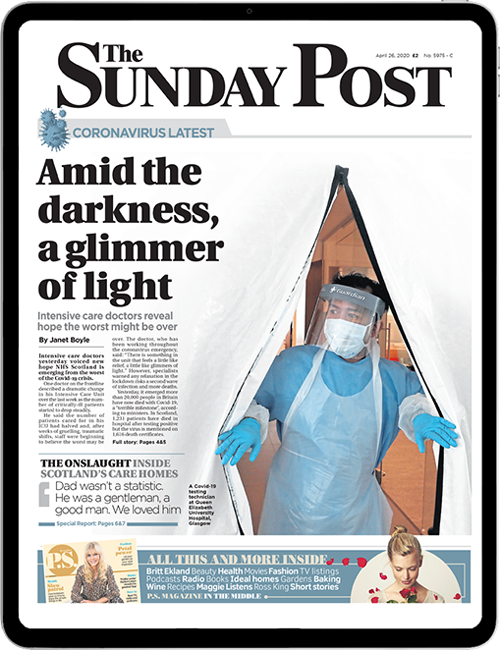 Enjoy the convenience of having The Sunday Post delivered as a digital ePaper straight to your smartphone, tablet or computer.
Subscribe for only £5.49 a month and enjoy all the benefits of the printed paper as a digital replica.
Subscribe