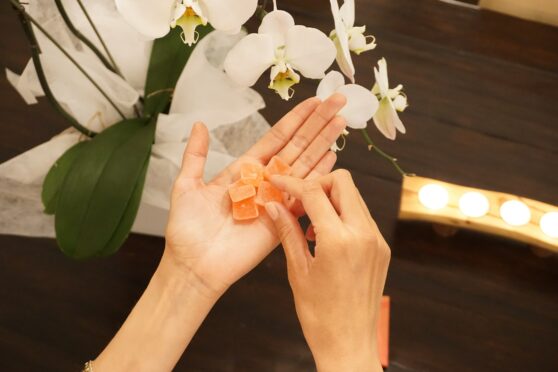 Using CBD oil to supplement wellness routines has become a massive trend in the UK since the legalisation of quality products containing hemp cannabis plant compounds. As a result, the array of hemp extracts infused into CBD oils, topicals, and vape liquids has grown significantly in the UK market, with the most popular being CBD gummies.
Some Sunday Post online content is funded by outside parties. The revenue from this helps to sustain our independent news gathering. You will always know if you are reading paid-for material as it will be clearly labelled as "Partnership" on the site and on social media channels,

This can take two different forms.

"Presented by"

This means the content has been paid for and produced by the named advertiser.

"In partnership with"

This means the content has been paid for and approved by the named advertiser but written and edited by our own commercial content team.

---
But with the many promoting claims of the self-care benefits of CBD without actually using quality ingredients that are safe or effective, it can be tricky to know which CBD gummy UK brands to trust.
To help CBD users looking for a convenient, delicious, and fun way to try CBD, online-based health & wellness store, Supplements4U, have put together this list of some of the best CBD gummies in the UK right now.
How we created this list
Our research to create this list of the best CBD gummies in the UK took into account the many important factors that all food supplements should adhere to, including:
Legal compliance: UK law regulates the amount of tetrahydrocannabinol (THC) in CBD products. All of the brands on our list meet these compliance standards in addition to others set by the Food Safety Administration (FSA), such as having a valid Novel Food application.
Manufacturing process: No product can be considered safe to use unless it meets good manufacturing practices (GMP) during its production. This includes sourcing quality ingredients, informational packaging, and third-party lab testing to verify product potency and safety.
Hemp quality: To ensure that the hemp extract used in any CBD gummy bear is of the highest quality, it should be certified organic, non-GMO, and cultivated in nutrient-rich soil without herbicides or pesticides.
By verifying these factors, along with third party customer reviews, CBD brand reputation, and our personal experiences with each product, we created this list of a few of the best CBD gummies UK brands have to offer.
Uncover the top 7 CBD gummies in the UK for 2023
It is hard to find a CBD brand with more commitment to quality, transparency, and customer service than Blessed CBD. Offering award-winning CBD oil formulas infused into products that include CBD creams, CBD capsules, and CBD oil tinctures, Blessed CBD is undoubtedly one of the best places to buy CBD gummies online.
The company uses a potent and pure CBD isolate containing zero THC in its CBD edibles. This ensures that those worried about psychoactive effects from trace amounts of THC or those needing to pass a drug test can consume these delicious fruit-flavoured treats without any side effects on their cognitive state or current employment.
Each delicious gummy contains an amount of CBD equal to 25mg. Blended with natural fruit juices and carrier oils that enhance the absorption of CBD, Blessed CBD's gummies are a fantastic way to easily obtain a potent daily dose of cannabidiol that will stay in the body for several hours.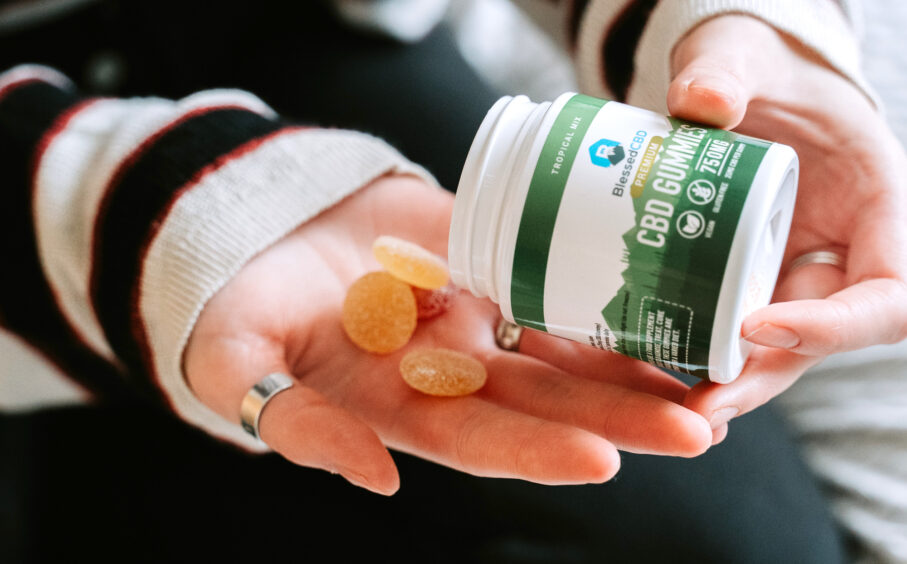 Blessed CBD is able to commit to such a high level of quality thanks to its vertically integrated production process. By having control over each step of the journey from seed to sale, Blessed CBD is able to confirm that only the finest ingredients are used in its CBD oil gummies and all other products.
You don't have to look hard at Vibes CBD's website to understand why the CBD company is a favourite among UK cannabidiol users. The website is easy to navigate, and it is clear that much care and attention has gone into the products available for purchase. Reviews in the likes of Reader's Digest, Forbes and Men's Journal – Vibes CBD is a very affordable brand suitable for beginners and seasoned users.
Vibes CBD gummies are made with all-natural flavours, colours, and ingredients. Each gummy contains 25mg of CBD isolate free from the earthy taste of hemp thanks to the delicious citrus flavour.
Sourcing its hemp oil extracts from farms in Colorado, USA, CBD users can be sure they are getting an organic, non-GMO product that contains no harsh chemicals or other nasty surprises. The bite-sized gummies from Vibes CBD are packaged in compact metal tins that preserve freshness, ensure discretion, and are easy to grab and go.
Vibes CBD gummies are popular among those who need to take their cannabidiol while on the move or at work, as they provide a delicious, mess-free, and effective way of consuming cannabidiol discreetly. The tins are also easy to store in a handbag, backpack, or desk drawer, making them ideal for those who need their CBD fix at a moment's notice.
The Good Level uses a unique approach to solvent-free extraction methods to create potent CBD hemp products. Instead of the standard CO2 extraction process used by many top brands, this CBD company chooses a cold-pressed olive oil extraction method. Offering the same preservation of beneficial phytocannabinoids and terpenes as the CO2 method, this unique process allows The Good Level to create CBD edibles that are gentle on the stomach while still being incredibly effective.
The Good Level CBD gummies are made with a full spectrum of hemp plant compounds, so CBD users have a better chance of experiencing the entourage effect for maximised stimulation of endocannabinoid receptors throughout the body. CBD gummy bears are available from the company in sugar-free and vegan-friendly formulas containing 10mg of CBD per piece.
While many CBD companies rely on the industry-standard CO2 extraction method, The Good Level has chosen a different route that allows it to create gentle and effective CBD edibles. Thanks to the use of full-spectrum CBD oil, these gummies are also more likely to produce the entourage effect for an enhanced experience.
CBDistillery maintains a high level of quality control standards approved by agencies such as the Hemp Authority and the National Hemp Association. These standards can all be easily verified in the easily accessible third-party lab reports on the company's website.
The high-quality standards for extraction and manufacturing are evident in the CBD brand's CBD isolate gummies. Containing 25mg of CBD per delicious fruity bite, these gummies offer CBD users in the UK market a safe and effective supplement that has been medically reviewed by the company's in-house team of medical professionals.
The commitment to quality and safety evident in CBDistillery's isolate gummies is unmatched in the UK CBD industry. With medical professionals on staff and extensive third-party lab testing, users can be sure they are getting a potent and safe product when they purchase from this company.
This award-winning company has some of the highest quality CBD products that can be found online as well as many UK retailers such as Boots and Holland & Barrett. The form of CBD used in each of its all-natural, high-quality CBD products varies depending on product type but is always derived from organically grown industrial hemp.
The gluten-free, vegan CBD gummies from Love Hemp are THC-free and made using organic and natural ingredients that enhance absorption and offer a delicious taste. Love Hemp wants each customer to have the best possible experience, which is why the company offers two concentrations of CBD oil in its edibles. The low-dose formula for beginners or those sensitive to CBD is packaged in 10-count pouches with 5mg of CBD in each delicious treat. The high-dose formula is packaged in 30-count tubs with 20mg of CBD per bite.
The CBD gummies from Love Hemp are an excellent option for experienced and first-time CBD users looking to get the most from their supplement. The company's commitment to quality customer satisfaction is evident in its use of organic and natural ingredients, as well as its two different concentration levels that offer users a choice in how much CBD they want to consume.
This CBD brand knows how hard the day after a big night out can be and formulates its CBD products to supplement the side effects of the dreaded hangover. The company's CBD gummies are made with broad-spectrum CBD oil blended with vitamins and minerals to support recovery in the most gentle way possible.
CBD gummies from Sunday Scaries come in many forms to match customer preference, with the most popular being its 10mg gummy bears packaged in 20-count containers. Those needing some hard-core recovery options can opt for the brand's maximum strength CBD gummies containing 25 mg of CBD per piece. The brand also carries gummies in the form of rainbow bites and jelly drops for those wanting to add a bit of fun to their supplement routine.
Those looking for a variety of delicious CBD sweets will love the range of options available at Excite CBD. The company infuses its organic broad-spectrum CBD oil into many soft chews that include jelly domes, gummy bears, peach rings, and Coca-Cola-shaped bottles.
Concentrations of CBD vary from 300mg to 750mg per container. No matter which is chosen, UK customers will surely enjoy the natural fruity flavours, range of cannabinoids, and dietary benefits of each product.
The Excite CBD gummies are an excellent choice for those wanting to enjoy the benefits of CBD gummies and cannabidiol in a delicious and fun way. The company's range of products offers something for everyone, with flavours, shapes, and concentrations sure to please even the pickiest of customers.
Get the best CBD gummies
Getting the best CBD oil gummies means choosing a company that produces high-quality, all-natural products from organically grown industrial hemp. The brands on our list use CBD oil in their gummies that is free of contaminants and tested for quality and potency to ensure a consistent and enjoyable experience with each bite.
NutraHolistics, an esteemed health and wellness supplement provider in the Netherlands, presents this thorough buyer's guide. Each product has been carefully evaluated by Nathalia Hoedjes, who shares her honest personal experiences. Be informed that NutraHolistics may obtain a commission for products purchased via this guide, presently or at a later date. It's crucial to speak with your physician or a healthcare professional before using CBD if you have any doubts or questions.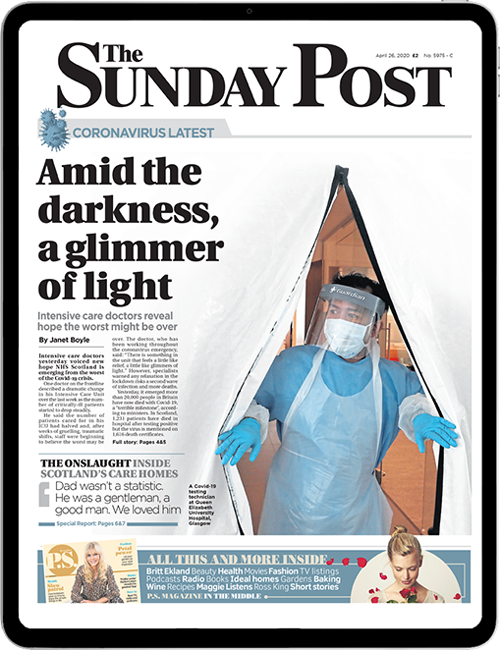 Enjoy the convenience of having The Sunday Post delivered as a digital ePaper straight to your smartphone, tablet or computer.
Subscribe for only £5.49 a month and enjoy all the benefits of the printed paper as a digital replica.
Subscribe