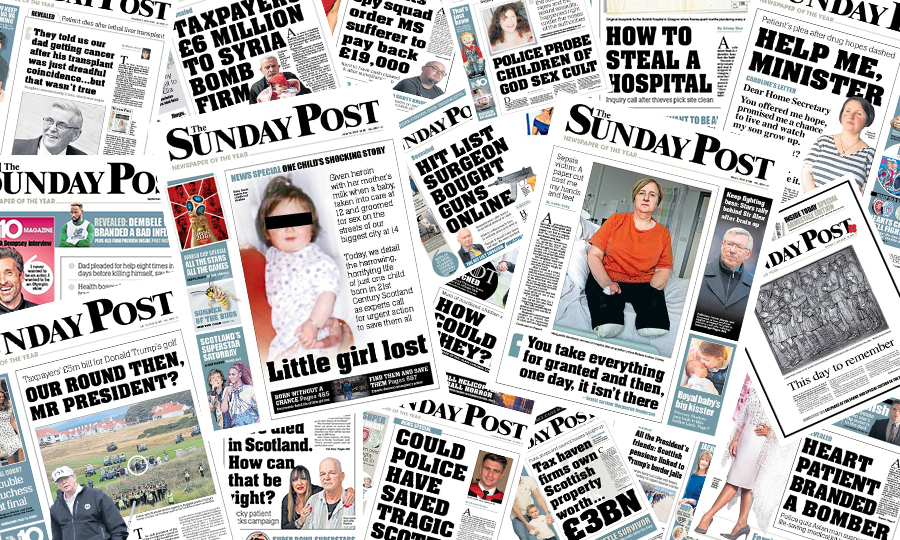 THROUGHOUT 2018, Scotland's Newspaper of the Year has been bringing you hard-hitting, agenda setting stories.
Whether it's our recent investigations into the tragic death of Scott Calder and the patients who received lethal organ transplants or revealing the harrowing lives of Scotland's lost children, The Sunday Post has reported on the big stories every weekend.
Here's a look back on some of our 2018 front pages.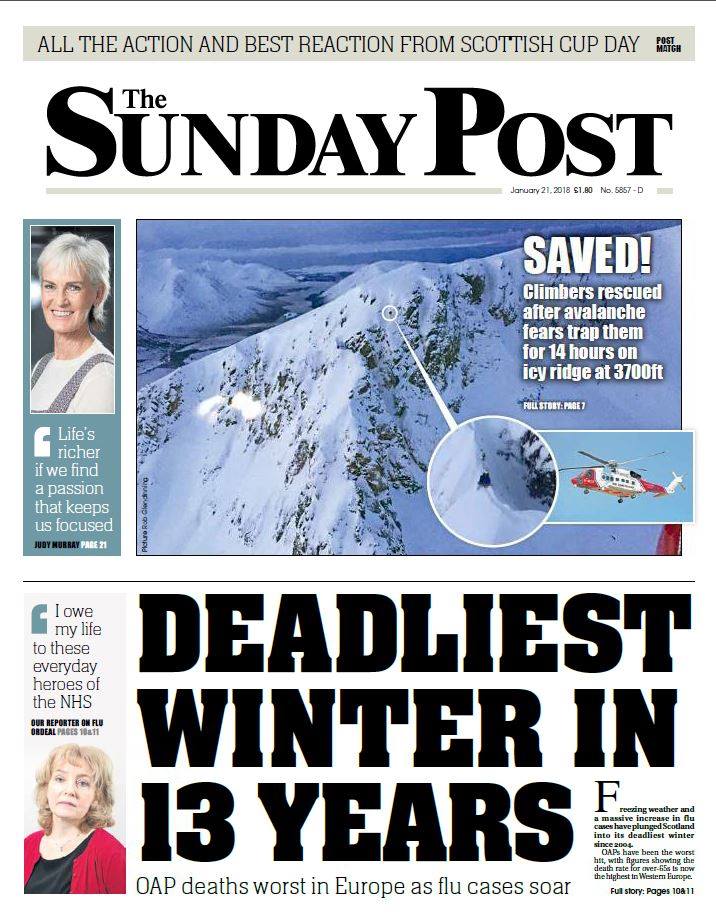 A bitterly cold winter – which would include the Beast from the East later in the year –  saw figures reveal that Scotland's death rate for over-65s is now the highest in western and southern Europe.
Our own reporter Janet Boyle also shared her story of being struck down by a vicious dose of the flu, and owing her life to the everyday heroes in the NHS.
---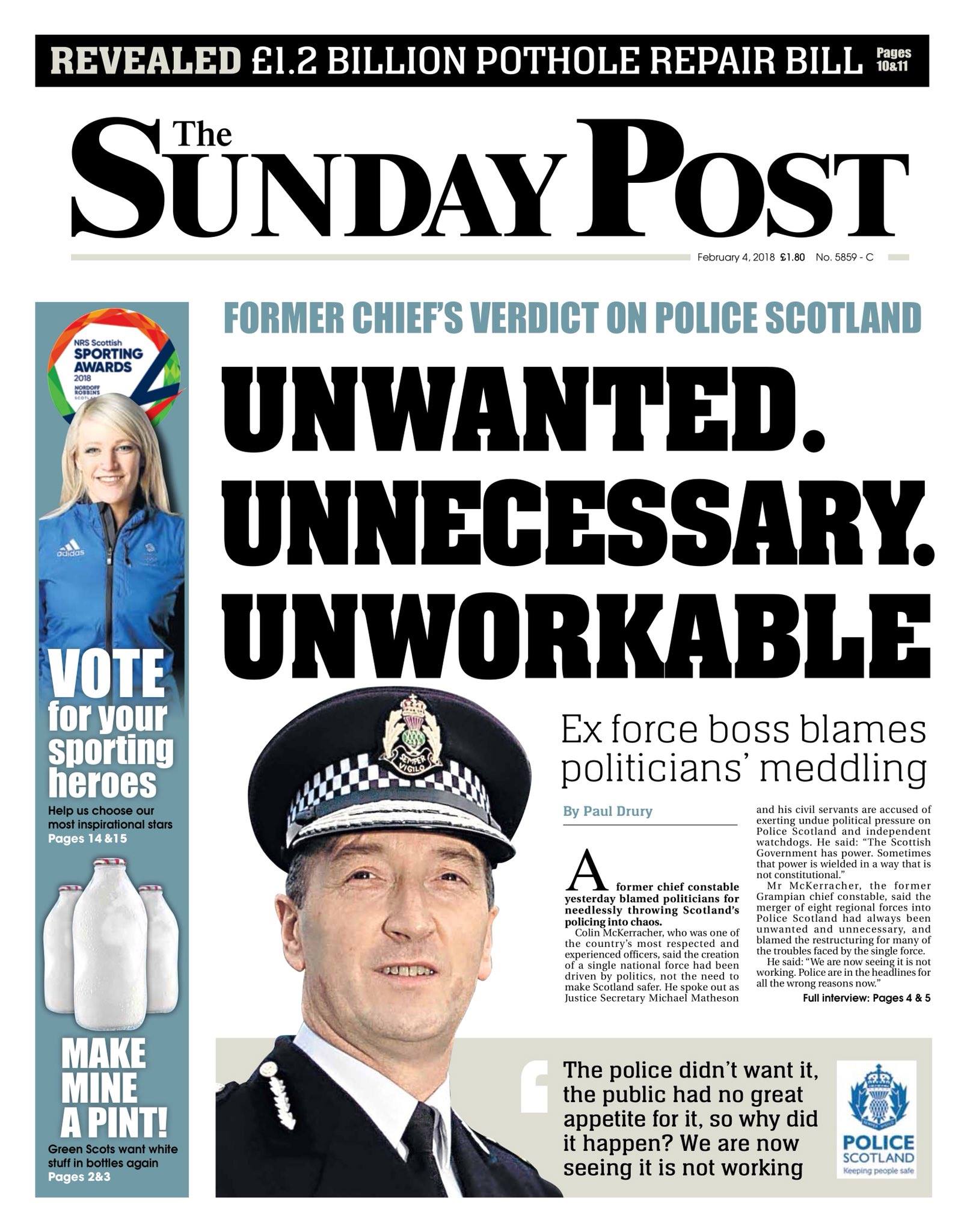 A former chief constable delivered a scathing verdict on the Scottish Government's interference in Scotland's police force.
Former Grampian chief Colin McKerracher said undue political interference had increased in recent years and had, on occasion, been unconstitutional.
---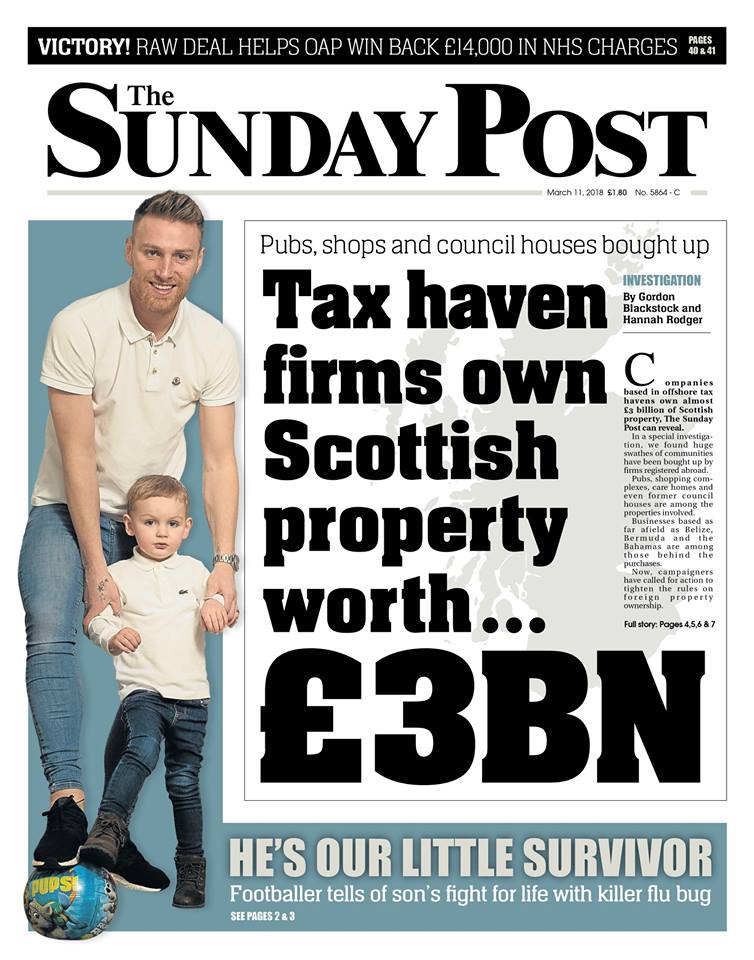 In March, our investigation lifted the lid on the true scale of Scottish land and property held in tax havens around the world.
We mapped out a host of Scottish properties held in 22 different tax havens around the world, by 776 companies.
In this edition, we also told the story of Peterhead footballer Rory McAllister's son Noel's recovery after fighting an almost deadly dose of flu and pneumonia.
---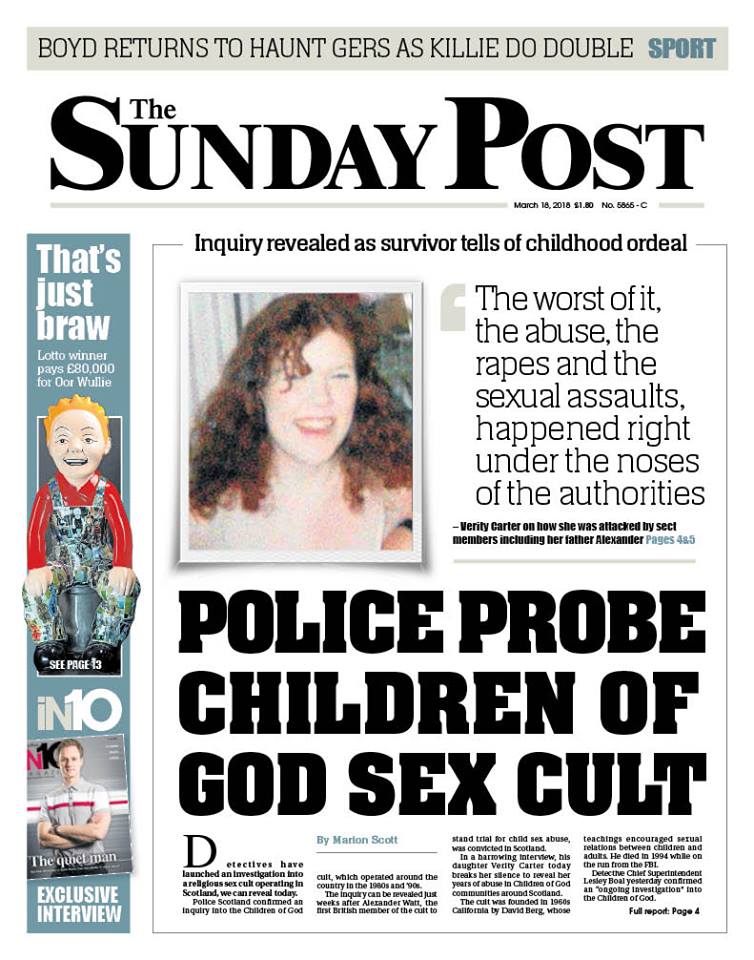 We revealed that detectives had launched an investigation into a religious sex cult operating in Scotland.
Police Scotland confirmed their inquiry into the Children of God cult, which operated around the country in the 1980s and '90s.
Survivor Verity Carter said she was repeatedly raped and abused, forced on to the streets to trick people into donating money and taught how to conceal her torment from social workers and teachers.
---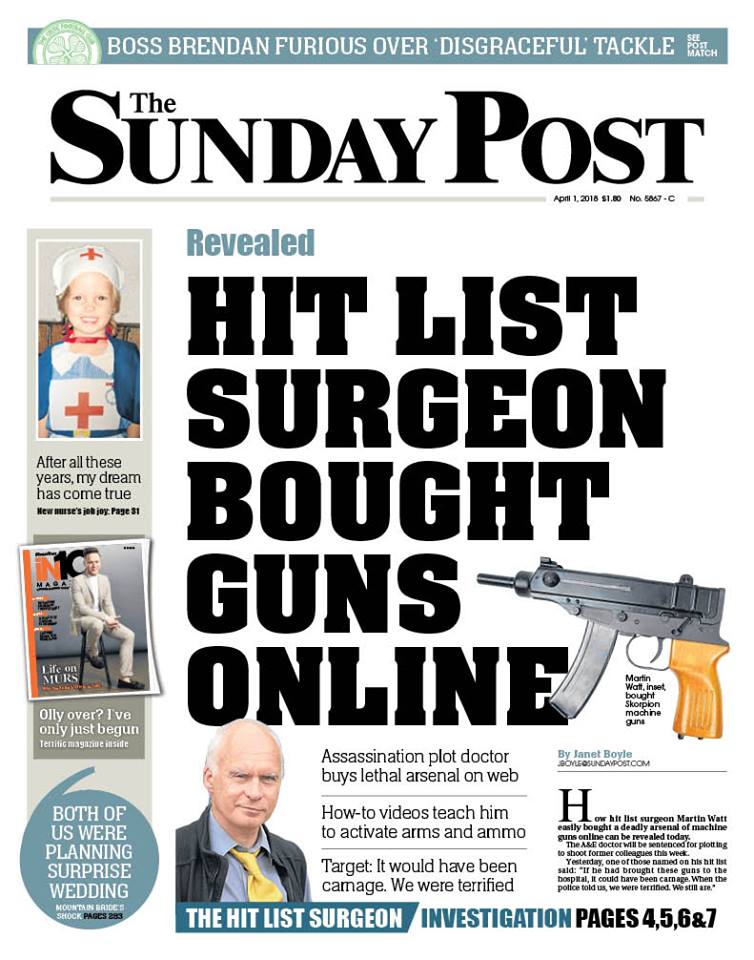 We brought you the story of how Martin Watt, a former A&E doctor at a Lanarkshire hospital, bought a lethal arsenal of submachine guns online with a few clicks of a mouse as he plotted an "assassination list" of those he blamed for his dismissal.
Costing just a few hundred pounds each, Watt was able to re-activate the decommissioned guns in a workshop at his home after watching how-to videos online.
Despite tighter laws around decommissioned guns, we alarmingly found parts for sale online along with step-by-step assembly guidance.
---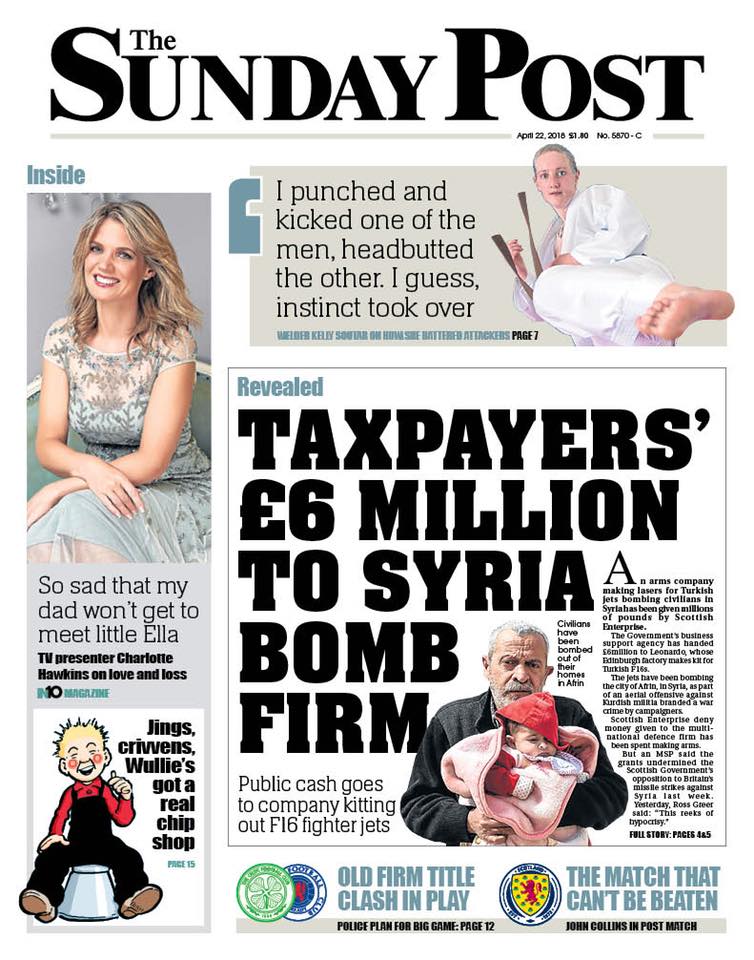 We revealed that an Italian arms firm making laser technology for the type of warplanes used by Turkey against the Kurds in Syria had been given £6 million by Scottish Enterprise.
Green MSP Ross Greer questioned why an SNP Government "so rhetorically opposed to the arms industry" was "supporting it with taxpayers' money".
---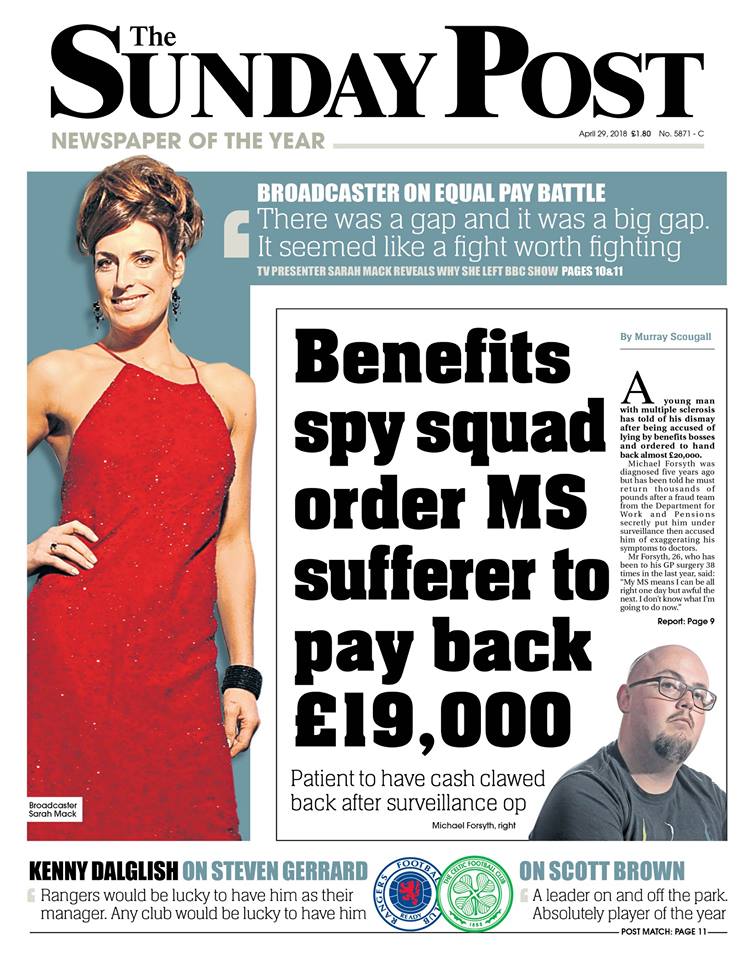 A young man with multiple sclerosis told of his shock after being accused of lying about his condition and ordered to hand back almost £20,000 of benefits.
Michael Forsyth told of the surveillance team that covertly watched him when he walked his dog, and also looked through his social media accounts to gather evidence against him.
Later in the year, we told the story of Billy Bryson, a severely disabled man who was told by benefits bosses he was fit to work behind a bar. He later received an apology.
---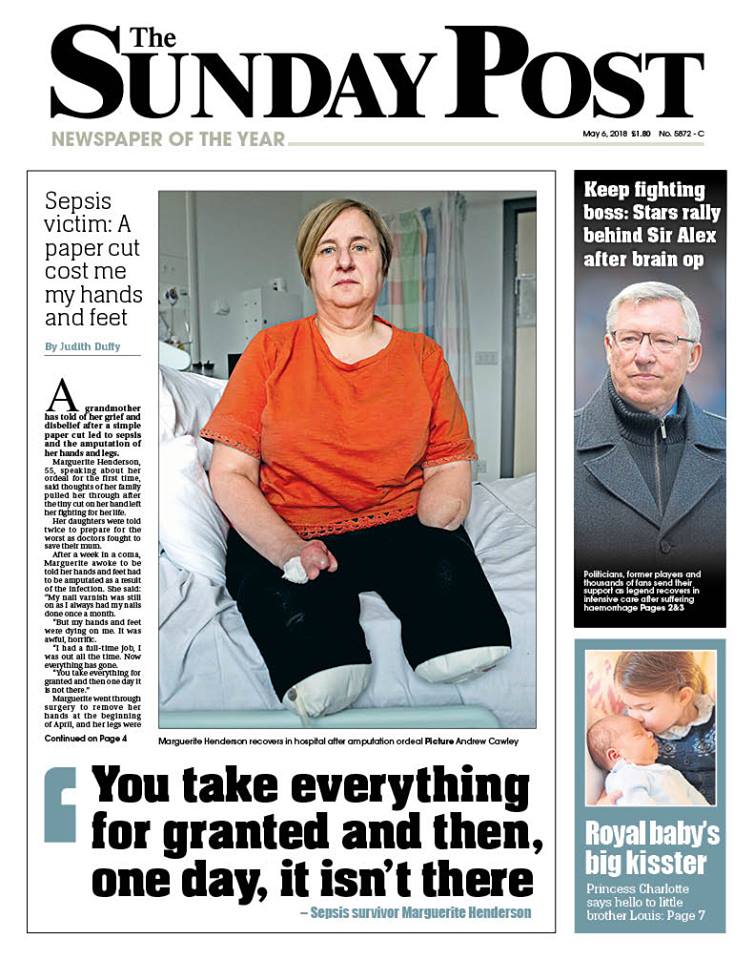 A simple paper cut cost Fife grandmother Marguerite Henderson her hands and feet after contracting sepsis.
In May, we shared her story as the sepsis death toll in Scotland climbed to over 4,000 in the last three years.
Speaking from her hospital bed for the first time, Marguerite, 55, from Crosshill, Fife, said: "When I woke up after having my legs amputated and with the effect of the anaesthetic, all I could move was my head. I just thought what is the point in me being here?
"But then I thought of my grandchildren and family. You want to be there for them."
---
In one of our most harrowing investigations this year, we told the story of Sarah.
Born with opiates in her blood and drinking heroin with her mother's milk, she was raised by her gran before being taken into care.
She would then freefall through the care system until, aged just 14, she was taking Class A drugs and selling herself on the streets of Scotland's biggest city.
The shocking litany of chaos and desperation was revealed in hundreds of pages of official reports passed to The Sunday Post by Sarah and her family.
The country's leading child protection experts said that too many young people like Sarah were falling between the cracks of a care system that must be better resourced and focused.
Following our report, the Scottish Government's children's minister Maree Todd admitted some of the country's most vulnerable children have been let down by the system and vowed to do better.
---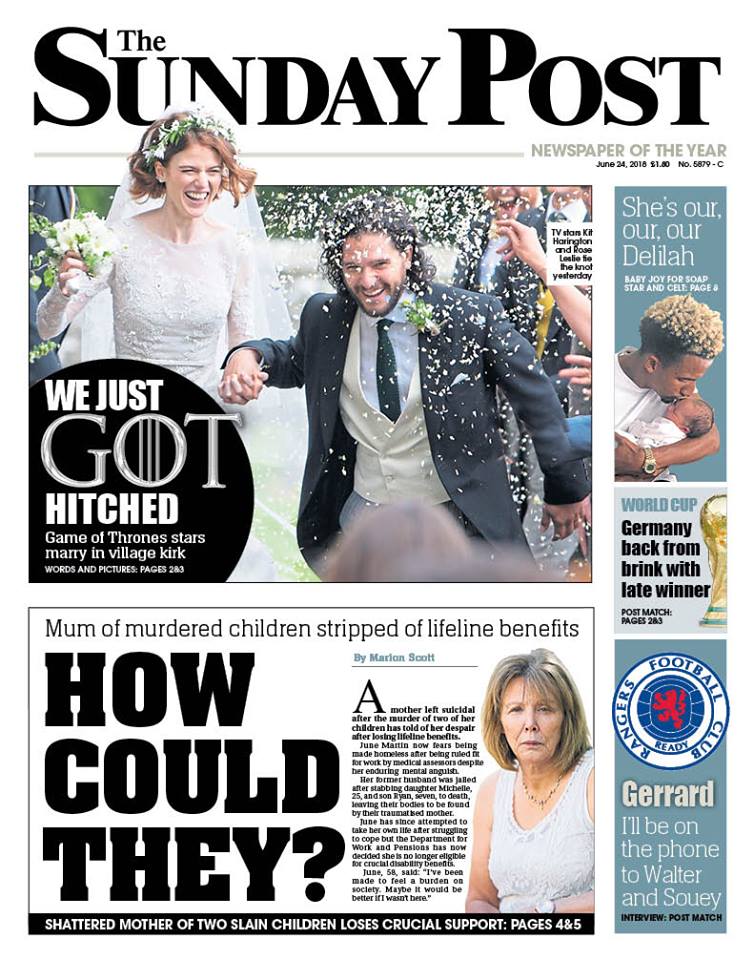 "I found my babies murdered in their beds, their blood was all over the walls and all over their teddy bears. I have battled so hard to go on but I'm still a mess …and now this."
We brought you the story of shattered mother June Martin who was ruled fit to work and had her disability benefits stopped despite being diagnosed with Post Traumatic Stress Disorder.
Later in the year, June said she had been left feeling "suicidal after being made to feel like a benefits scrounger".
---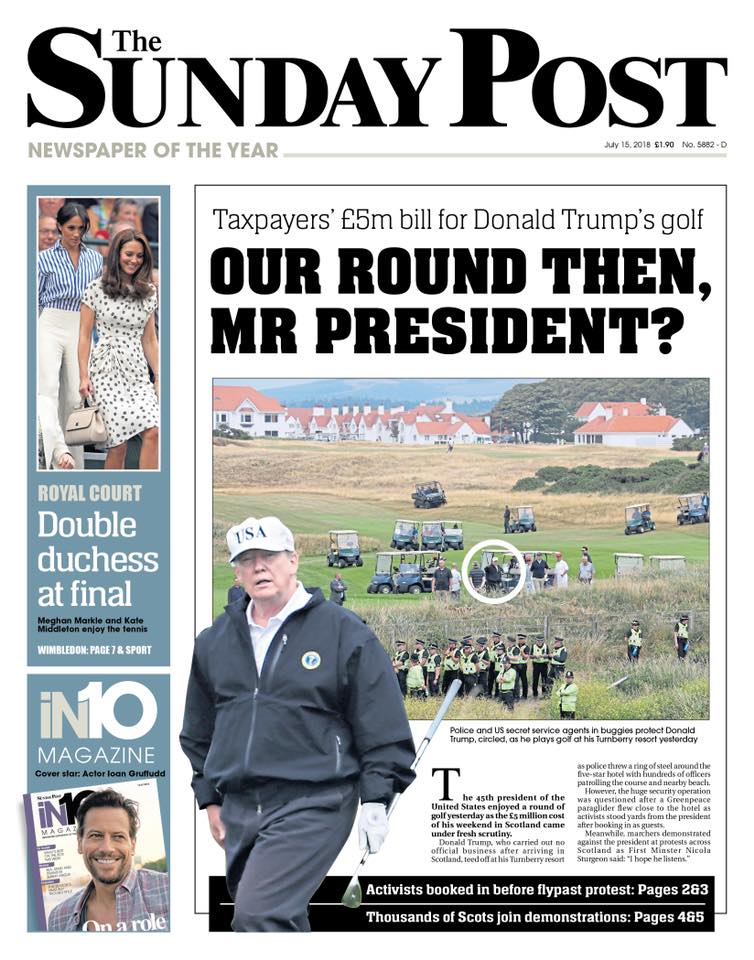 We covered Donald Trump's visit to Scotland in July from the moment Air Force One touched down at Prestwick Airport.
The US President's visit to play golf at his Turnberry course was met by widespread protests, with taxpayers facing a huge bill for security.
---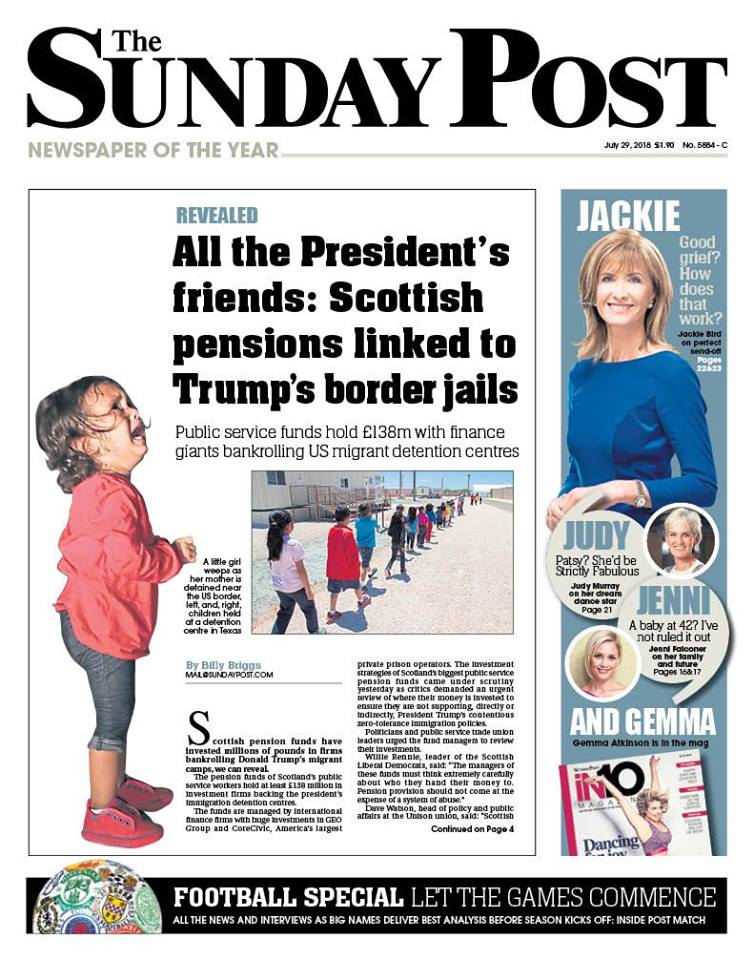 Just weeks after Trump's visit to Scotland, we revealed that Scots pension funds had invested millions of pounds in firms bankrolling the President's migrant camps.
The pension funds of Scotland's public service workers held at least £138 million in investment firms backing the controversial immigration detention centres.
---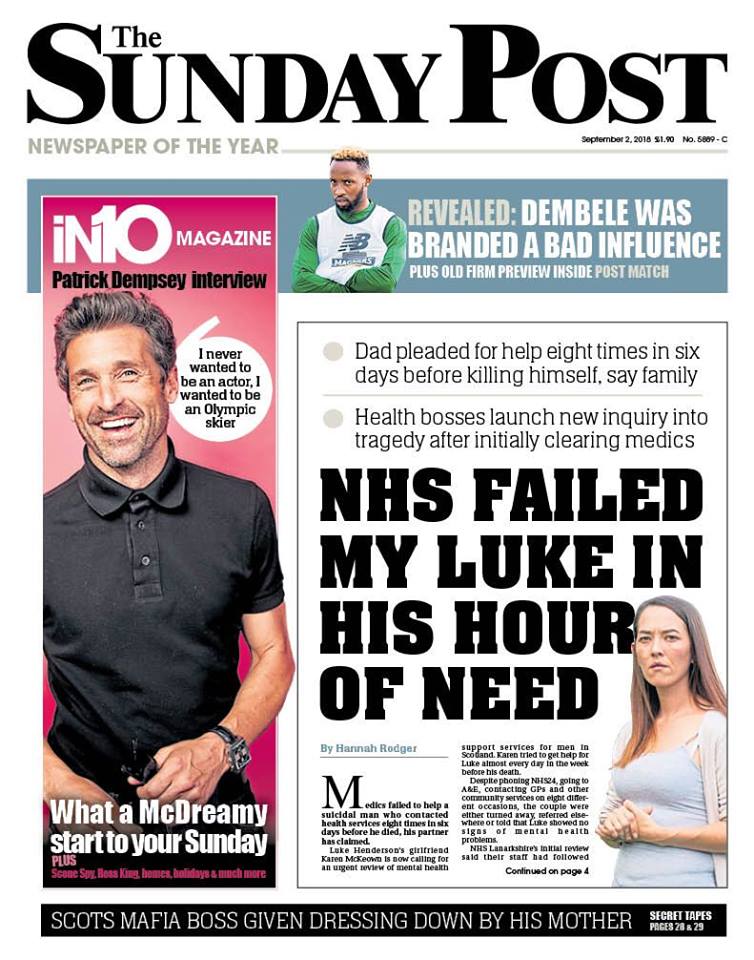 In September, the partner of tragic Luke Henderson called for a urgent review of Scotland's mental health support services for men.
It came as she claimed medics failed to help Luke despite him contacting health services eight times in six days before he died.
NHS Lanarkshire's initial review said their staff had followed procedure and "consistently did not find any evidence" that Luke wanted to take his own life.
However, they launched a fresh investigation.
---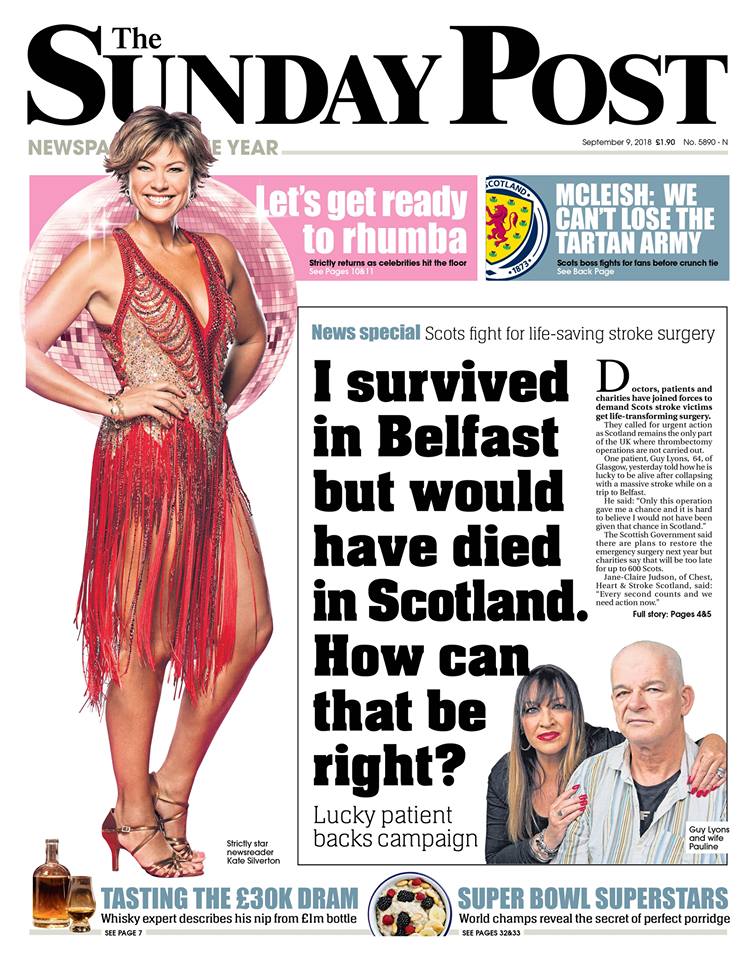 In September, a lucky stroke survivor, Guy Lyons, backed a campaign for life-saving surgery in Scotland.
Guy, 64, collapsed on a break in Belfast and an operation available there, but not in Scotland, helped save his life and minimise the damage inflicted by the stroke.
The procedure, a thrombectomy, had been withdrawn from use in Scottish hospitals earlier in the year.
---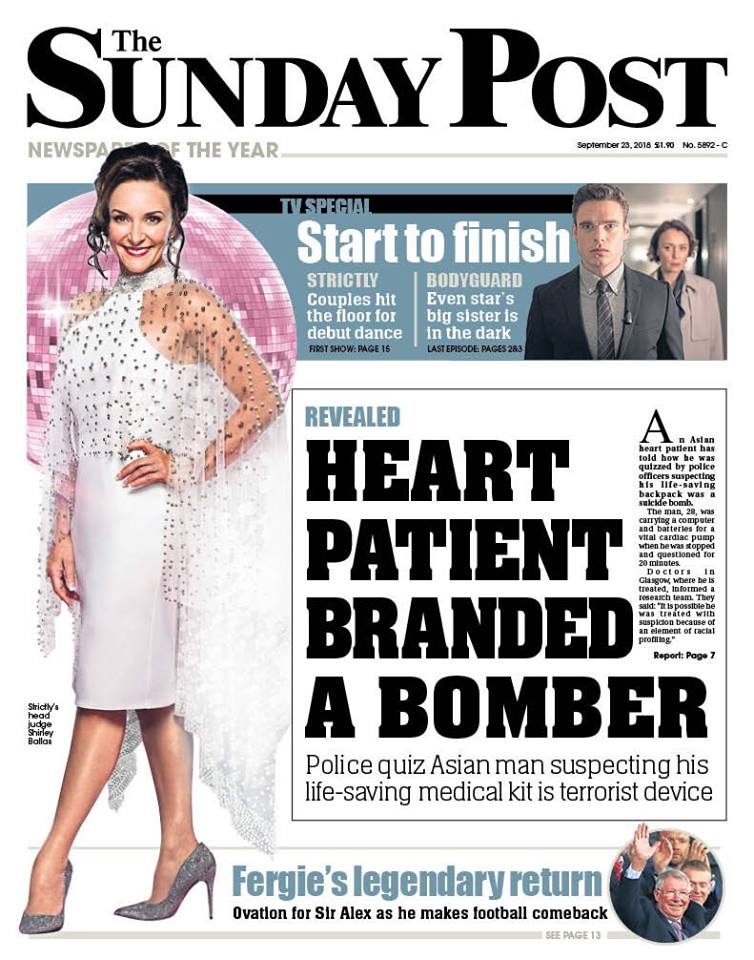 We revealed that police quizzed an Asian man carrying a life-saving backpack after they suspected he was a suicide bomber.
The 28-year-old said he suffered stress and anxiety after his battery pack, needed for a heart pump implant, was mistaken for an explosive device.
---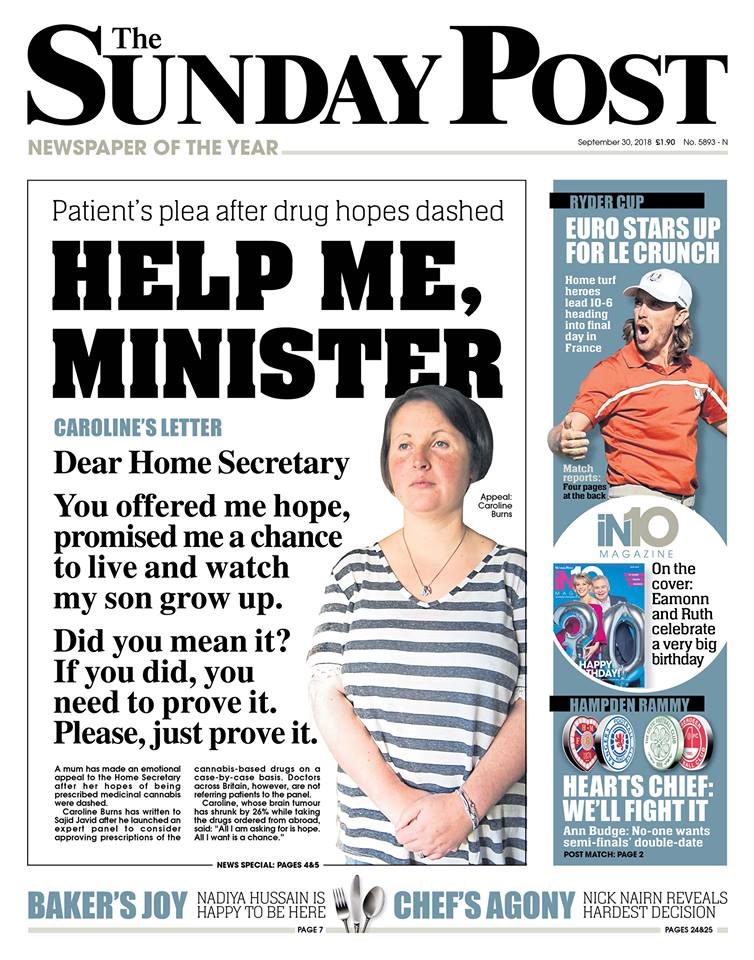 A Scots mum fighting a brain tumour made an emotional appeal to the Home Secretary after her application for medicinal cannabis was rejected, despite her belief the drug had helped keep her alive for three years.
Caroline Burns asked to be referred to an expert panel launched by Sajid Javid to sanction prescription of the drug in exceptional cases.
---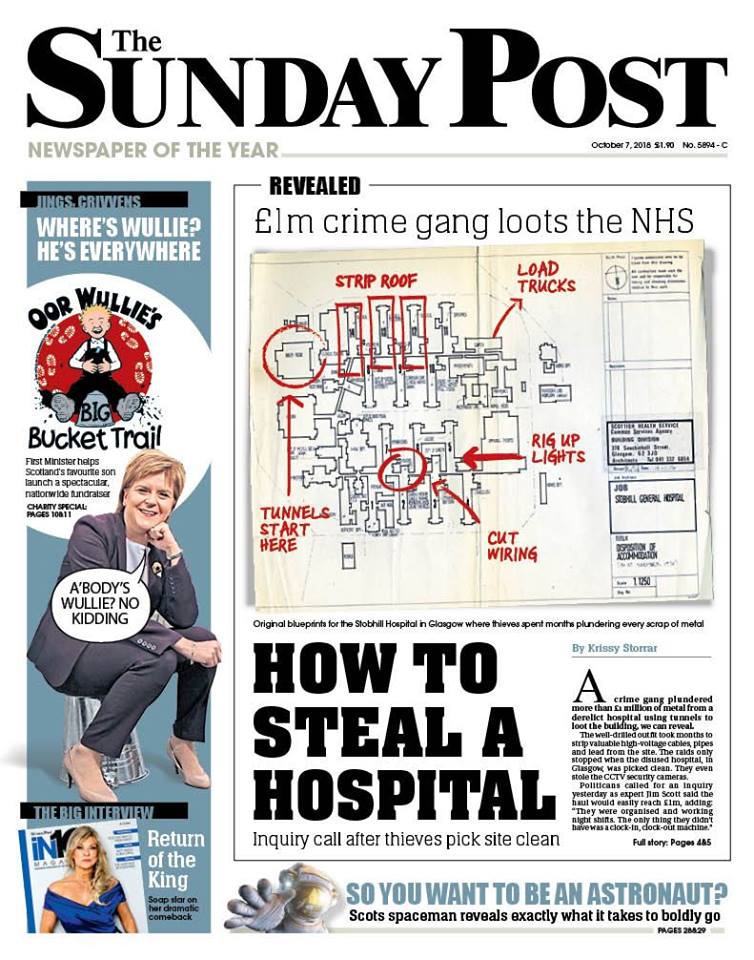 Criminals plundered more than £1 million worth of metal and wiring with the help of a hidden network of disused tunnels.
The well-organised gang spent months stripping valuable high-voltage cables, pipes and lead work in repeated raids on the old Stobhill Hospital in Glasgow.
Also in this edition, the new Oor Wullie's BIG Bucket Trail was launched with the help of First Minister Nicola Sturgeon.
The nationwide fundraiser is set to fully launch in 2019.
---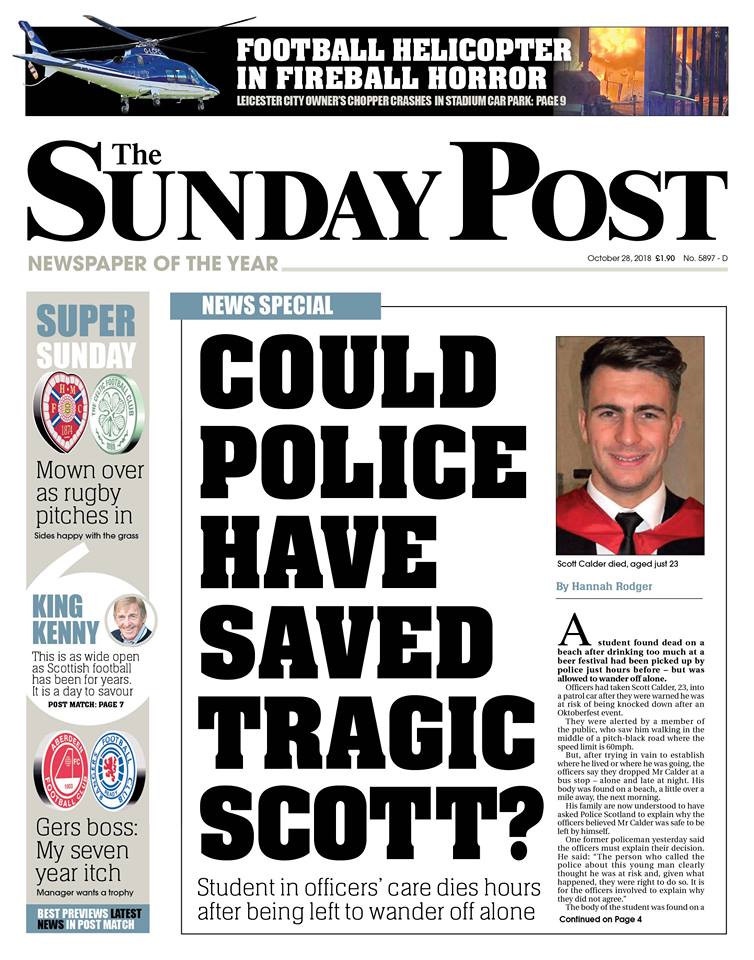 We launched an investigation into the circumstances surrounding the tragic death of student Scott Calder.
The 23-year-old's body was found on a beach in East Lothian following a night out at a beer festival, despite him being taken into the care of police officers when concerned witnesses raised the alarm about his wellbeing.
The police would later change their account of the hours before Scott's death and the location that they dropped him off.
---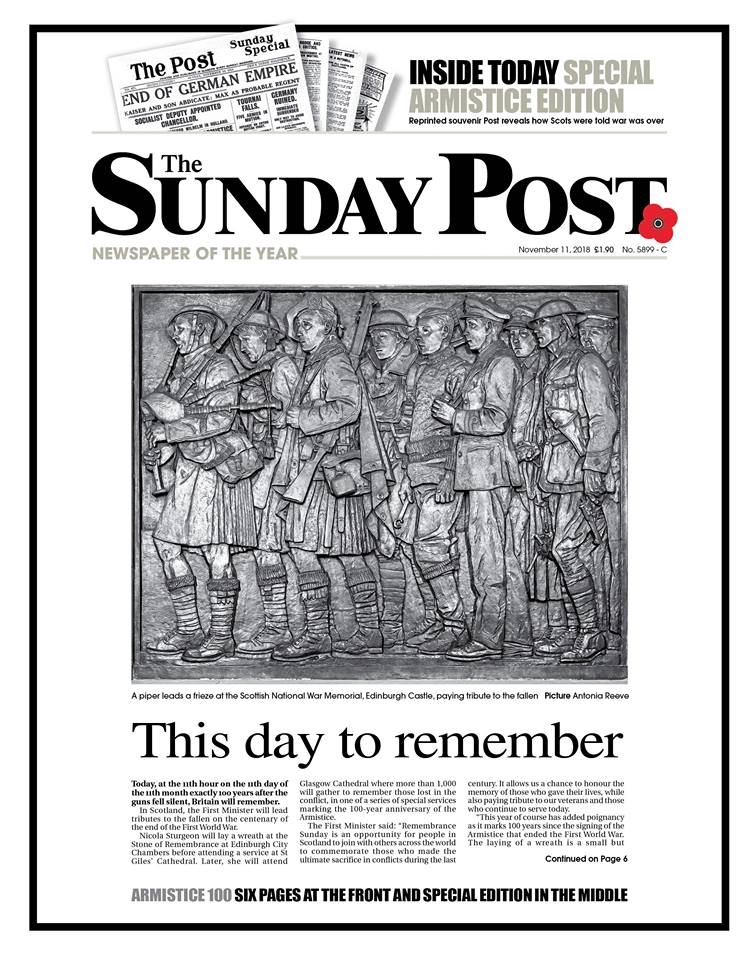 A special edition of The Sunday Post, including a reprint of our 1919 edition, marked the 100th anniversary of the end of the First World War as a nation stopped to remember.
---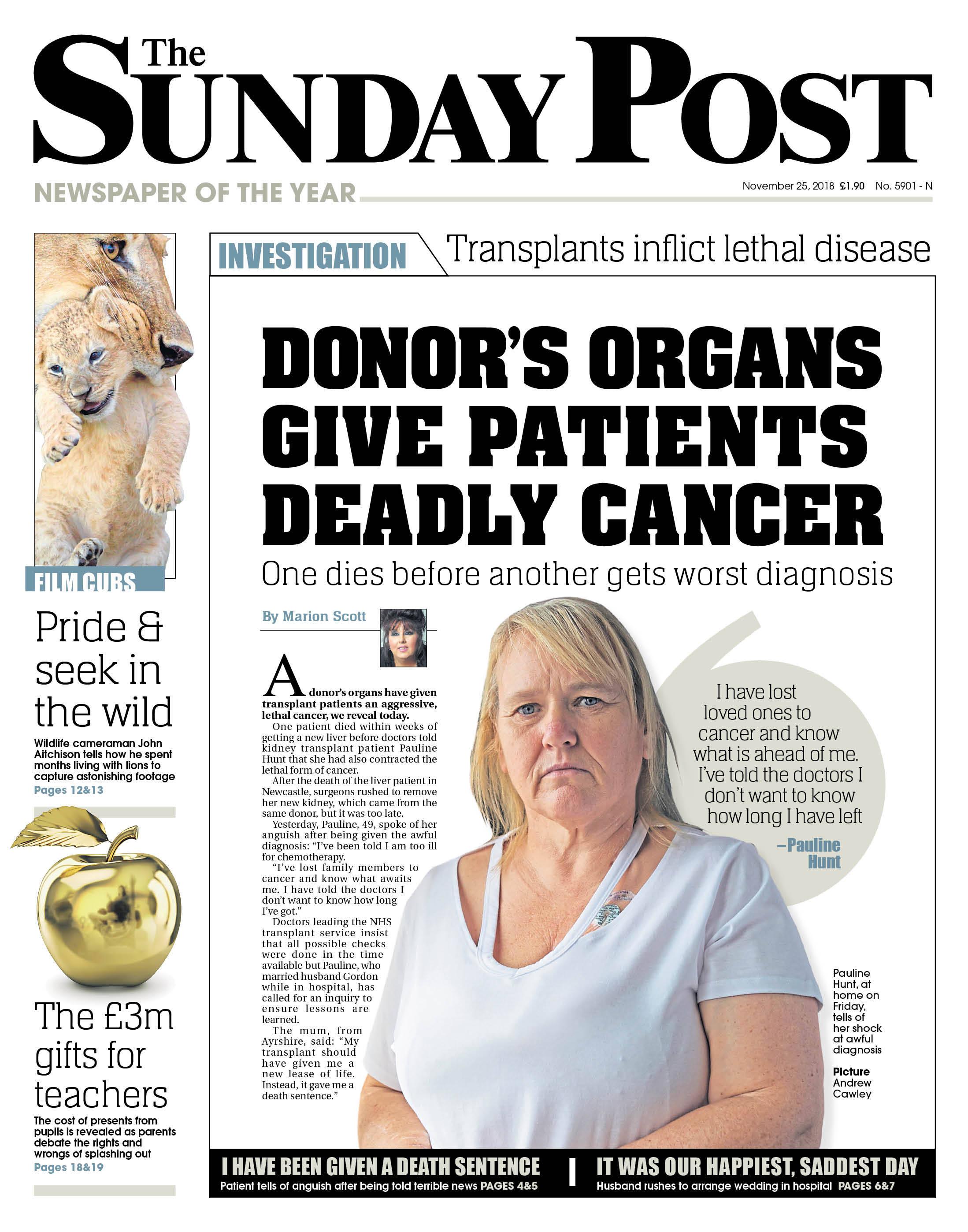 Pauline Hunt thought that her kidney transplant would give her a new lease of life.
But she was given the devastating news that the organ donation had infected her with a lethal, aggressive cancer and instead had handed her a death sentence.
She wasn't the only victim of this tragedy.
Tom Tyreman, who was given a liver from the same donor as the kidney that was given to Pauline, died from cancer two months after his transplant.
His family were never told that another transplant patient given an organ from the same donor had also contracted cancer.
They only learned about Pauline when they read her story in The Sunday Post.