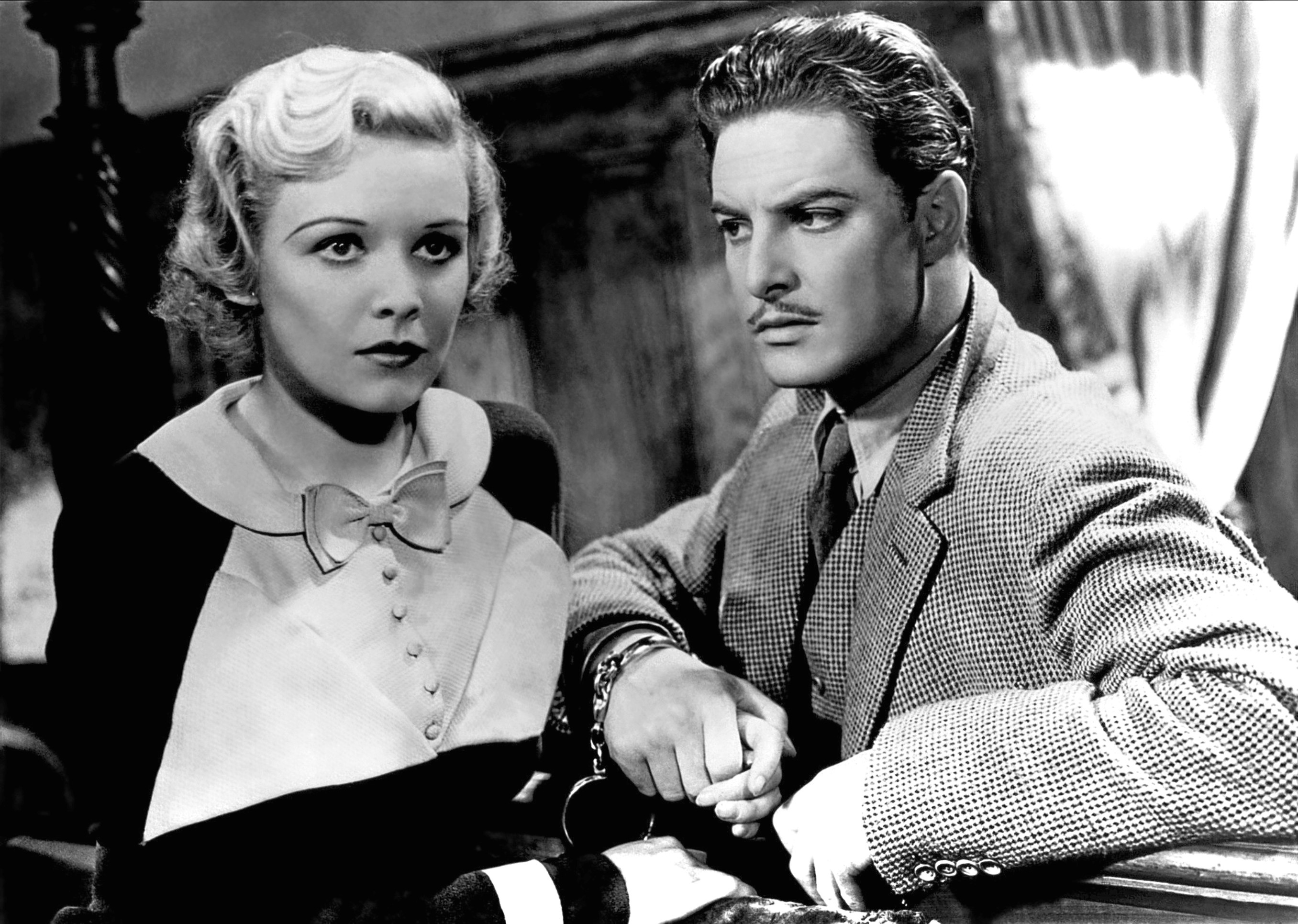 Part Two
Read Part One here.
---
WHEN Alfred Hitchcock started his 10th film — 1929's Blackmail — he was about to make a piece of cinematic history.
The movie's production company, BIP, converted the Elstree studios to sound, making this one of the first British Talkies. The USA, of course, had done The Jazz Singer in sound two years before.
Blackmail would also be Hitchcock's first to use famous landmarks as a backdrop, with the climax of the film taking place on the British Museum's dome.
If he knew anything, it was how to take the landscape and use it to create unforgettable, iconic scenes!
We also got to see more of Hitch than we normally would, in a relatively long scene where he is trying to read on the Underground but is pestered by a boy.
Sadly, it was during the early 30s that he also made some movies that have been lost, such as 1930 short An Elastic Affair.
The mind boggles at how much these would fetch if anyone found a copy in a basement or loft.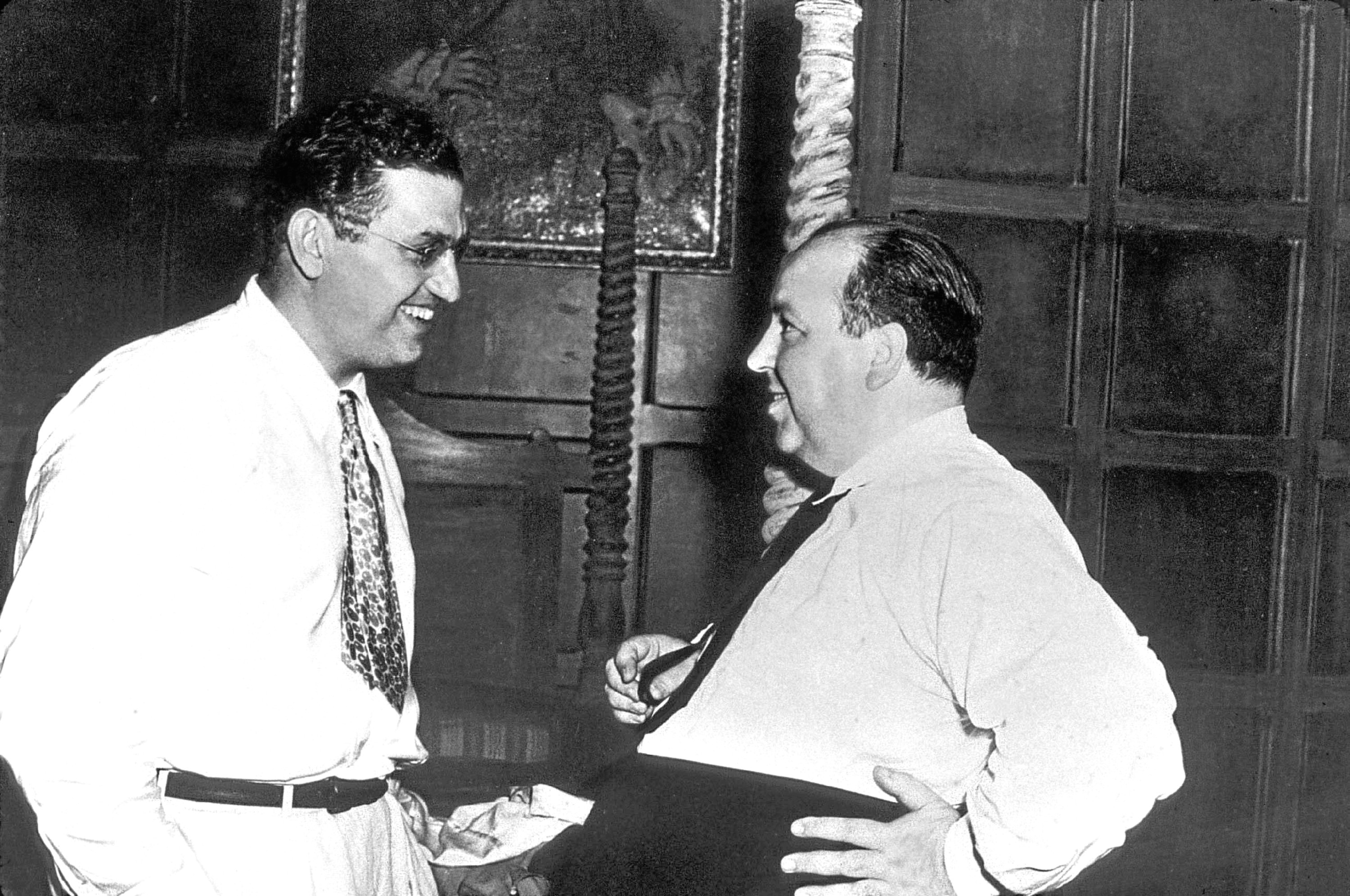 The Man Who Knew Too Much, made in '34 (he'd later make a second film of the same name in 1956), certainly was in no danger of being lost, nor was its follow-up the next year, a certain The 39 Steps.
If the latter made him a star on the other side of the Atlantic, it also set the standard for his leading ladies of the future.
And it was an English actress, Madeleine Carroll, who did so. Blonde, elegant and icy, we would see her type in many Hitchcock films to come, though not many would be from England.
The 39 Steps made Hitchcock a United States star, but it did wonders for Carroll, too. She was the first British actress to be offered a major American film contract, and Hitch used her again in Secret Agent.
He had been fascinated by her since 1935, and wanted to once again pair her with 39 Steps co-star Robert Donat, but his health problems prevented that. Instead, she worked her aloof magic opposite John Gielgud.
One noted critic described Hitchcock's love of such leading ladies, saying: "The female characters in his films reflected the same qualities over and over again. They were blonde, icy and remote. They mesmerised the men, who often had physical or psychological handicaps."
It was also noted, however, that sooner or later, most Hitchcock woman would be humiliated.
For all his genius, Hitchcock could occasionally reveal far more about himself than he really wished us to know.
The year 1938 saw his next major hit, with The Lady Vanishes, described as: "One of the greatest train movies from the genre's golden era."
A British spy, Miss Froy, is posing as a governess when she vanishes while on a train journey through the fictional country of Bandrika.
It won Hitchcock the New York Film Critics Circle Award for Best Director, but believe it or not, he never won the Oscar equivalent, despite five nominations.
David Selznick, the genius studio boss who brought us such classics as Gone With The Wind, signed Hitchcock to a seven-year contract that started in March '39.
It didn't take Mr and Mrs Hitchcock long to gather their belongings and relocate themselves to Hollywood, with one US critic stating simply: "Three unique and valuable institutions the British have that we in America have not — Magna Carta, Tower Bridge and Alfred Hitchcock, the greatest director of screen melodramas in the world."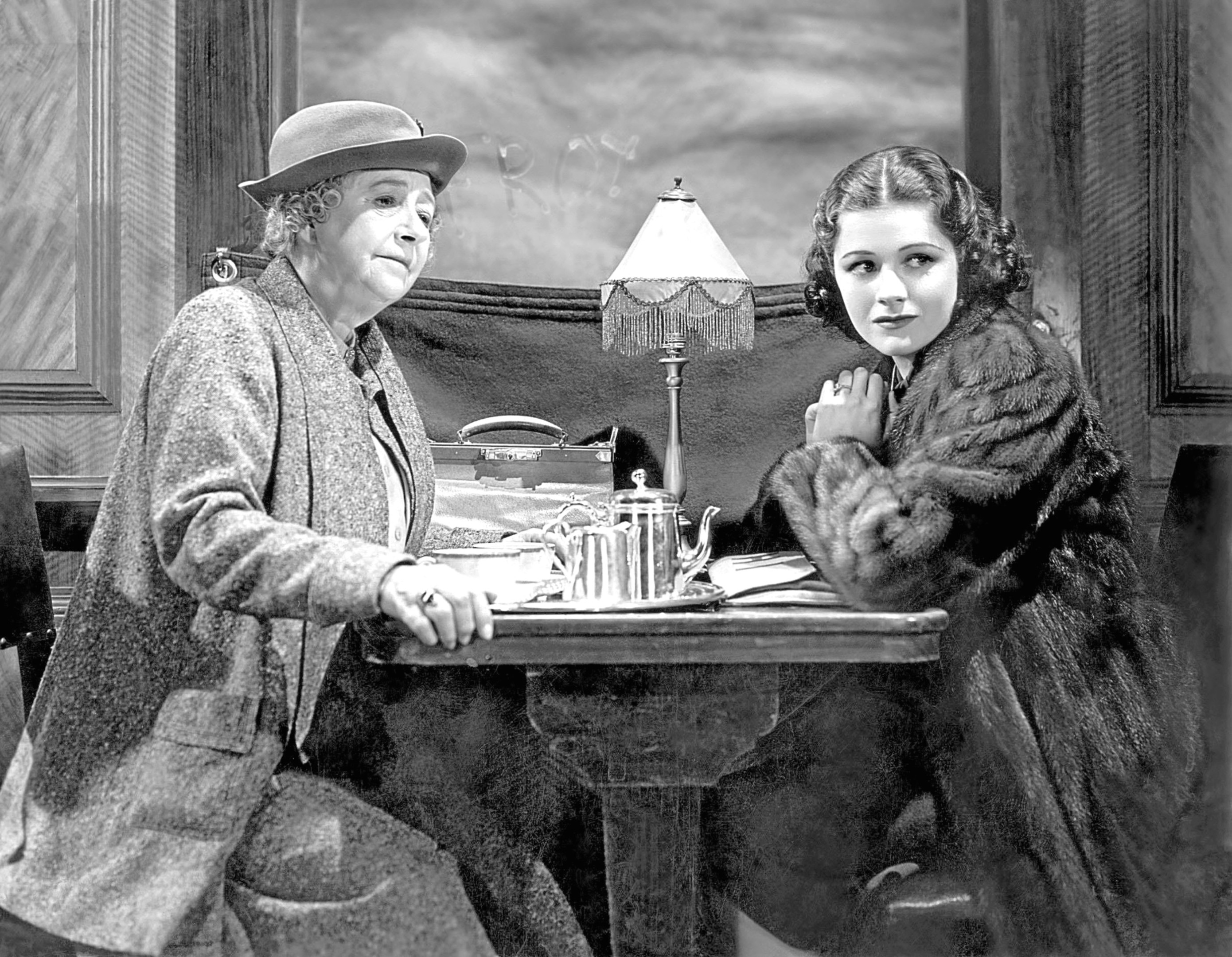 Praise, indeed, and it is hard to imagine a Brit being praised so highly today by Tinseltown experts.
If it looked all set for Hitch and wife to dominate the cinema world, Selznick funding it all happily, it didn't quite work out that way.
Selznick, in fact, was suffering constant financial woes, and his attempts to control Hitchcock's work did not go down well with the Englishman.
In years to come, he would moan that Selznick "was the big producer, and producer was King.
"The most flattering thing Mr Selznick ever said about me — and it shows you the amount of control — he said I was the only director he'd trust with a film."
In Hitchcock's mind, you just funded the work, then kept out of his way while he made the film.
From Selznick's perspective, he was driven bonkers by what he called Hitchcock's "goddamn jigsaw cutting", revealing how he hated having less control than his director over how the final movie would look.
With money not always available in the amounts required, he took to letting Hitchcock work for other, bigger studios, too.
The other thing was, Hitchcock wanted to be knocking out new movies constantly, while people like Selznick and even Samuel Goldwyn didn't do more than two or three each year.
This meant other studios got to work with the great man, despite his contract, letting him make films constantly and giving everyone a chance to work with him.
Today, not even Spielberg or his like could claim to be that popular!
It was vital, of course, that his first movie under Selznick went well in the United States, and 1940's Rebecca clinched Best Picture at the Academy Awards, which was very satisfying to say the least.
Starring Laurence Olivier and Joan Fontaine, it was an intriguing tale — a young woman marries a posh aristocrat but has to live in the shadow of his elegant, much-loved first wife who died mysteriously.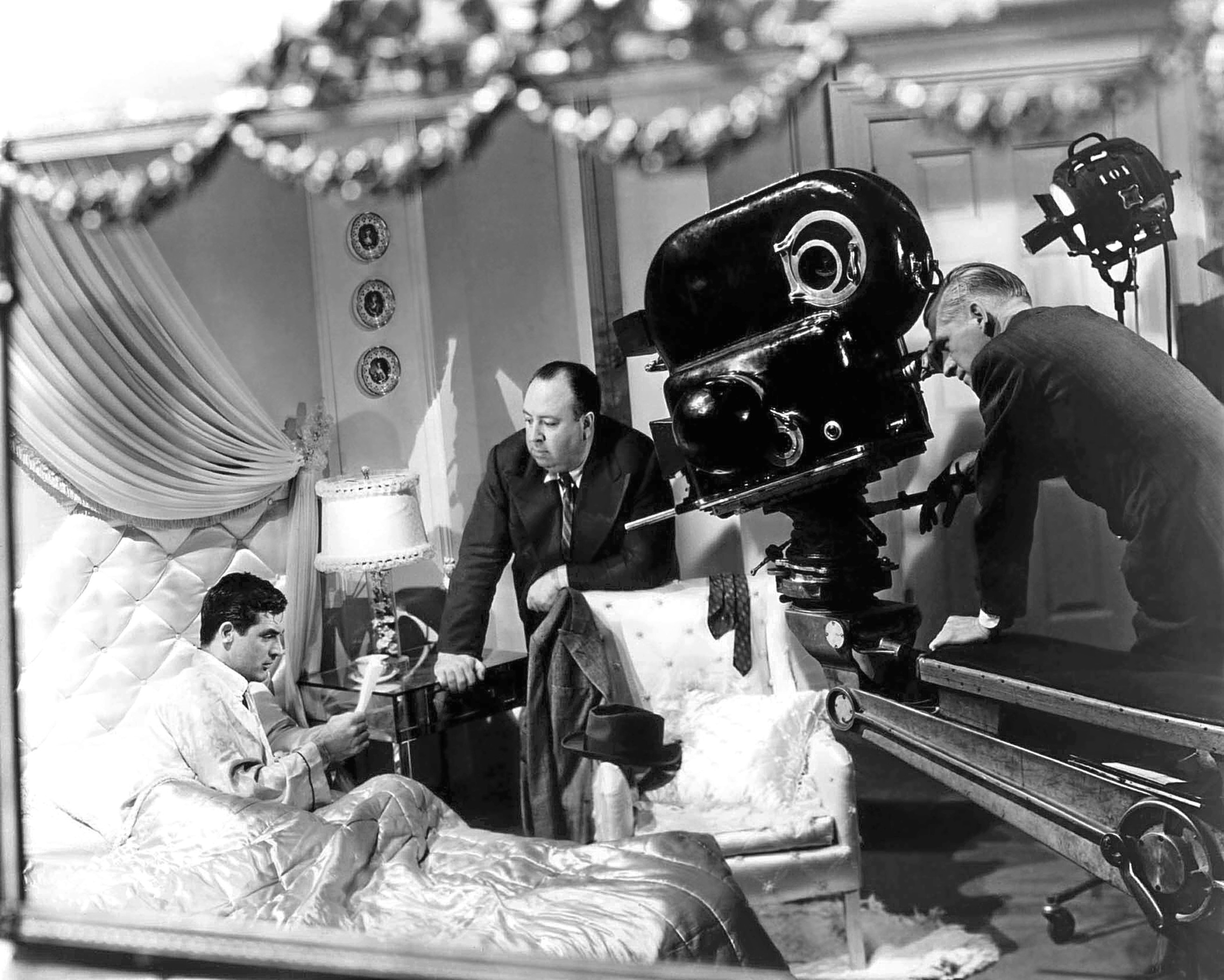 They loved it right around the globe, although it must have been weird for Hitchcock to see Selznick collect the statuette for producer. Alfred was nominated for Best Director, but didn't get it.
Although his next American movie, Foreign Correspondent, did well, too, Hitchcock apparently felt a bit odd, being over there and enjoying fame and fortune while his own country was at war.
The result was that he made the movie in a fiercely pro-Britain way — we know that many an American admired Hitler or was in two minds, but nobody who saw Foreign Correspondent would have been left in any doubt which side Alfred Hitchcock backed!
He would also go back to England during the war, to help make short propaganda films, admitting: "I felt the need to make a little contribution to the war effort, and I was both overweight and over-age for military service.
"I knew that if I did nothing, I'd regret it for the rest of my life."
Shadow Of A Doubt, in 1943, was clearly special to the man himself, with Hitch claiming it is his personal favourite from his mighty catalogue of great flicks.
With Teresa Wright as the niece, Charlie Newton, who suspects her uncle Charles — played by Joseph Cotten — of being a serial killer, it was filmed mostly in Santa Rosa, California.
Based on the true story of a mass murderer known as The Gorilla Man, it also featured for the first time in a Hitchcock film a score by Dimitri Tiomkin.
Tiomkin, the man who would give us the classic Wild Is The Wind and countless other great songs, would also compose for Strangers On A Train, I Confess and Dial M For Murder.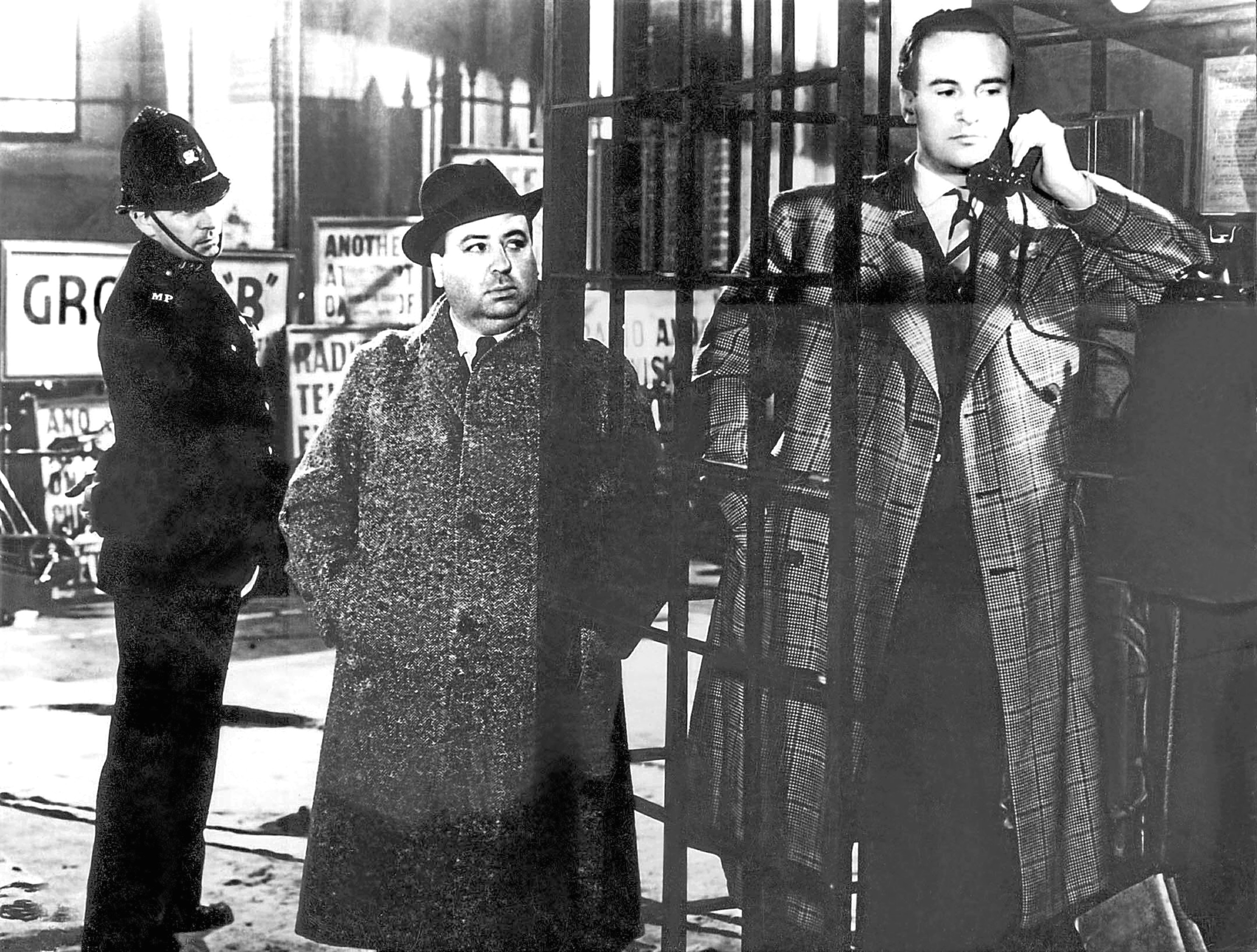 Hitchcock loved his attention to detail — Russian-born Tiomkin would come on to the set and carefully listen to the pitch and timbre of all the stars' voices, to ensure his music matched them.
He would then scrupulously time scenes with a stopwatch, and take an orchestra straight in to get the whole thing recorded while it was all fresh in his mind.
Like Hitchcock, his hard work and eagerness to go the extra mile would help make everything he did so timeless and special.
Another man who played a huge part in Hitchcock's life was actor Cary Grant, and 1941's Suspicion saw the pair work together for the first of four films.
Casting him in a most unusual, sinister role, Hitchcock was careful not to go too far down that road and estrange Grant's fans. He changed the film to have an ambiguous ending, which was a risk, but as usual with Hitch, it worked.
By this stage, Hitch's methods were more and more outlandish and brilliant — for one scene, where a glass of potentially poisoned milk is drunk, he placed a light inside the glass.
In another film, he would have a saboteur filmed on top of the Statue of Liberty. It is hard now to appreciate how much persuading he had to do in an age when Hollywood was rigidly traditional about how things were filmed.
Thankfully, they knew how much money his films would make, and usually gave in to his demands.
One thing the man himself had to give in on was his greed. A typical Hitchcock dinner was roast chicken, ham, potatoes, bread, veg, relishes, salad, dessert, a bottle of wine and some brandy.
He kicked the drinking, drank black coffee instead of breakfast and lunch, and had only steak and salad for dinner.
His weight would yo-yo forever, but he did shed a serious amount. Just as well, or we may have missed many famous films.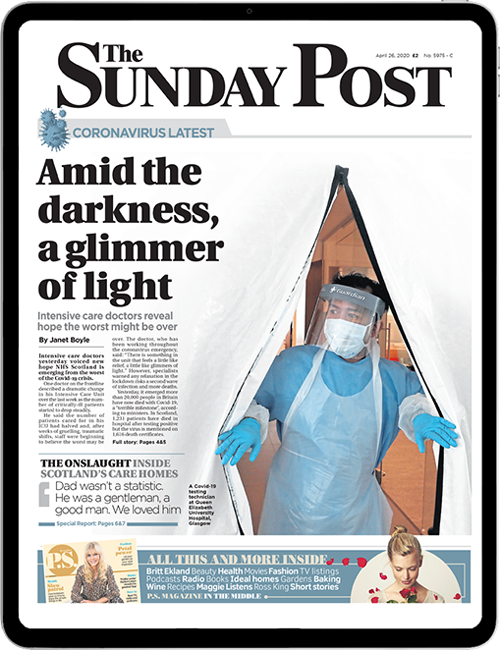 Enjoy the convenience of having The Sunday Post delivered as a digital ePaper straight to your smartphone, tablet or computer.
Subscribe for only £5.49 a month and enjoy all the benefits of the printed paper as a digital replica.
Subscribe