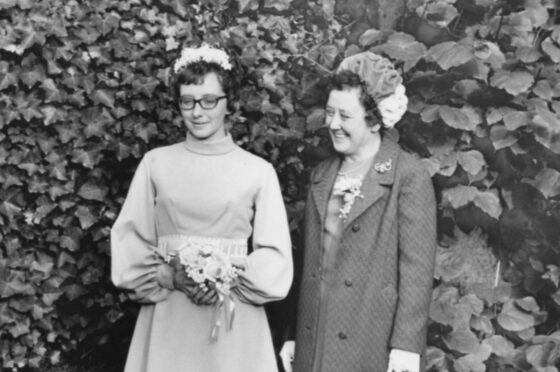 On Mother's Day, our columnists reveal mum's best advice…
Maggie Clayton, Sunday Post agony aunt
The best piece of advice my mum gave me was on the morning I woke up in my bed with her arms around me.
As I cuddled close to her she said: "Maggie, your daddy died last night, but don't be sad, his last words to me were, 'Be strong for our wee girl and tell her I will always be loving you both forever'."
I was just five years old and my father Gavin was 33 when he died of a heart attack. I had no experience of death and all I could ask was: "But where is daddy now?"
Through her tears, my mum said: "He's in Heaven, watching over us forever. So we will be strong for him, won't we, Maggie?"
From that day on, my 33-year-old mother fulfilled that pledge she made to her beloved husband with a courage and sense of purpose that was matchless.
I never heard her cry through the years of my childhood or the difficult times of my teenage tantrums, but on the day she held her first grandchild in her arms, she asked: "What's your name, darling?"
"John Gavin Clayton," I said. "But he will be called Gavin." Tears filled her eyes, and dropped on to his little cheek when she said: "Hello, Gavin. Welcome to the world. It's a lovely place to be."
From that day on my mother's joy in life was getting to know and love her four grandchildren, Gavin, Robin, David and Katie, and to see them growing up, going to school and university, David owning his own hairdressing salon, marrying people my mother approved of, and giving her great-grandchildren who meant the world to her.
Years later, on the day her great-grandson qualified as a doctor, my heart was bursting with pride and I knew my mother would have felt the same.
She did voluntary work in a charity shop and there wasn't a customer who wouldn't have been told about "my great-grandson, Doctor David Clayton."
When my father died, mum had to find work. Back then, if there was no will, the property went to the children not the wife. My mum got work as a school secretary so she could have the same hours as I did. After she retired, she worked in the local Oxfam shop and loved all the chatter with staff and customers.
When I was a teenager we moved to a council house and the great treat was having a bath in our very own bathroom!
Every summer, despite living on a small wage, we always went on a summer holiday to Ayr, Troon or Rothesay.
She loved watching her four grandchildren growing up, succeeding in their careers, marrying people who won her approval.
It's only now that I am a grandmother, near the age my mum was when she died, that I can fully understand the joy and privilege of having grandchildren.
Their school reports, their friends, the work they choose, the people they marry, all make life richer.
I try to be a granny they can talk to. I like to tell them how lucky they are to live in houses with a bathroom. But then I think back to the tenement where I grew up in Coatbridge. It meant taking a key from the kitchen, going outside to the back garden, locking myself into the toilet, a book in my hand so I could read in peace – bliss!
It was there I read a library book called Sally Baxter, Girl Reporter and I was hooked. "That's who I'm going to be," I told my mum.
She wanted me to be a teacher but my mind was set and at the age of 18, I became Margaret McLean Girl Reporter on the Airdrie and Coatbridge Advertiser and then Margaret Clayton at The Sunday Post.
And what was my mum's proudest moment? The day I interviewed Prime Minister Margaret Thatcher in 10 Downing Street. The photograph of the two Maggies sat on her sideboard till the day she died.
And when I, sadly, had to talk to my mum's church minister to arrange her funeral, he said: "Oh you're the famous Margaret who met Maggie Thatcher."
My mum died of a heart attack, quietly sitting in her chair by the fire with a newspaper on her lap and a cup of tea by her side. In her life she had lost her mother, two babies and her husband but the pride and joy of her life were without question her grandchildren Gavin, Robin, David and Katie Jane.
They remember her with love and laughter. They called her "Nandel" because she wasn't old enough to be a granny.
She was a wife, mother and grandmother plus a woman of strength and courage in the face of adversity.
She lived life to the full and until her peaceful death in 1994.
She will always be missed by our family and I am so happy we have two grandchildren, Emily Jane and Grace Janie, who share the name of the woman I was proud to call mum.
---
Agnes Stevenson, Sunday Post gardening expert
The one thing that I have learned from mum is to be kind to people. She is the kindest person I know, compassionate, sympathetic and alert to the small hurts that can be dealt out so easily and wound so deeply.
In my own haphazard way I, too, try to be kind but I'm not in my mum's league and I doubt that I ever will be. What I have definitely inherited from her, however, is a love of plants and if it wasn't for the amount of time that I spent as a child being taken to bluebell woods, picking herb robert from hedgerows or collecting brambles then I doubt I'd be the gardener that I am today.
She never complained when I filled the kitchen windowsills with sprouting carrot tops, trailed soil over the floor or brought home tins filled with cabbage white butterflies.
Then of course, she herself has taken a bit of watching at times. She's a demon with a trowel and I remember once standing on the pavement on London's Royal Hospital Road and checking her handbag for secateurs before handing over her ticket to the Chelsea Flower Show.
She adored Paris's flower markets when we visited them but she can be equally enchanted by the wild flowers that grow along the Clyde coast, and it's this love of the small and frequently overlooked that I think is wrapped up in her generous nature.
Through her I've learned to appreciate the beauty of the natural world and not to take its presence for granted.
I've also learned that she'd move heaven and earth to keep the youngest generation of her family happy, which is maybe why each one of her adoring grandchildren would swear blind they are her favourite.
So this Mother's Day, when other daughters are handing over exotic orchids or imported lilies, I'll give my mum a basket of primroses from the garden. Sometimes flowers, like mums, are at their most precious when they are modest.
---
Wendy Rigg is the Sunday Post fashion expert
My 96-year-old mum is, and always has been, the person I go to for advice and she's always on the end of the phone if I ever need to talk.
I am a bit of a worrier and the best piece of advice she has given me is: "Don't put your umbrella up before it pours." More often than not my fears are completely unfounded so it's a great piece of wisdom!
Mum is an original thinker. She always taught us not to follow the pack but to think things out for ourselves. She had a busy career as a dentist, she was mother to four of us, yet she managed to find time for creativity.
She went to ceramics, sculpture and painting classes, and her work was on show in Edinburgh at the Scottish National Gallery as part of an exhibition of work by the best amateur female artists in Scotland.
She wanted the best for all of us and encouraged us to have careers that we enjoyed rather than working just for money.
She stood up for us at school if she felt teachers' comments were unfair. I loved fashion illustration but I got into trouble for doing this when I should have been drawing a boring still life, and the teacher told her that I would amount to nothing. My mum gave him a piece of her mind, and I ended up with a lifelong career in fashion. I don't doubt that if she'd sided with him, I would not have the fabulous job I have today.
She's an amazing cook, and has been a vegetarian all her life, well before it became fashionable. Half the family ate meat and half were veggie, and she catered for both at all family meals. She has green fingers, too, and has the most wonderful garden bursting with colour and rambling flowers. The vegetables she grows make meals at hers extra special.
She's extremely kind and would go out of her way to help anyone. And that also goes for animals. Nowadays she loves looking out of the window at the birds in the garden, and keeps them well fed.
She's the most inspiring person I know!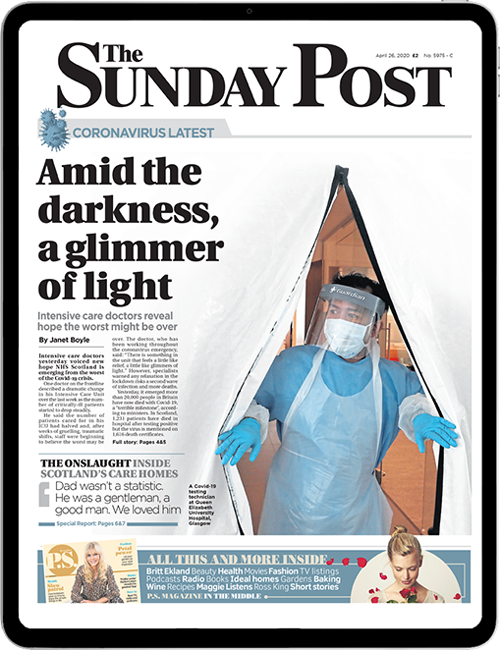 Enjoy the convenience of having The Sunday Post delivered as a digital ePaper straight to your smartphone, tablet or computer.
Subscribe for only £5.49 a month and enjoy all the benefits of the printed paper as a digital replica.
Subscribe