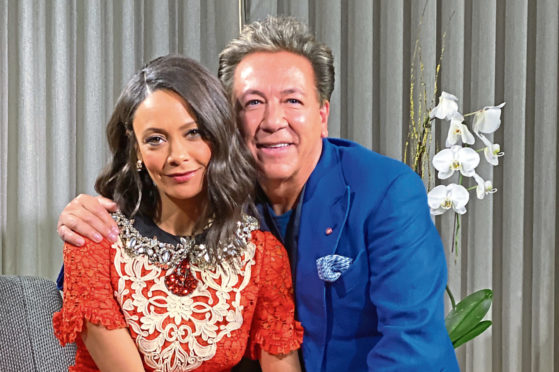 I love a good on-set prank. George Clooney is the master at them. I recently found out he got the wardrobe department to take in Matt Damon's trousers when filming The Monuments Men, so his co-star would think he was gaining weight!
Someone who's great at a wind-up is Thandie Newton.
She's back in the new series of classy sci-fi thriller series Westworld, which returned to screens this week.
I had a chat with Thandie and the subject of her mischievous behaviour came up. Once she smeared Marmite over co-star Simon Pegg's underpants and left them in his trailer, on the set of Run Fat Boy Run. And with that she started cackling!
"I did a great one to Simon Pegg when we were doing a movie," she laughed. "We were doing a press thing and I'd come in half an hour early with this bottle of cheap vodka and I'd filled all his water bottles with vodka and just left them there.
"I asked the guys to keep the cameras rolling. He's on camera taking a big old swig. It was the best thing ever. All I heard down the corridor was him shouting, 'Newton!'"
She didn't indulge in any wind-ups but if Westworld comes back, Thandie is determined to get her co-star, French icon Vincent Cassel.
"Nobody got it in this series of Westworld," she said. "If we come back for another season Vincent's getting it. He's getting it bad.
"I know him well enough now. This is the key. It's got to be someone who will enjoy it but won't have the energy to retaliate. You don't want to pick someone who will try to one-up you. I have NO interest in someone doing it to me! I would get cross!"
If you haven't seen Westworld on Sky Atlantic, it's a complex and riveting reboot of the slightly camp 1970s techno thriller movie.
The plot is one of those where you have to really pay attention – so I wondered if people could jump right in for series three.
"Series one and two are a sort of prequel to where we start in series three," she said. "The Star Wars franchise people can make prequels but now it's quite common. I hope the makers get to fulfil their vision, because it's a real alchemy."
Returning to work on a show as big-budget as this – it's an HBO production – doesn't intimidate Thandie.
"I was excited more than nervous," she said. "It's not a fear thing, it's just delighted anticipation – like meeting Vincent Cassel for the first time and knowing we're going to work together.
"I was thrilled about what that would bring to the show. The same with Aaron Paul. He's wonderful.
"And also getting to see the same actors I've been working with for years – Evan Rachel Wood and Ed Harris and Geoffrey Wright bringing new focus and dimension to the characters we know so well.
"That's one of the benefits of working on a show long-term, you get to play the same character and evolve that character. And we have great writers!