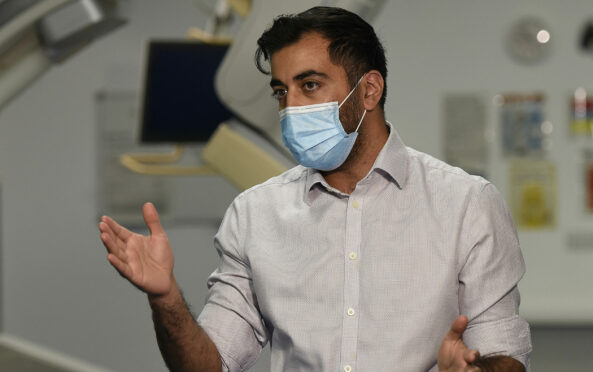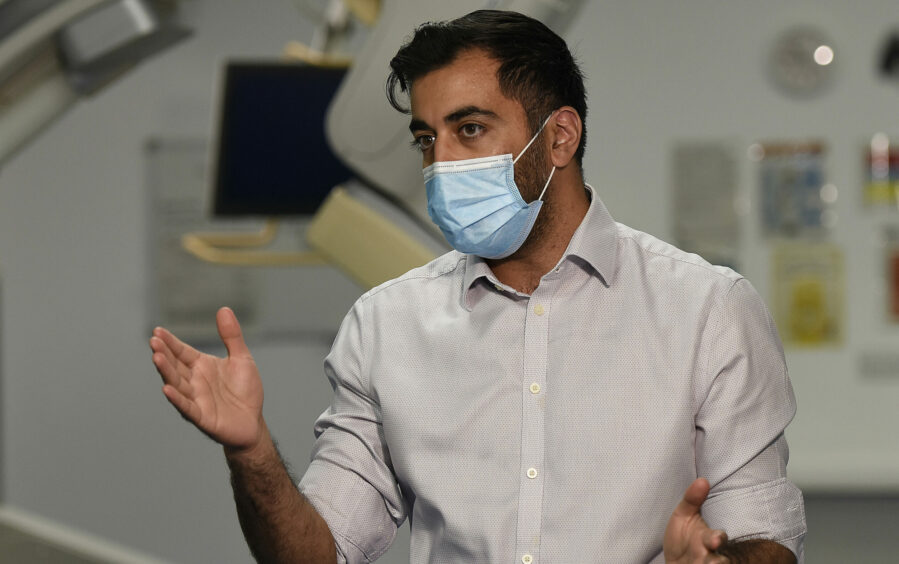 Only people thought to be at high-risk of spreading Covid-19 will now be called by contact tracers, ministers announced yesterday, as fears mount the official Test and Protect service is buckling under the rising number of cases.
Health Secretary Humza Yousaf said calls will no longer be the default option for tracers and text messages will be increasingly used. The attempt to trace contacts of those at risk has also been dropped.
More contact tracers are being recruited but there are mounting fears the system is at breaking point as whistleblowers describe under-trained staff and calls not being made quickly enough to curb the spread of infection.
However, Yousaf yesterday confirmed the change in strategy, with contact tracers being instructed to text low-risk cases rather than speak to people directly. Determining the priority level of a case will depend on individuals filling out contact tracing forms online.
It comes after NHS Grampian warned the increase in cases meant it would not be able to trace the contacts of everyone who tests positive.
Yousaf said: "The shift in approach we are taking will mean more text messages going out and people getting online to report contacts and find information. This is a sensible and practical approach which will allow us to focus our contact tracing efforts on the most high-risk cases and prevent further spread of the virus.
"Contact tracers will continue to phone many of those who have tested positive but there will be a focus on more complex, high-risk cases. We continue to look holistically at the system to ensure its resilience, including supporting ongoing local recruitment and flexing additional workforce capacity within the National Contact Tracing Centre."
It follows a week of record-high infection numbers across Scotland and an admission by First Minister Nicola Sturgeon that the Test and Protect system is under pressure.
One worker claimed staff are overworked, not properly trained and stressed. The whistleblower told STV that numerous staff were leaving and morale was low. He said: "People are coming out of training and going straight on to do contact tracing calls that are not done to the standard that they should be, not done within the time that they should be, which is putting people at risk, especially contacts of index cases. They are still going about their daily business because nobody has been in touch with them.
"I'm pretty tired, it's making me really anxious at work, I feel like this needs to be addressed. A number of staff feel like their concerns are not getting listened to, they get swept under the carpet by the senior management team. It's a really sort of toxic, not nice place to be. Certainly, with somewhere like the NHS I would have expected it to be much more organised, people's wellbeing should be well looked after but at the moment it's very much not.
"There are people leaving daily because of it and unless they get it sorted they're going to see a mass exodus of staff and the situation will just get worse."
Hugh Pennington, emeritus professor of bacteriology at Aberdeen University, voiced concern, saying: "Clearly, they haven't got enough contact tracers. If you don't have enough contact tracers and you have a lot of cases with potential contacts then, you're up the creek without a paddle.
"Text messages are not second best, they're about 10th best. People won't pay much attention to them, whereas a personal contact over the phone might have much more impact.
"The whole contact tracing system has not been working well right from the beginning for all sorts of reasons and one the big reasons is lack of resources. They haven't hired enough contact tracers to reach the proportion of positive cases and people potentially exposed to the virus that they should have done.
"The whole contact tracing system is creaking and the number of cases has almost holed it below the water line. To stop the whole ship sinking they've had to change the policy. It wasn't working well before and now it's going to work even more poorly."
Scottish Conservative shadow health secretary Annie Wells MSP said: "It's quite clear the system isn't working as it should be and is struggling to cope with the high number of cases which has prompted this move. People are understandably worried about the rise in case numbers and it's imperative that no case goes forgotten through this new way of working."
Scottish Labour health spokeswoman Jackie Baillie said: "This news is an explicit admission that the SNP has failed to develop a robust test and protect system. They have failed to support the staff trying their best to cope with the surge in numbers. Rather than rising to the challenge of increasing cases, it has buckled under the pressure – risking our exit from the pandemic."
Figures released by the Office for National Statistics said Scotland continued to have the highest Covid rate in the UK last week, with about one in every 150 people thought to have the virus, a total of 35,900 people.
The number of new cases yesterday was 3,108, 9.6% of all those that were tested, with a further three deaths recorded. There were 306 people in hospital, up from 215 at the beginning of last week, with 25 people in intensive care.
The rising number of cases prompted Midlothian Council to cancel a licence for a Tough Mudder fitness competition due to take place over this weekend in Dalkeith Country Park.
The local authority has the second highest rate of Covid infections, with 686.8 per 100,000. Only Dundee City recorded more at 816.4, which is now the highest rate in the UK.
The number of coronavirus vaccinations carried out in Scotland has hit a 10-week low with 12,601 first doses and 12,026 second doses administered on Friday – the lowest level since April 19. Some 3,844,371 people have received the first dose and 2,749,373 have had their second dose.
Meanwhile, a health psychologist working with Sage has said one of the main drivers of people failing to self-isolate when told is lack of financial support.
Robert West, professor in health psychology at UCL's Institute of Epidemiology and Health, told Times Radio: "Most of the reason why people are not self-isolating even when they've got symptoms, to be honest, is because they have felt that they haven't had a financial, material and social support needed to do it."
He said the solution to rising infection rates would be to give the public the right kind of support to self-isolate, but added: "I'm not holding my breath on that one since the government seems to have set its face against it so that is a big problem."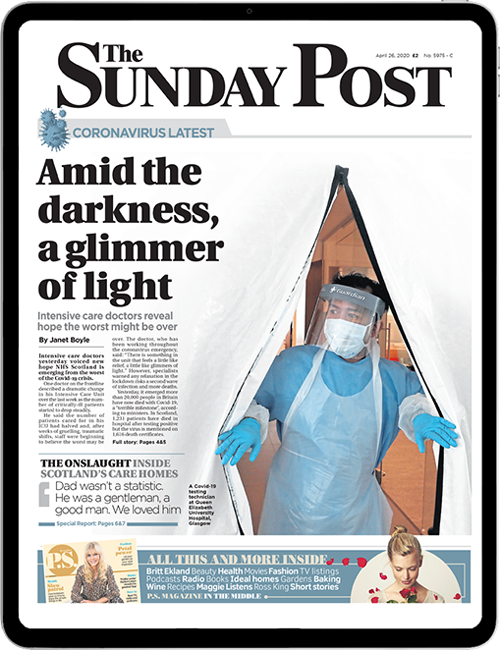 Enjoy the convenience of having The Sunday Post delivered as a digital ePaper straight to your smartphone, tablet or computer.
Subscribe for only £5.49 a month and enjoy all the benefits of the printed paper as a digital replica.
Subscribe