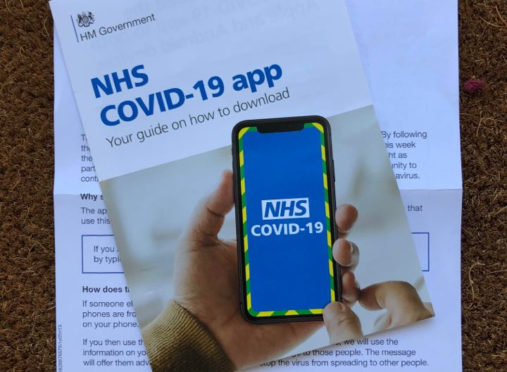 Trials of a new system to trace the contacts of Scots testing positive for Covid-19 will launch in three health board areas tomorrow.
The Test, Trace, Isolate and Support system, seen as crucial in preventing a second wave of coronavirus, will be tested in Lanarkshire, Fife and the Highlands.
The rollout across Scotland is expected to begin a week later. The system is aimed at limiting the transmission of highly contagious Covid-19 by alerting people when they have come into contact with a carrier so they can isolate. This includes everyone who has been less than two metres away from a confirmed case for 15 minutes or more.
The number of confirmed Covid-19 deaths in Scotland has risen to 2,094, according to the latest Health Protection Scotland figures, up by 41 on the day before, while new figures show it has now killed 307, 000 and infected 4.5 million worldwide.
The pilot programmes will be launched two months after the UK and Scottish governments abandoned contact tracing before imposing a lockdown 11 days later.
The Health Secretary Jeane Freeman told The Sunday Post how the new targeted systems will identify local outbreaks of the virus and break the chain of transmission.
She said: "Technology will be an important tool to help us exit lockdown. The digital solutions we are developing in Scotland will focus on supporting public health teams identify outbreaks and reduce transmission in high risk groups and settings by making it easier for staff to collect and record information.
"In essence, we are replacing the traditional pen, paper and clipboard of the contact tracer with digital tools which provide the same function, but faster.
"The first part of these will be piloted in three health boards this week with further roll out planned for week beginning May 25. This adds to the notification system already being rolled out which sends people test results by text."
When the contact tracing system is used in the community, those who test positive for the virus can input the names of people they have been in close contact with to a secure web-based tool which can be accessed on smart phones and computers. Telephone support is available if you aren't tech savvy.
A team of contact tracers will then inform people who have been in close contact with someone with the virus and carry out a risk assessment. Contacts of those with Covid-19 could be asked to self-isolate for 14 days so that the chain of transmission is broken.
The Scottish Government has said it is recruiting up to 2,000 additional staff to bolster the tracing programme. An online portal for potential candidates to express an interest was deluged on Friday after an advertising campaign which was launched amid concerns about a lack of applicants. There were 8,500 expressions of interest as of Friday, up from 3,500 the day before. However, it is understood no one will be hired until after the May 22 closing date.
The pilot in Lanarkshire, Fife and the Highlands will use staff already trained in contact tracing. Many are likely to be brought in from sexual health clinics and local authority environmental health teams.
Scotland already has a well-established contact tracing system to deal with infectious diseases. Contact tracing is most commonly used by sexual health clinics. It was also used to contain the spread of swine flu 10 years ago.
The UK and Scottish governments have been criticised for ending test and trace programmes in the middle of March allowing, according to critics, the virus to spread unchecked and unmeasured through Britain until a full lockdown was ordered 11 days later.
Officials north and south of the border insisted testing was not a crucial weapon in the fight against Covid-19, while other countries, with far fewer deaths, said it was fundamental.
The Scottish Government is now building on technology already used to trace contacts for other infectious diseases, primarily sexually transmitted diseases.
However, the government has already conceded that the system will only work for Covid-19 if the population is willing to isolate.
And one expert in sexual health contact tracing warned the system also relies on the honesty of those who have been infected.
Dr Ingrid Young, researcher in the Centre for Biomedicine, Self and Society at Edinburgh University Medical School, said: "It is an honesty system and not every person who gets a positive test then shares the name of their partners.
"And many who receive a message to say their partner has had a positive test are scared to call the service. So, it's about breaking down that barrier.
"With Covid-19, you might get a notification that you have been in contact with someone who has the virus and you might panic, so we have to think about how we deliver those messages without inciting anxiety and fear in people. It's a new illness and there is no treatment so you need to think about the social barriers to helping people deal with this effectively."
A package of support is expected to be put in place by the Scottish government to minimise the financial, social and well-being impact of isolation. Scotland's testing capacity will also be increased to 12,000 a day by mid-May to support the contact tracing push. However, the First Minister has admitted they will have to increase this further, to 15,500 tests a day for contact tracing to work.
The Scottish Government is also considering using an NHS England phone app which is being piloted on the Isle of Wight.
The NHSx app uses Bluetooth to detect when a person's phone has been near another owned by someone reporting symptoms of Covid-19, sending a notification to the user. However, the NHSx app is only effective if more than 60% of the population use it.
Ms Freeman said it may be used to "support" Scotland's new contract tracing technology.
NHS England said it is working to ensure the NHSx app can be used across the UK.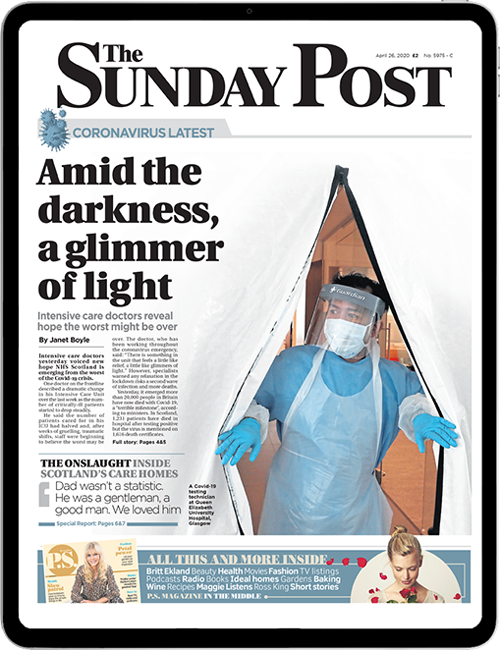 Enjoy the convenience of having The Sunday Post delivered as a digital ePaper straight to your smartphone, tablet or computer.
Subscribe for only £5.49 a month and enjoy all the benefits of the printed paper as a digital replica.
Subscribe