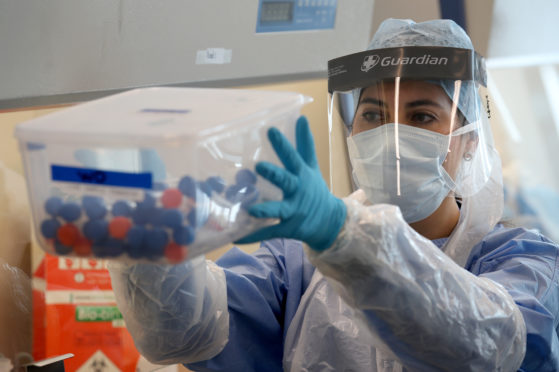 NHS Scotland's new test, trace, and isolate programme – Test and Protect – will go live from the end of this week throughout all 14 health board areas, the First Minister announced.
This means anyone who suspects they have coronavirus symptoms – a cough, temperature or loss of taste and smell – can book a test from Thursday via NHS inform or NHS 24, Nicola Sturgeon said during Tuesday's daily press briefing.
Contact tracing will also be put in place, and anyone who tests positive will be asked for details of their close contacts, including household members, face-to-face contacts (less than one metre) or anyone they have met while social distancing (two metres or below, for 15 minutes or more).
These contacts will then be advised to isolate for 14 days. Ms Sturgeon said employers should allow these people to go home if they are at work.
The First Minister assured the public their privacy will be respected and the information given will only be used to trace contacts and will be held by the NHS, not the Scottish Government.
Ms Sturgeon said the aim of the new programme is to quickly identify cases of the virus and act to break the chains of transmission.
NS: "But let me leave you with the most important message. From Thursday, if you have symptoms of Covid-19, you should go online to https://t.co/SPy7h4XLNV or call NHS 24 on 0800, 028 2816 and book a test straightaway."

— The SNP (@theSNP) May 26, 2020
She said: "From the end of this week through Test and Protect, anyone who suspects they have Covid-19, anyone who has the symptoms we advise you to be aware of, will be tested.
"If you test positive, your close contacts will be traced and advised to isolate for 14 days."
The First Minister called the system an "extremely important tool" in the fight against the virus in the months ahead.
It will be a collective national endeavour. All of us will have to agree to make sacrifices for the common good – First Minister Nicola Sturgeon
It is hoped the programme will help to suppress the virus while Scotland's lockdown restrictions are gradually eased from 28 May.
Ms Sturgeon also announced the target capacity of 15,000 tests per day needed to launch Test and Protect has now been met.
The capacity is "being delivered through a combination of NHS labs, academic partners, the Scottish National Blood Transfusion Service, and the Lighthouse Lab in Glasgow".
Contact tracing software already used by public health teams in Scotland in relation to other infectious diseases has now been enhanced and extended, she added, with software piloted in Fife, Lanarkshire and Highland over the past week.
She said this software will now be operational in every health board by Thursday.
The Scottish Government initially set out to hire 2,000 contact tracers by the end of May.
Based on "current demand estimates", the government has assessed around 700 will be needed in the early phase. But Ms Sturgeon said that, by the end of the month, there will be a pool of around 2,000 tracers to "draw on if necessary".
She said: "This is a system that will operate at a scale not seen before in Scotland. We have of course had contact tracing and testing before but we are substantially increasing the scale.
"Over the first couple of weeks it will need to bed down, but introducing it at the same time as we take the first, very cautious, steps out of lockdown gives us the opportunity to address any operational issues ahead of a potentially more substantial easing of restrictions at the next review date in three weeks.
"Over the next three weeks we will also add enhancements to the system.
"The technology used by contact tracers will be in place from the start but we will also add a digital platform to allow people who test positive to enter details of their contacts online."
The First Minister stressed that the Test and Protect system will only have the desired effect if people do what is required, by booking a test immediately after showing symptoms and self-isolating completely – no trips to the shops or outside for exercise – if required.
She added: "It cannot be seen as optional."