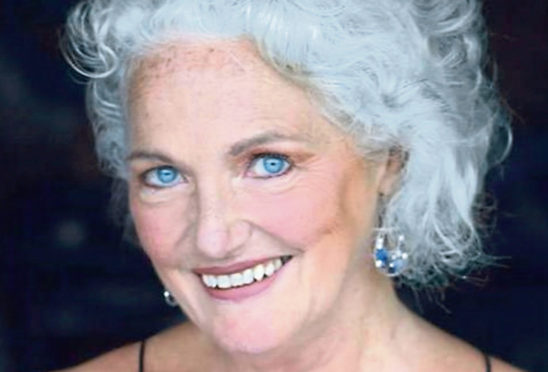 Louise Jameson has famously acted in Doctor Who, Tenko, Bergerac, Doc Martin and EastEnders, among her many impressive credits. But at 68, she likes to direct too.
"I've directed a lot in drama colleges, I do quite a lot of directing on the fringe, but this is my first commercial venture so this is a little step up for me on the directorial ladder," explains Louise.
However, she continues to act, recently appeared in Silent Witness and the sitcom Bumps, and can soon be seen in the children's series Secret Life Of Boys, in which she plays a Harley Davidson-riding granny.
"It feels like I've got into Act 3 of my life," she says. "I'm certainly working differently. The thought of touring doesn't appeal to me at the moment, but doing scripts that mean something to me, and writing and directing, does. I'm a bit frightened of old age and I feel working at this pitch pushes it away a bit."
Louise inherited her love of showbusiness from her mother Marion, who she describes as "queen of amateur dramatics".
"In a way, I lived her dream. She also turned to directing in her 50s, but all amateur except one Scott's Porage Oats advert!"
Born in Wanstead, Essex, on April 20 1951, Louise recalls her early schooldays: "When we had sewing classes, I was so bad at it that the teacher would give me a book and I'd read to the class while everyone else was sewing, so I was performing that way. Maybe I was just an attention-seeker!"
At 17, Louise went to RADA with Sherrie Hewson, Sharon Maugham and Robert Lindsay, then joined the Royal Shakespeare Company alongside Ian Richardson and Judi Dench's brother Jeffery.
In 1973, Louise played Sharon Crossthwaite in Emmerdale Farm, and three years later got her big break when she landed the role of Leela in Doctor Who.
A leather-clad companion alien to Tom Baker as the Time Lord, Louise immediately attracted attention from the tabloid press who declared her the show's "sexiest companion yet".
"At the time I thought I was going into a kids' TV programme. I didn't expect the press attention I got. I guess that was my naivety, especially as the show was on after the football results."
She looks back with affection at some of the flimsy sets and basic technology.
"There was a lot of polystyrene, and obvious laid-on laser beams, but we didn't have the CGI they have now. Given the special effects available back in the day, I think they did incredibly well."
Louise admits she didn't get on well with Tom Baker, but insists they are good friends now.
After just 10 months Louise returned to her beloved Shakespearian theatre, Leela got married off, and the Doctor's next companion was the robot dog K9. As she's forever associated with Doctor Who, does Louise regret even doing it?
"Never. Not for a nano-second," she replies. "I don't mind. It's not as if I was left without work afterwards or I was typecast to the extent that I couldn't play anything else. Far from it.
"It's opened so many doors for me, why would that upset me? I get letters from people now who wrote to me then. Hardly a day goes by when I don't have a Doctor Who discussion with someone."
Ask Louise her finest telly role, and she says: "Without a doubt, Blanche Simmons in Tenko," referring to the acclaimed BBC TV series set in a fictional Japanese internment camp during the Second World War.
"We were all a bit taken aback that the viewing figures went up to nearly 17 million.
"We knew it was good, but word of mouth pushed it that bit further. I was surprised but incredibly proud of the work."
For five years in the late 1980s, Louise was Susan Young, Jim Bergerac's girlfriend in the BBC's Jersey-based detective series Bergerac, starring John Nettles.
"John was absolutely adorable. At one time a house sale fell through and I was saying 'Where am I going to live?'.
"I decided to spend the summer in Jersey and, when I asked John if he knew of any cottages going on the island, he immediately said, 'My home is yours!'
"I was there six weeks with two children and a nanny, and he wouldn't take any rent. The generosity of the man is extraordinary."
From 1998, Louise had a two-and-a-half-year run as restaurateur Rosa di Marco in EastEnders, appearing in over 200 episodes until Rosa died from a heart attack.
Getting killed off was not Louise's choice – she insists she never feared getting stuck in the soap.
"People said this after Doctor Who, but I've just jogged on. It's been a diverse career, and the more diverse, the happier I am."
In 2011, Louise played Eleanor Glasson in Doc Martin, which she enjoyed filming in the Cornish fishing village Port Isaac.
"That was wonderful, like being in Bergerac again! Right by the sea, I was given a little cottage, not filming that much but enough to keep my hand in… Glorious!"
Home for Louise is a Victorian end-of-terrace cottage in Tunbridge Wells, Kent, which she shares with her dog and describes as "cluttered".
"There's lots of artwork on the walls. I've got one little corner by the airing cupboard where there are awards and that kind of thing.
"I moved to Kent in 1989 because I was married to an artist," she adds of Martin Bedford. "His passion was landscape and living on the edge of the Ashdown Forest was better than living in Stoke Newington where we were before.
"I've only been married the once and I don't consider it a failed marriage. I consider it a really fantastic marriage. It just had its day. I think Martin feels the same.
"We are still incredibly good friends. He lives in France now and I visit him there and he visits me here and we get on really well."
From other relationships Louise has sons Tom, aged 35, and Harry, 37, who are both in the fitness business.
"They are often asked what it was like growing up with a famous mum.
"I think it probably worked to their advantage, especially when they were teenagers and I was in EastEnders – I think that gave them a bit of kudos.
"My second grandchild, Hugo, will almost definitely be a performer somewhere down the line – he likes making people laugh, putting on make-up, and he adores a camera."
Of all her things to tell the grandchildren, Louise reckons she'd choose tales from Doctor Who "because that's what they tap into now. But last year they were really impressed that I rode a Harley Davidson in Secret Life Of Boys. They really sat up and took notice of that, bless them!"
With her 70th birthday next year, Louise has a bucket list in mind.
"I want to fly through the Grand Canyon, I want to go to Bali and India, and I want to be in a great big movie. And I'd like to lose a stone, but that's been an ambition since I was 20!"
Visit louisejameson.com