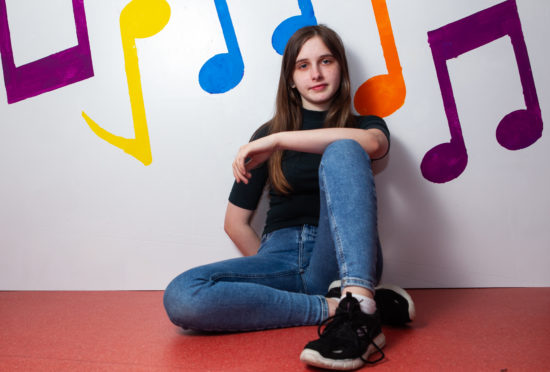 Shy, quiet and reserved are three words most strangers would use to describe Savannah McRorie – but to the people who know her best, she has never been more outspoken.
The 13-year-old schoolgirl has spent the last 10 years of her life in almost complete silence, unable to interact with anyone outside of her family, after the shock of seeing her mum collapse left her with selective mutism, a severe anxiety disorder characterised by an inability to talk.
But she has finally found her voice again and mum Tina, 49, is delighted.
"Until now Savannah has been locked in a world of her own, unable to speak," said Tina, who also has two older daughters, Jessica, 17, and Jenna, 20. "She stopped speaking when she was two after she saw me have a seizure in the street. After that, it was months before she even said a word to anyone in the family. Eventually she started speaking to me, her dad and then her sisters – but that was it, she spoke to no one else.
"She wanted to speak but she couldn't. She was just too scared and couldn't get the words out."
She added: "For a two-year-old she had been speaking quite a bit before that point, so it was quite a shock. The doctors wanted to get psychologists involved but at first I was terrified she'd be labelled – so we waited it out and hoped she would come through it on her own with our support.
"To be a mum who has had a seizure and then had her child stop talking, I could only feel it was my fault. I blamed myself at the time because I was the one who had collapsed and I was the one who had stopped her speaking.
"But because of that I was determined I was also going to be the one who stood by her and got her through it."
Savannah was still not able to talk by the time she was in nursery and was eventually diagnosed with selective mutism by an educational psychologist just before she started primary school.
Growing up wasn't easy for Savannah and although she struggled to make herself understood in class she was still able to hit her educational milestones. All along, Tina, who still suffers unexplained seizures, was determined she would get the same opportunities as everyone else, becoming her champion and fighting her corner every step of the way.
She said: "I fought to get her into mainstream primary and then high school, too. At the first parents' night every single teacher would say, 'Well, she doesn't speak to us' but they knew from her file she had been diagnosed as selectively mute. So, it was frustrating for her to be judged. She was bullied too, so the teachers would keep her in the classroom at break times. She was kept in for her own protection, but it only served to isolate her more.
"She did make one friend, a Polish girl, who didn't speak a word of English, and because Savannah didn't speak they created a bond together. They would sit on the grass at lunchtime away from the other children. It's been a long fight to have her accepted, but it's been worth it. She's an amazing kid."
Although Savannah is still cautious around new people and situations, her family say she has come on leaps and bounds in the two years since Tina brought her along to after-school sessions at the Logos Youth Project, which provides a range of activities for local kids in their hometown of Crieff, Perth.
During her first session at Logos, Tina admits Savannah was "sitting in the corner, tugging on her sleeve" and didn't say anything to anyone. But in time she soon opened up and began to feel safe enough to use her words.
Savannah said: "I was never accepted by the other children at school and some staff just left me sat on my own at the back of a classroom because that's what they thought was best. To keep me away from the bullies my primary school put me in a classroom on my own at break times and lunch times, which made the other children bully me even more.
"Adults used to judge me and try to make out I was stupid. I wasn't stupid I was just a little girl who had a big fright and was scared to talk to anyone."
Savannah's progress has been gradual and even now she still talks in a whisper with people she doesn't know, but her confidence has grown slowly, and she recently even gave a presentation at school in a bid to raise funds for Logos, a standout moment in her journey.
Caroline Murphy, Next Step coach at the centre, said: "There's a real determination in Savannah – I think it was always there, but you just couldn't see it. Even her stature, how she dresses and how she holds herself has changed – it's not just the fact she's speaking. She stands taller now."
With colourful handprints painted on the walls, chill-out areas, pool tables and a small café, the traditional centre is reminiscent of Byker Grove, and was recently awarded £49,613 over three years through The National Lottery Community Fund's Young Start Programme.
Volunteers say the relaxed atmosphere has helped many kids to come out of their shell – but none quite as much as Savannah, who was given their Young Volunteer of the Year award, and now hopes to use her experience and newfound confidence to help others.
"Logos became a place where I felt safe – it was a place I was able to go and be happy and have fun without being judged or bullied by anyone," explained Savannah.
"When I leave school I would like to work with children who have speech difficulties or other mental health problems. I can relate to how they feel and what is happening with them because I went through it myself."