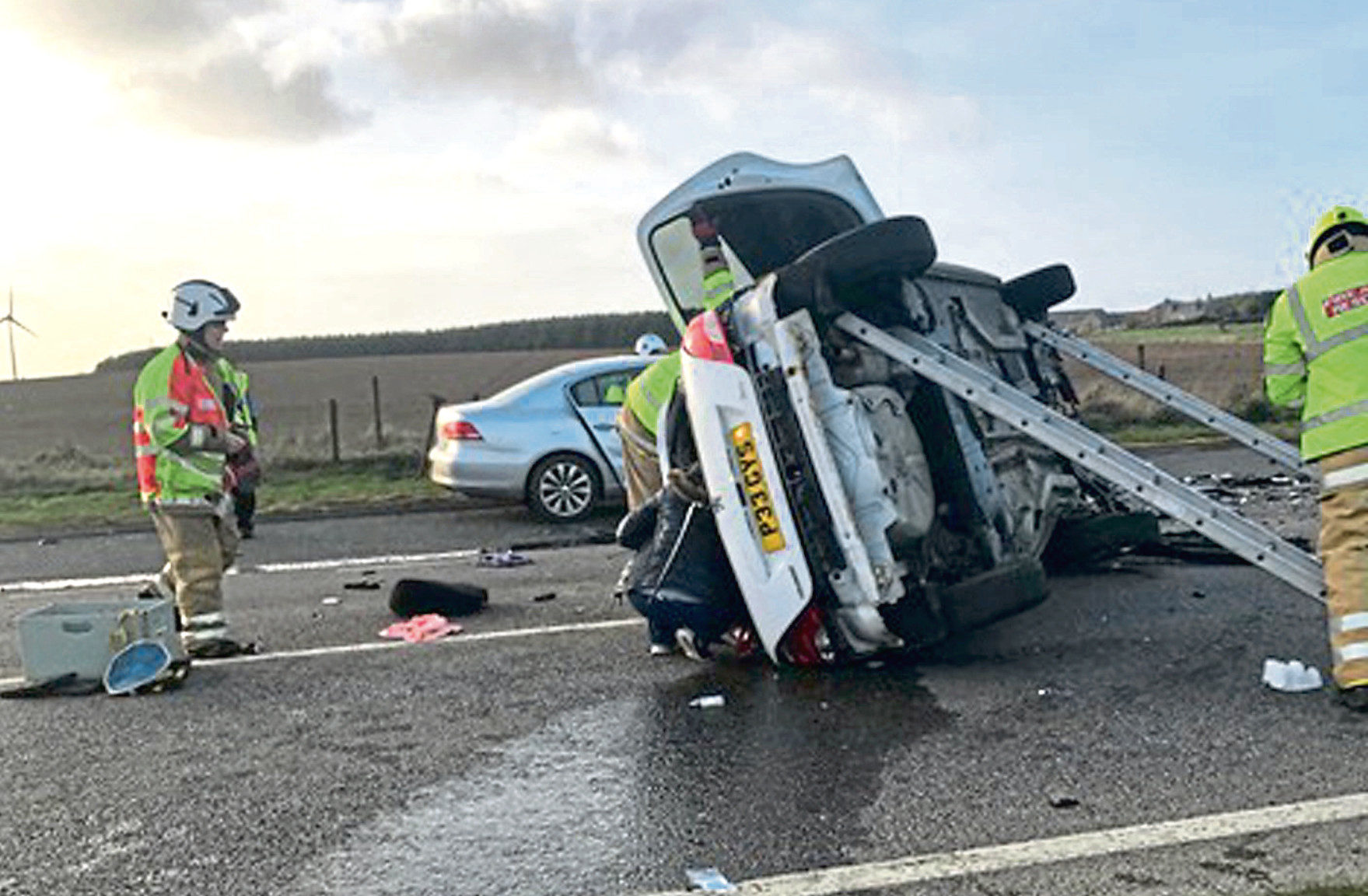 A TEENAGE driver has avoided jail after admitting a charge of causing death by dangerous driving.
Kathryn Forman was accused of "showing no hint of human decency" in the months following the two-car crash near the Toll of Birness, just north of Ellon, last April.
Five people, including the 19-year-old, were treated for severe injuries after the smash.
66-year-old Dorothy Cruickshank, who had suffered a broken pelvis, legs and ribs in the incident, died from multi-organ failure 10 days later.
Forman caused the crash while flicking a cigarette from the window of her vehicle as she drove along the A90 Aberdeen to Peterhead road.
The 'short distraction' caused the car, which was also carrying three of her friends, to mount the kerb and swerve out of control.
It hit an oncoming car being driven by Mrs Cruickshank's husband James, and the force of the impact propelled the vehicle into a lay-by, trapping the couple inside.
Sentenced in Aberdeen yesterday, Forman avoided a jail term but was ordered to undertake 300 hours of unpaid work over the next year.
She was also placed on a one-year supervision order and has been banned from driving for three years.
Forman's solicitor, Gavin Anderson, opened his remarks yesterday by apologising on behalf of his client.
He said the teenager had been unable to speak out before that point as she had been advised against discussing the crash with anyone but her legal team.
Mr Anderson said: "She has not be able to apologise personally to those involved because such a discussion might encroach into the case.
"She is clearly distressed and devastated at having caused the death of another individual."
After hearing the arguments in court, Sheriff Brown said: "Nothing which I can say or do can lessen the grief felt by Mrs Cruickshank's husband, family and friends.
"It appears that what occurred was a traumatic but devastating accident not caused by a prolonged period of bad driving but momentary inattention."
Relatives of Mrs Cruickshank felt the punishment was not severe enough.
In a statement, they said: "Our mum was tragically taken from us due to Kathryn Forman's reckless driving.
"The justice system has failed us.
"She has shown no sign of remorse or hint of human decency since the crash which is incomprehensible.
"We ask that people please drive responsibly as the devastation caused is unbearable for those left behind.
"Our lives changed forever the day we lost our amazing mum, a loving wife, and doting nanna and our wider community has lost a loyal and dear friend."
Read more on this story from our colleagues at The Press & Journal:
Victim's family hit out after north-east death crash driver dodges jail sentence