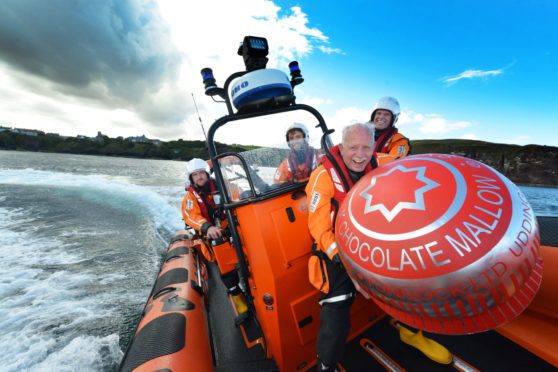 He is Scotland's most famous baker and, at the age of 87, Sir Boyd Tunnock has finally opened his recipe book.
When he found himself shielding at home due to Covid, he did what he does best and began making scones and cakes for his neighbours.
Now his secret lockdown recipes are published in a book for the first time, with proceeds going to charity and Sir Boyd is delighted. He said: "These are the recipes I grew up with. Some are original, passed down through generations and others are adapted from recipes I inherited over the years.
"I've tried them all and baked every one of them in my kitchen at home during lockdown. It was so uplifting to be able to share the results with neighbours and friends during those 18 weeks. You don't know what you can achieve until you try."
The businessman, whose grandfather Thomas opened the family's first bakery in Uddingston, Lanarkshire, in 1890, started his lockdown "shift" every morning at 6am.
His house is a stone's throw from the Tunnock's factory which boasts record-breaking annual sales of £64 million and produces more than six million Caramel Wafers and three-and-a-half million Tea Cakes a week.
But the factory fell silent in March due to the pandemic. Sir Boyd said: "I like to keep busy and these were – and still are – strange times.
"I am usually up early and, before I knew it, I was baking at least two different things every day. It was great fun. I started with scones and pancakes then moved on to banana loaf, Paris buns and Empire biscuits.
"I was pleased with what I had made. They were handed round five different houses in the avenue and were very gratefully received."
As news of his home-baking spree spread, neighbours started to reciprocate, while others placed regular orders.
Sir Boyd said: "One of my neighbours was a baker and she would bring me some of her stuff, gingerbread and the like.
"Another family returned the favour and made Empire biscuits using my recipe and brought me some across. They were lovely.
"I have a friend whose home backs on to mine and he'd come down to the other side of the fence every day at 4pm. I'd take whatever I'd made wrapped in foil and throw it over to him.
"But I would occasionally miss and we had meringues flying off in the wrong direction more than once. It was great fun, we had a laugh and a chat… and he still ate them."
The idea for the book came later. Sir Boyd, who joined the family firm aged 16 in 1949, said: "I'd had lots of requests for the recipes. I'd been noting everything down in a wee pocket book and I realised there were 16 recipes which were tried and tested, so I took the bull by the horns and contacted a printer."
His top tips include steeping dried fruit overnight for a moist tea loaf, adding hot instead of cold water to icing sugar when decorating biscuits and placing small pots of boiling water at the base of the oven when baking baguettes to keep the crust soft.
But the inventor of the Tunnock's Tea Cake – he came up with the idea in 1956 – remains tight-lipped about the winning formula for his company's world-famous biscuits. He said with a laugh: "I can't tell you too many secrets, now can I? I'd get into trouble with the boss."
Proceeds from the book will go to the independent St Abbs Lifeboat charity. Sir Boyd donated £260,000 to the appeal for the Borders community lifeboat station in 2015 after the RNLI closed its site. He said: "I am a sailor and I wanted to do something to help. It's a good charity. It's wonderful to be in a position to help people who are helping others.
"We've now raised £1,850 from sales of the recipe book but the orders are still coming in. It's marvellous."
The book has traditional recipes for meringues, scones, pavlova, brandy snaps and puff candy. His "nicket-shape" shortbread is circular with a crimp around the edge, much like the base of an individual strawberry tart or fern cake.
Euan Gibson, a trustee of St Abbs Independent Lifeboat, said: "We're thrilled with the support we receive from Sir Boyd and can't thank him enough for his donations over the years.
"The recipe book is a complete one-off, just like him, and has proved a big hit. Indeed, we've been swamped with online orders and donations.
"It's a unique and special gift that was originally only intended for his family and friends. But he decided to have the book published for sale with all proceeds generously coming to St Abbs."
---
The recipes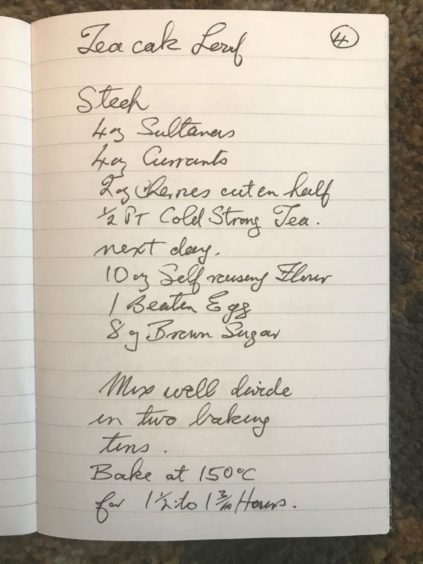 Tea Cake Loaf
Steep:
4oz sultanas
4oz currants
2oz cherries, cut in half
½ pint cold strong tea
Next day:
10oz of self-raising flour
1 beaten egg
8oz brown sugar
Method:
Mix well and divide into two baking tins.
Bake at 150C for 1½ to 1¾ hours.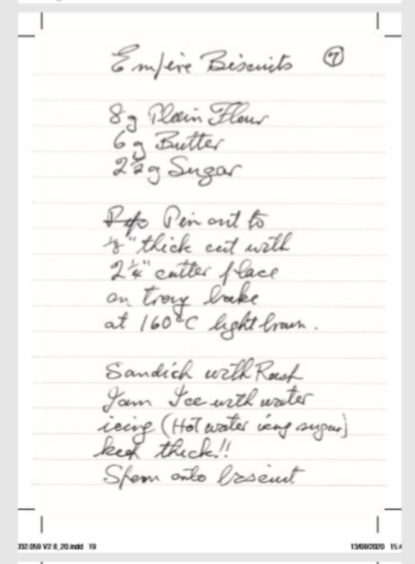 Empire biscuits
You'll need:
8oz plain flour
6oz butter
2½ oz sugar
Method:
Pin out to ⅛inch thick and cut with 2¼ inch cutter. Place on tray. Bake at 160C until light brown.
Sandwich with raspberry jam. Ice with water icing (hot water icing sugar). Keep thick! Spoon on to biscuit then half cherry to finish!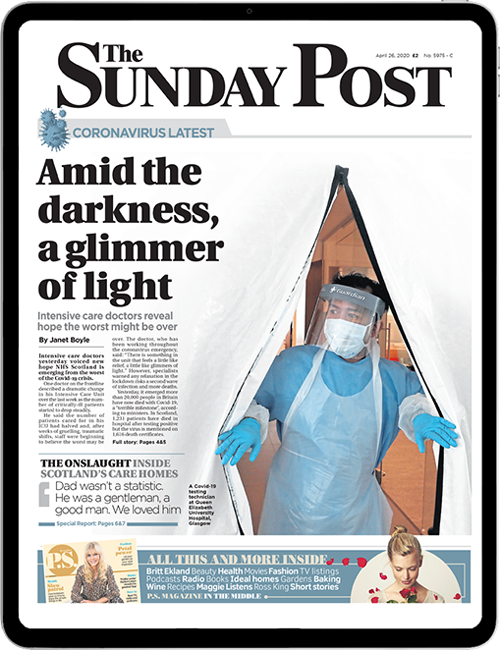 Enjoy the convenience of having The Sunday Post delivered as a digital ePaper straight to your smartphone, tablet or computer.
Subscribe for only £5.49 a month and enjoy all the benefits of the printed paper as a digital replica.
Subscribe