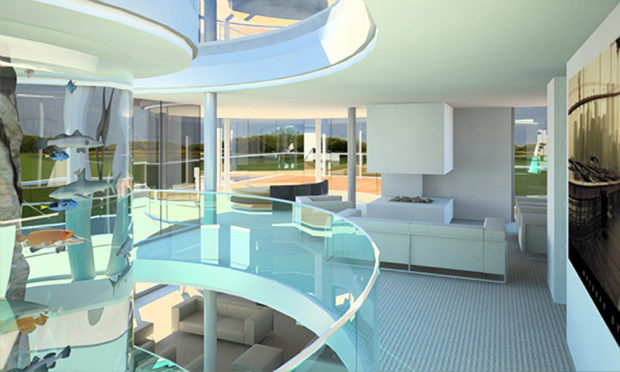 A taxi tycoon is suing two American companies after they built and installed a giant fish tank that burst causing £6 million of damage to his mansion.
Stevie Malcolm has brought civil proceedings against Reynolds Polymer Technology and Acrylic Tank Manufacturing after the 50ft-high aquarium installed at his home in Gleneagles shattered in 2015, ­causing massive damage.
The Paisley businessman, who built Scotland's biggest private hire empire, hired Acrylic Tank Manufacturing to design, build and install a 25,000-gallon aquarium for the home in Perthshire in 2007.
Acrylic Tank Manufacturing, which features in the US reality series Tanked, commissioned Reynolds Polymer Technology to manufacture the aquarium. It was then shipped from Colorado to Scotland where it was installed by Acrylic Tank Manufacturing in 2010.
However, the company claims Mr Malcolm, without its knowledge or approval, modified the tank by connecting it to the roof of the house.
It also alleges that Reynolds Polymer Technology representatives inspected the aquarium in 2013 and observed the roofing alterations but did not tell them.
Mr Malcolm denies the allegation and claims the aquarium remained in the home, without change in design or construction, until it suddenly collapsed. Reynolds Polymer Technology says Mr Malcolm and his architects may have improperly planned the aquarium to be a structural element to support the roof of the house or to act as a skylight. This, they say, may have helped cause the collapse.
Malcolm, who spent an estimated £1.4m on the bespoke circular centre­piece, first filed a suit against the firms in 2017 and has mounted civil actions in two states.
The property at the centre of the legal case was once dubbed Scotland's most expensive house.
Overlooking Gleneagles's famous Queen's golf course, Mr Malcolm paid £1.3m for the plot and spent an estimated £9m building the six-­bedroom property in a gated development in Auchterarder's Queen's Crescent.
The spectacular home was built around the 50ft aquarium, which soared through three storeys. At the time of construction, a huge crane was used to lower the tank into the house through the roof.
It is understood the incident, which killed all of his fish, caused extensive damage to the kitchen, electrics and decor.
Loss adjustors estimated a cost of £6m to fully restore the property.
Mr Malcolm, who last year complained to press watchdogs about a number of newspaper articles which, he claimed, connected him to figures in organised crime gangs, and both the American firms declined to comment when contacted on Friday.