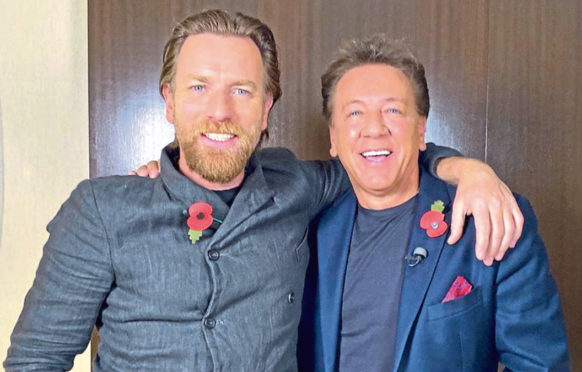 I've had a tough year here in Los Angeles.
To kick things off I had a very unusual first foot – Gary: Tank Commander.
I had a great laugh filming the Gary Goes To Hollywood special, which was broadcast last week.
It was as much fun having him as a guest as booting him back out again, the cheeky wee so-and-so!
Afterwards I got to meet Richard Madden, who must be one of the most successful men to hail from Elderslie, along with a certain William Wallace who defeated the English in the Battle of Stirling Bridge.
Next year will see Daniel Craig put in his last shift as 007 in No Time To Die so, after meeting the handsome Richard who looks great in a tuxedo, the question must be asked…
Sadly I don't think I've got time to take the role!
In February I was finally called up for Scotland. After the Super Bowl, I was on a show called The World's Best.
This was a talent show with judges from all around the globe.
I've not been so nervous about facing a group of judges since the time I hosted the British Legal Association's Christmas Ball.
I just thought it was ironic they'd let ME on a talent show. The clue is in the name, surely?
I was on the Oscars red carpet too and shouted something I'm certain no one else has at the glitzy ceremony.
"Scotstoun in the house!" I bellowed at James McAvoy. We both grew up in that area of Glasgow!
I also spent a few minutes "consoling" Richard E Grant, who lost out on Best Supporting Actor to Mahershala Ali.
He told me he'd watch me cover this event for many years but didn't need any consoling though as he'd just "spent 15 minutes with Barbra Streisand".
I also hung out with Jane Seymour for a bit, who told me about her time as a Bond Girl.
She was called Solitaire – a name I never understood. Solitaire is one of the least sexy games there is. Imagine a Bond girl being named after what your granny played when there was a power cut.
Speaking of Bond, I went to Jamaica for a visit to the No Time To Die set. At that point it was just called "Bond 25" but that sounded like a type of wood glue.
I had a chat with Bond producer Barbara Broccoli – but then her video stream paused which made it frozen Broccoli.
I also chatted with the bold Ewan McGregor – who told me he was worried he wasn't going to be asked back to the new Obi Wan Kenobi Star Wars series.
Don't worry Ewan – I don't think there was any danger of that happening!
At the beginning of the year I remember reading reports that Olivia Newton John was at death's door. She was actually fine – and I ended up having a chat with her last month.
She was auctioning off her leather trousers from Grease.
Funnily enough, grease is what I need to get INTO my leather trousers these days…
Join me next week when I'll be having a look ahead to 2020!