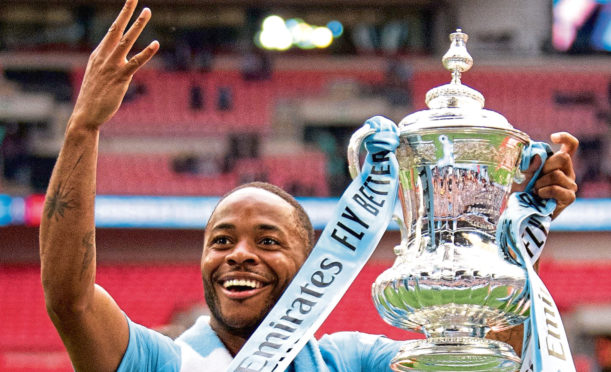 It's FA Cup fourth-round weekend. Does the "magic of the FA Cup" still exist in any shape or form?
It's very hard to find much magic in this competition these days.
And the short answer to why that should be is simple. It doesn't matter to anyone any more.
Not to the big clubs, who between them win it every year, celebrate for a couple of hours and forget it.
Not to the medium-size clubs who never win anything but spurn the opportunity each season to put a famous piece of silverware in their trophy cabinet because the bigger clubs field under-strength sides in the early rounds.
They simply respond by naming under-strength line-ups themselves.
Not to the small clubs, who are more concerned with banking the cash from the odd televised home game or a trip to a big stadium than they are with writing themselves into the history books the way Hereford, Colchester, Yeovil or Sutton once did.
And, most significantly, not to the fans, who now see the old competition as an irrelevance purely because time has moved on and there are bigger fish to fry – the Premier League title, the Champions League, avoiding relegation, winning promotion from the Championship.
The FA Cup Final itself was once what the Super Bowl is to American sports fans, the television showcase of the year.
Now you can watch live football almost 24 hours a day and Cup Final Saturday resides in the graveyard occupied by those previously "must-see" TV events that annually attracted 20 million-plus viewers like Miss World, the Eurovision Song Contest and the Royal Variety Performance.
What can be done to improve "the brand"?
What hasn't already been tried?
We've taken the semis to Wembley, spread the fixtures over four days, fiddled with the draw, cut out some replays, attracted big-company sponsorship and upped prize money – practically everything except reverting to the format that made the thing successful in the first place.
Has anyone ever considered having all the games at 3 o'clock on a Saturday afternoon, a draw you could only hear on radio on a Monday lunchtime, semi-finals at club grounds and fixtures that could potentially go to three or four replays?
Don't worry, that's not going to happen.
Neither will the only step that would be guaranteed to restore prestige to the FA Cup – giving the winners a spot in the Champions League.
That would, of course, mean that the fourth position in the Premier League would be sacrificed and none of the top clubs are going to agree to that, even if we managed to get Uefa on board with the idea.
But it would solve the FA Cup's major issue, which is that winning it is largely of no consequence beyond the glory of the day.
Currently, the cup winners earn a place in the Europa League. Almost every year, though, the team that wins the FA Cup already has either a Champions League place or a Europa League place in the bag by virtue of finishing in the top six.
For the last 29 years only three FA Cup winners – Everton in 1995, Portsmouth in 2008 and Wigan in 2013 – have not been a top-six side.
So, yes, the FA Cup could be revitalised by awarding the winner a Champions League spot but there's another snag. Would we have wanted, say, Portsmouth or Wigan flying the flag into battle with Real Madrid or Barcelona while fourth-in-the-League Chelsea, Arsenal or Manchester United missed out? Probably not.
Would you like to see teams invited from other countries?
Obviously there's a superficial attraction in this idea, though when it comes down to it, we're really only talking about Rangers and Celtic, aren't we?
Uefa wouldn't allow any clubs from beyond the UK to take part so that's a non-starter. Why would they want to anyway?
So, back to Scotland.
Would having Aberdeen, Hearts, Kilmarnock or Motherwell involved help? Not really.
So, back to Rangers and Celtic.
And, yes, that could spark interest, though more, I suspect, north of the border than south of it.
Then you have the downside. Would those two clubs still compete in the Scottish Cup? If they didn't, what would become of that?
At the risk of sounding negative – again! – new clubs are not the answer either.
Getting the ball out, nominate three ties that catch your eye from the fourth round?
This particular draw is symptomatic of the cup's general problems. It really is hard to find a match that gets the adrenalin pumping.
In the absence of non-league minnows or "clashes of the titans", the TV companies have done their best to sort out eight relatively interesting games to show so I've gone with three of them.
Brentford against Leicester, the Saturday lunchtime fixture, is intriguing because the Bees are buzzing under Danish coach Thomas Frank and look set to be involved in at least the Championship play-offs.
They have a great home record and possess the so-called BMW strike force – Algerian Said Benrahma, Frenchman Bryan Mbueno and Englishman Ollie Watkins – which means they'll always score goals.
Leicester have had a great season themselves and Brendan Rodgers would have been a candidate for coach of the year if not for Jurgen Klopp, but they'll have to be very careful.
On Friday night we have the prospect of Wayne Rooney going to Northampton and getting dumped out of the cup by a League Two team.
His Derby side are hit and miss but his presence alone elevates this tie to giant-killing status.
Finally, on Saturday evening, we have Frank Lampard's Chelsea travelling to Hull City, which wouldn't be on the TV schedule if there wasn't the prospect of an upset.
All the big clubs – from which we've already established the likely winner will come – were kept apart in the fourth round draw so we'll see how many make round five, where they'll start knocking each other out. With no prospect of winning the Premier League it will be interesting to see how seriously four-time FA Cup-winner Lampard takes this competition now that he's a manager.
So, who's going to win the first FA Cup of the new decade? And who would you like to win?
Manchester City will retain the trophy.
Obviously they're not going to hold on to their Premier League title but they're still a cup-winning machine and Pep Guardiola is a greedy coach when it comes to silverware.
As for who I'd like to win it, I'd really take anyone outside the Big Six just for a change. If I could have my pick it would be Burnley, a grand old traditional FA Cup club with a manager in Sean Dyche who deserves his day in the sun.
We're fond of a bit of nostalgia here at The Weekly News (you may have noticed that). What was your all-time favourite FA Cup tie?
It's tempting to go for a giant-killing or a classic final but in the end I plumped for the 1990 semi-final at Villa Park when underdogs Crystal Palace beat hot favourites Liverpool 4-3.
Steve Coppell's team had been turned over 9-0 in the league earlier that season and at half time Kenny Dalglish's side had a 1-0 lead after Ian Rush's 23rd-minute opener.
Then Mark Bright equalised and, in the 70th minute, Gary O'Reilly put Palace into a 2-1 lead.
Steve McMahon immediately made it 2-2 and a minute later John Barnes scored a penalty to put Liverpool ahead.
But in the last minute of the game Andy Gray headed home to take the sides into extra time, in which Alan Pardew headed home the winner.
And while we're in the past, your dream commentary/pundit team (commentator, co-commentator, presenter and a couple of pundits) of all time?
The commentator is the easiest answer of all. It has to be John Motson, whose career was launched by the FA Cup when he covered the famous Hereford v Newcastle giant-killing back in 1972.
Motty has the cup written through him like Blackpool rock.
My co-commentator would be Trevor Brooking, who went with Motty like Morecambe went with Wise, while my urbane, sophisticated presenter would be "Dishy" Des Lynam.
I'll have a pundit from back-in-the-day in Brian Clough, who might never have been particularly hot on tactics but was always a riveting presence on the screen.
My second pundit would be the stand-out of the current batch, the ever-insightful and always controversial Gary Neville.
What about the "magic of the Carabao Cup", which reaches its semi-final second-leg stage next week?
There's never really been any magic about the League Cup but that means it holds just about the same importance now as it did when it was launched in the 1960s.
It's probably more a measure of the FA Cup's decline than the League Cup's durability that most coaches and players treat them pretty much as equals these days.
Marcus Rashford's goal in the first leg has given Manchester United a glimmer of a chance of turning it round at the Etihad against their City rivals. They won't, though, will they?
Rashford's goal was a lifeline but there's still a lot of swimming to do and the waters are shark-infested.
United have won at the Etihad in the league so it can't be ruled out, but Guardiola's team are rarely caught out twice.
The other semi-final looks much harder to call. Aston Villa or Leicester City for you?
Villa did surprisingly well to hold Leicester at the King Power but I still make the Foxes favourites simply because they're a far better team and the better team almost always wins over two legs.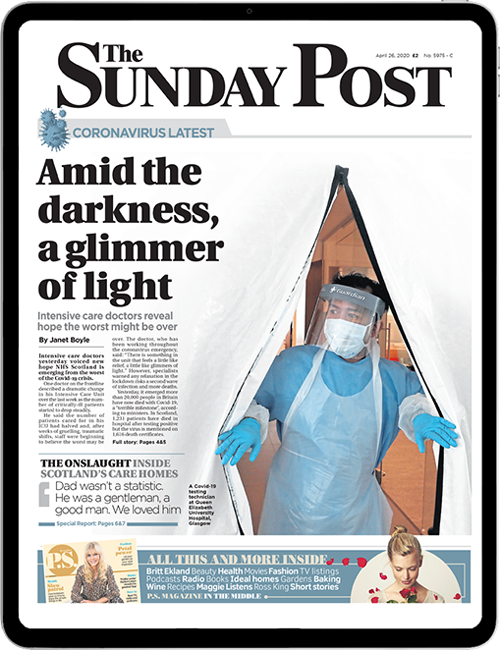 Enjoy the convenience of having The Sunday Post delivered as a digital ePaper straight to your smartphone, tablet or computer.
Subscribe for only £5.49 a month and enjoy all the benefits of the printed paper as a digital replica.
Subscribe