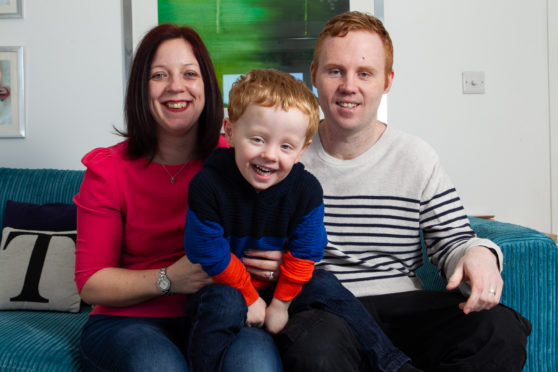 In a recent interview about his Parkinson's, Billy Connolly described how the illness has left him with "shoogly days".
There are currently 12,000 people in Scotland living with Parkinson's, and 127,000 throughout the UK.
While it is often regarded as a disease that affects older age groups, a new documentary, Parkinson's: The Shoogly Days, highlights some of the younger Scots living with the degenerative condition.
They have talked about their shock at being diagnosed with Parkinson's, their determination not to let it affect their family life, and facing up to living with the illness.
---
Martin's story
I just want to help other people…No more tears."
"One of the things I was in tears about early on was that I wouldn't be able to feed my kids," said Martin Taylor.
"We always planned to have kids, but now I was worried I wasn't going
to be able to do the aeroplane thing with a spoon to feed him."
Two years after his Parkinson's diagnosis, Martin and wife Fiona had their first child, Cohen – and the new dad's fears proved unfounded.
"I can do all of that," he smiled. "But it was one of the fears I had."
The family live in Gorebridge, near Edinburgh, and Martin, 36, is heavily involved in not only the research of Parkinson's, but in raising awareness and promoting how to live well with the condition.
But it wasn't always that way.
"The first thing you do is Google it, and you get a flood of information," said Martin, diagnosed when he was just 32. "The words 'progressive' and 'degenerative' jump out. It leaves you drowning.
"It was like the five stages of grief. I went through it all, but once I reconciled myself with it, I looked at how I could make a positive impact, what I can do to make it better for others."
Fiona added: "If you receive a Parkinson's diagnosis, no matter what age, it doesn't define you. You are still you.
"Four years on from diagnosis, and life is much the same as it was before. He's still Martin, he's still working, and he's become a dad in that time.
"We've not changed anything we want to do, and we don't intend to.
"We're not naive enough to think it will always be rosy, but we will face the hurdles and get through it."
---
Anne's Story
"I'm trying to do the best  I can for my children. I push myself to the limit, as I don't want them to miss out."
Anne MacLeod has vowed not to let Parkinson's stop her being the best mum she can be to 14-year-old Martyn and Ruby, nine.
She was diagnosed just over a year ago, with the symptoms beginning a year earlier.
The discovery came with a sense of relief, because the 47-year-old from Stornoway feared her acoustic neuroma – a brain tumour for which she had a 13-hour surgery eight years ago – was back.
"It was a long recovery – up to three years – to get back to feeling normal again," she explained. "My inner ear is gone, so I had to adapt to doing things differently.
"When the tremor started, I worried it was a regrowth, but as time went on,
I believed it was Parkinson's."
Ruby was just a year old when Anne had neuroma surgery, which left her needing facial reanimation. "Every day I go out looking like this, and it can be difficult," she admitted.
"I see people doing a double take or looking at me up and down."
Anne, who works part-time at the council as an admin assistant, is shown on the documentary pinning up highland dancer Ruby's hair into a bun. It's a task that takes time and a great deal of effort.
"I feel a sense of achievement when I do something like this, like I have beaten Parkinson's," she said.
Her husband, David, works from home as a Harris Tweed weaver in order to be on hand to help as much as he can.
But Anne desperately wants to find another woman with Parkinson's who is juggling
a job and young children, so she has someone to chat with who knows how it feels.
"I've yet to find anyone else in my position," she said.
"At a mothers and toddlers group, you compare notes, give advice, but I haven't found a woman I can speak with about how to cope and tackle certain things. I have a support group around me, but none of them can understand what it's like."
She added: "I suppose there was a sense of relief when it was confirmed it wasn't a tumour regrowth but it was still a shock.
"It would have been lovely had the neurologist said it was just a trapped nerve causing the tremors!
"But I've survived and I'm here for my children."
---
Parkinson's: The Shoogly Days, BBC Alba, tonight, 9pm