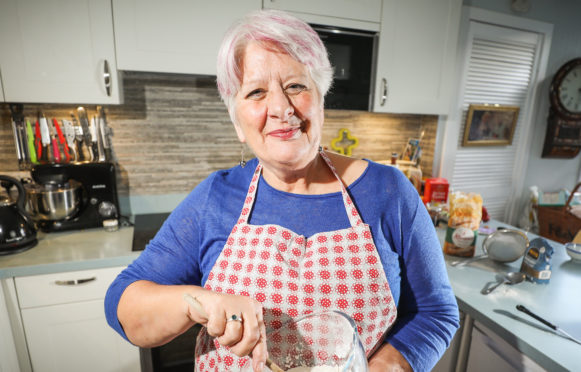 When Helen Welsh looks back over her life, the ups and downs, triumphs and troubles, there is one seam of memories running through it all – the memorable meals she has shared, cooked and eaten.
From her earliest memory of her dad arriving home after a two-year absence holding a pound of sausages, to uprooting her world many years later to become a volunteer in Zanzibar, Helen's book, A Life In Mouthfuls, is filled with honest, funny and candid stories that paint a picture of a world filled with flavour.
However, Helen, 63, admits her journey of reflection started out as a way to rediscover herself after a difficult decade, including the breakdown of her marriage, and a time when she felt her efforts hadn't come to much.
"In my early 50s, I came to the end of my working life in a bit of a cacophonous splutter," explained Helen, who lives in Newburgh, Fife, with her partner, Dave.
"I felt as if I had worked ­non-stop for 40 years, putting my heart and soul into everything, and then suddenly I didn't have very much to show for it. I was reminded of the psychologist Erik Erikson, who theorised that the basic conflict in old age was between integrity and despair.
"He said that as you retire you have a sense of either pride in your work and feel rewarded and confident about your achievements. Or despair at not having done the things you wanted to. I had a sense of injustice that, for various reasons, my efforts hadn't brought anything very tangible.
"I was living alone and, after the contract for my research job I loved ended, I was left floundering.
"However, a few years later I met my now partner, and after we moved in together I got the chance to do a masters in food and drink innovation at Abertay University. I grabbed it with both hands because I thought to myself, 'I'm not ­finished yet'.
"I was also writing a food and drink blog at the time, so it all came together nicely. The course was 18 months long, and three days after it finished I sat down to start writing A Life In Mouthfuls."
With food always playing such an evocative role in her memories and having just finished her degree, Helen decided to centre each chapter of her memoir on a specific meal or ingredient, with recipes and cooking advice at the end of each section.
Helen revisited landmark moments of the past six decades through food, including learning to prepare pan-fried liver as a quick meal between visits to her dying mother, breastfeeding her son Harry, now 30, for the first time, and cooking by ­candlelight in Zanzibar.
Having spent most of her life penning poems, short stories and essays to help deal with moments of joy and sadness, compiling the stories quickly became a form of therapy.
She explained: "Throughout my life I wrote diaries, poem and short stories, but I had never written about my life in detail. Then, having come out of my working life thinking, 'Well I'm a big underachiever, aren't I?' writing helped to put me in touch with all these great times I had. That was really valuable, cathartic and healing for me.
"But I did think it was all very self-indulgent. Why would anyone be interested in a memoir of someone who is totally unknown? I was really just writing to help with the transition into retirement, before I decided what to do next."
But, as it turned out, people were interested.
Helen entered her work into a competition with The Scottish Association of Writers, hoping for feedback that wasn't from friends and family. Much to her surprise, the judges loved her writing.
"The competition was for a non-fiction book of a minimum of 30,000 words," she explained.
"I looked back at my word count for all these stories I had been writing and, low and behold, I had enough to enter. I thought I would enter to get some objective comment on my work, but then I ended up winning second place.
"There was no prize other than a certificate, but the adjudicator commented that my work could 'have commercial potential'. Being able to earn money from writing was a dream I had always had, so those were magic words."
Not long after this success, Helen decided to publish her memoir and the first paperback copies of A Life In Mouthfuls appeared.
Now Helen is writing full-time alongside doing a number of other projects, and she is finding her new career was a dish best served cold.
She said: "Food is very evocative. At the time I started writing, I was reading a lot of Joanne Harris's work, including Chocolat and Blackberry Wine, so she was a role model for me.
"It wasn't hard to think of ­recipes or meals for each part of my life. In some instances, it was more difficult to narrow it down."
---
From the book: Strawberry fields forever delicious
If you drive along the north bank of the River Tay, known as the Carse of Gowrie, you will see polytunnels stretching for miles and miles. They're not as scenic as the uncovered raspberry and strawberry fields used to be, but they're a lot more productive and have extended the Scottish soft fruit season hugely.
This is good news for anyone who loves a sweet fresh berry but also for legions of pickers and packers, many of whom came from Eastern Europe many seasons ago, and stayed to bring up families here. For the last few years, the UK's protracted Brexit process has made life pretty uncertain for many of them and we're all crossing our fingers that the madness will soon settle down and we can all get on with our lives.
Meantime strawberry and raspberry jams are a great favourite here, with jam fruit costing much less at wayside stalls than the bigger, more perfect berries. They really make the taste of summer last, and are a good thing to have in the cupboard, or take as a gift. However, they are high in sugar – typically, the same amount of sugar as fruit in any batch of jam. You can cut it down to half the quantity of sugar to fruit using jam sugar or some lemon juice in the case of strawberries to make sure it sets. Then after breaking the seal in the jar, keep it in the fridge for up to a month.
Or you could buy your jam from another keen jam maker, and use your own berries to make a gorgeous summery cocktail which is forever in my mind emblematic of my friends Donna and Rhona. Donna is from Arkansas and, after work one day, taught Rhona and me to drink strawberry daiquiris (and on another occasion, margaritas, but that's another story).
Best to measure the spirits just to retain some sense of control. So, crush a pile of ice cubes using your favourite method (poly bag and rolling pin suits me) and put them in a blender goblet. Add 100ml white rum, maybe half a pound of strawberries, a couple of tablespoons of lime juice, freshly squeezed if you can get hold of them, and give it a whizz. Taste and add a bit of icing sugar, if needed to sweeten a little. Pour into three or four glasses and toast your friends. Repeat.
---
A Life In Mouthfuls: Scottish Food And Drink Memories is out now