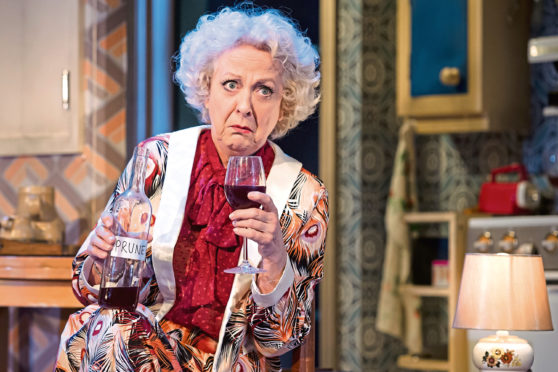 Susie Blake has been gracing Britain's TV screens for five decades.
With memorable roles in Russ Abbot and Victoria Wood's comedy shows in the 1980s, and Parents, Coronation Street and Mrs Brown's Boys more recently, she's surely an instantly recognisable face…
Susie herself is not so sure. "The other day I was in an old people's home visiting a friend and somebody came up to me and said, 'Oh I know you!', but they don't know my name – I'm not famous, I'm familiar.
"People are familiar with me and I get a lot of smiles on trains. Now that I've got white hair and I'm getting older, people often speak to me, but I think I come across as quite friendly, so people smile anyway. I think they always did."
Set to turn 70 on April 19, Susie was born into a very famous family. Her cousins are the actresses Juliet and Hayley Mills, her great-uncle was the late film star Sir John Mills, and her maternal grandmother was Annette Mills, who fronted the classic BBC TV children's series Muffin The Mule between 1946 and her death in 1955. But Susie has been modest about that, too, down the decades.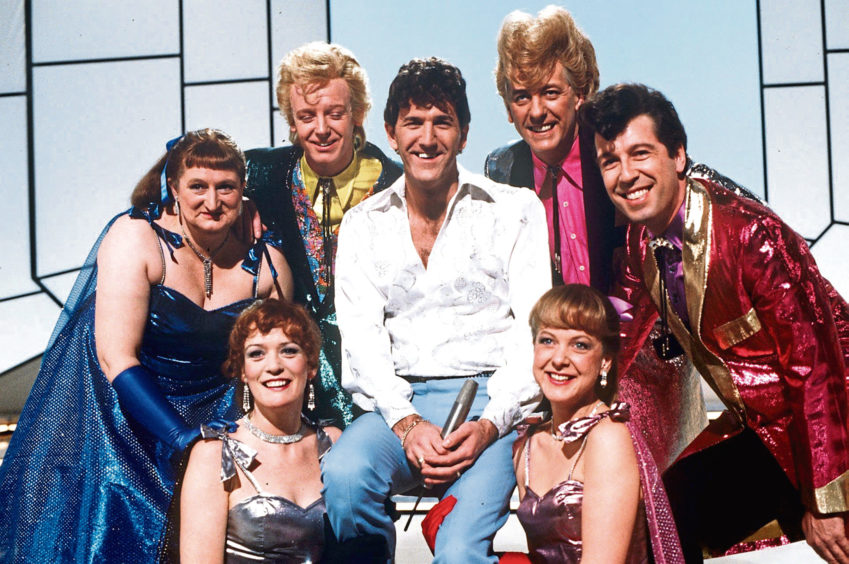 "Now I enjoy it very much. When I started I wanted to keep it undercover. I didn't want anyone to think I was hanging on the coat-tails of my illustrious relations, who now the youngsters won't know.
"John Mills is a name we all grew up with, but now the young people wouldn't know him in the same way that we do, unless they're in the business.
"Hayley is four years older than me and I hardly saw anything of her as a child because of her film career, but now she and I are good mates. We've got to know each other as adults and not as actors."
London born and bred, Susie certainly got a proper training for the entertainment industry, at Elmhurst Ballet School, Arts Educational, and the London Academy of Music and Dramatic Art.
"When I left drama school I'd just played Juliet, so I thought I'd go into the Royal Shakespeare Company and that would be that.
"I imagined that's what happened next. My first job was in repertory in Leeds doing Shakespeare. It wasn't until Russ Abbot that it took a severe change of direction into comedy."
That was Russ Abbot's Saturday Madhouse on which Susie played a variety of comic characters during its run from 1981 until 1985, alongside the likes of Bella Emberg, Les Dennis, Dustin Gee, and of course Russ himself.
"That was huge fun, really exciting," Susie recalls. "Russ is quite shy. He was just as excited as we were to be doing this show.
"We worked very hard – I don't think we even had Sundays off because on our day off we'd be recording the songs. We didn't socialise at all, there wasn't time.
"We laughed a lot but comics don't really tell jokes. Victoria didn't either."
For the 1985/6 BBC TV series Victoria Wood: As Seen On TV, Susie was the wacky continuity announcer.
"I didn't go up for that part," she reveals now. "I went up to play Celia Imrie's daughter in Acorn Antiques. Victoria saw me in a revue when I was playing three different American women and afterwards asked to see me and said, 'I'm doing a new series and I'd like you to be in it… would you come and see the director?'
"I went along to meet him and I read the part but it was obvious it wasn't right – I'm older than Celia for a start. And then I was asked, 'Would you just read for the continuity lady?' What a gift that role was."
In 1990, Susie appeared in the first episode of the sitcom One Foot In The Grave in which her character Mrs Inglis was responsible for firing Victor Meldrew, thereby setting the events of the show in motion.
"Richard Wilson had just directed a play which Sheila Hancock and I were in and he suggested me for that part of sacking him. I knew it wouldn't happen again because it was just a catalyst for the rest of the series."
Asked if she ever tried her luck in Hollywood, Susie replies: "It never occurred to me. It would be like owning a castle or being in a submarine… things that were outside my sphere of imagination.
"I suppose you have days when you dream about what it would be like to be in a film or something like that. But I'm very aware of what my capabilities are. I was never a pretty young thing, I've never been beautiful, I haven't had bone structure, I've certainly never been glamorous!
"I very quickly got into comedy, so that sort of excludes you from what Victoria Wood would call 'the bonnet dramas'. But I think I've given a lot of people quite a lot of laughter. I did a thing called Parents that I really enjoyed, and Cuckoo. There's been a lot of variety and I've been very lucky."
Susie has been based in south-west London all her adult life, save for two stints as barmaid Bev Unwin in Coronation Street, for which she had a flat on Salford Quays.
"I did a couple of years split by a year out. The cast and crew are the most talented – they can do anything. They can all sing, they can all dance, they are so multi-talented. And they only let that cat out the bag when they do Christmas shows for charity and you suddenly see how amazingly talented they are."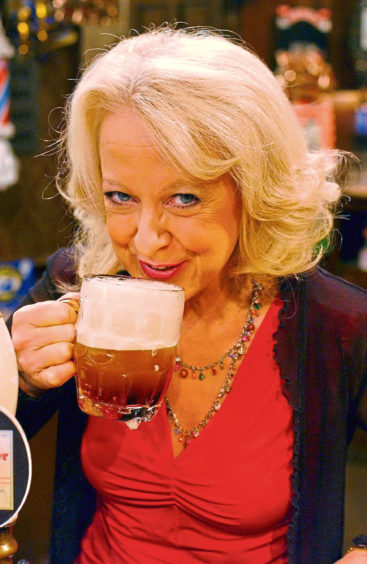 Since 2011, Susie has repeatedly popped up as Hillary Nicholson in Mrs Brown's Boys, which she describes as "terrific fun".
"It is as close as you can get to theatre really. We try to do it straight through. There might have to be retakes but we do the afternoon and the evening performance, and then the director chooses the best takes from each of those shows."
Susie can next be seen on the small screen in BBC TV's The Real Marigold Hotel. More recently, she has been undertaking a second UK theatre tour of Some Mothers Do 'Ave 'Em as Frank Spencer's disapproving mother-in-law Mrs Fisher alongside Joe Pasquale as Frank and Sarah Earnshaw as Betty.
"We loved it so much before. It was such a success. We are really happy to be doing it again," says Susie, who's showing no signs of slowing down as her 70th approaches.
"In the last year I've played Miss Marple on stage in The Mirror Crack'd last year and lots of different mothers.
"I had a great time in India with The Real Marigold Hotel. That was huge fun. Not that that was work really; that's just having a lovely holiday!
"I'm hoping now I can be an old lady that there might be a nice mother part for me. I'm also really hoping I will play Miss Marple again. It's a part I always wanted to play. When I was about 15, I wanted to be Margaret Rutherford. That's the kind of character I'm beginning to get into now. That's what I've been waiting for all my life!"
Susie was married to actor Martin Potter from 1978 until 1998, and their 40-year old son Ben is an Oxford-based electronics engineer with two daughters.
"I didn't think I was going to get married and have children. That was not part of the plan," Susie reflects. "I was perfectly happy. I was quite ambitious. My husband already had two children, so it was like having three kids in the holiday time.
"It was such a miracle just to produce a child that it didn't occur to me to do it again. I'm not really a baby person, but Ben got better and better and now we are great mates and I absolutely adore him. He's fantastic and his family are amazing."
Since 1995, Susie has lived in "half of a little house" in Barnes. "My brother has the other half but he's in Amsterdam, so I let it for him. For about 10 years now, I've also had an allotment round the corner behind a church, in which I grow fruit mostly.
"Life gets better and better as you get older. Yes, you get aches and pains and if you don't exercise you get stiff joints. But it's lovely. Life is great."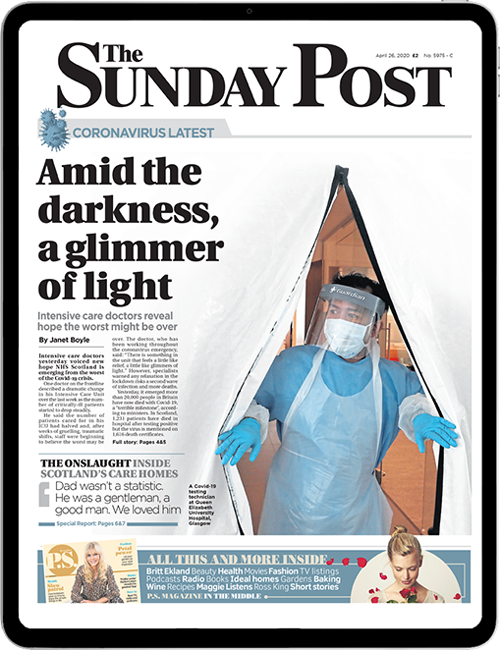 Enjoy the convenience of having The Sunday Post delivered as a digital ePaper straight to your smartphone, tablet or computer.
Subscribe for only £5.49 a month and enjoy all the benefits of the printed paper as a digital replica.
Subscribe