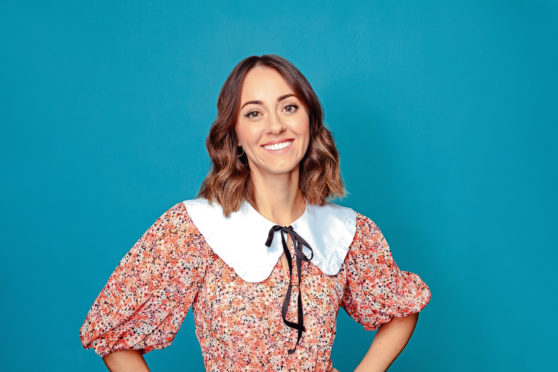 Susannah Fielding, who plays Alan Partridge's co-host Jennie Gresham on spoof  This Time answers our questions on the new series and her comedy career.
This Time With Alan Partridge spoofs The One Show, GMB and BBC Breakfast. What's been the reaction?
Susanna Reid was very generous and complimentary. I went on BBC Breakfast to promote the show and they were quite worried about how accurate it was, and about what tips and behind-the-scenes gossip I might be stealing for the next season. Overall, people felt it was a really accurate representation.
There seems to be a real anticipation for the new series?
It's fun to see people's excitement, especially after the year we've had. Things like TV saved us last year, particularly when it's characters we know and love coming back. It's a comforting feeling.
The first series ended on a cliffhanger, with your character, Jennie Gresham, and Steve Coogan's Alan Partridge at risk of losing their jobs. What can you tell us about the second series?
Well, neither of us were fired. Time has progressed roughly at the same time as the real world, so they've been working together for a while and sort of getting used to each other, but the rivalry and feistiness remains. In this series, we get to see more of their vulnerabilities, and Jennie's personal life becomes a stronger driving force. We also get to see the two characters getting closer, but like the last time there is an ambiguity as to where that will go.
Is there a lot of improvisation?
That's a common misconception. We go on set with a script, read it through and add in and take bits out. The script is rewritten on an autocue as we go and once we set out how we want to do it, we work very specifically to the exact lines, right down to a look here, or a grunt or silence there. It's not a way I'd ever worked before. Luckily, for us playing the presenters, we have the autocues on camera, which is really helpful. It's the guest stars who come on that it's harder for. Usually they would have their lines weeks or months before but this is much more on the hoof, which is fun and exciting but also nerve-wracking.
What was your experience of working with Jonathan Watson, a guest star in the first series?
He was brilliant to work with and people really responded to that scene. That's a perfect example of a scene where every groan is written exactly, even the tone of the groan was down to a point. What Jonathan managed to do so brilliantly was keep a deadpan face throughout, which made Alan's discomfort even funnier to watch.
Do you acknowledge the pandemic in the new series?
The writers are clever in alluding to it but folk have had enough of watching people talking about it. We're all desperate for escapism, TV that reminds us of normality.
Did you film during lockdown?
We made it in November and December. I was happy to be off to work and actually doing something for the first time last year. It was a good show to film at this time, because there are few actors, a very small crew and we're all in one location. Socially distancing was quite easy, apart from Steve and I – we sit next to each other on the sofa, so we were tested daily.
You're known for comedic roles. When did you realise you were funny?
I definitely was the class clown, much to my mum's distress, I imagine. I did always work hard, but I was also on the lookout for fun and that characteristic has remained. It was in drama school I was given comedy roles and encouraged to go down this route, and it made me think that is what I might end up doing. You can't ask for a better day at work than one where you are laughing for eight hours.
You starred at the King's in Glasgow opposite Scrubs star Zach Braff in 2012 – what was your experience of the city?
Glasgow was great. It was so friendly and the audiences were so responsive. It feels like a great city to explore by foot, beautiful architecture, and not so overwhelming as London. I had amazing food there, too.
What's next?
I'm filming a comedy series soon that will hopefully be out next year, but I can't talk about it yet!
---
This Time With Alan Partridge, BBC1, Friday, 8.30pm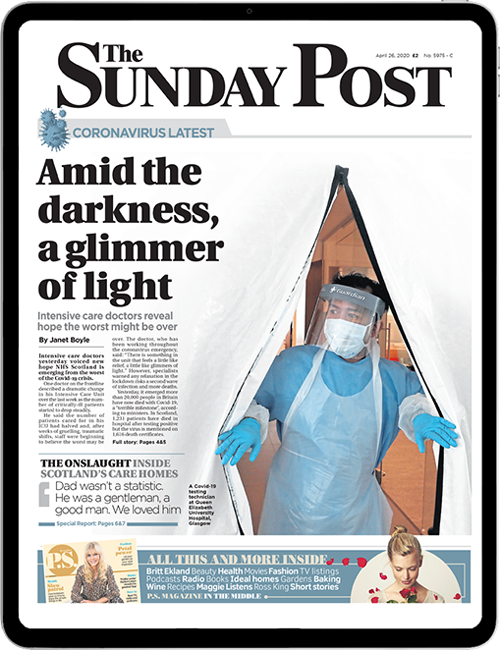 Enjoy the convenience of having The Sunday Post delivered as a digital ePaper straight to your smartphone, tablet or computer.
Subscribe for only £5.49 a month and enjoy all the benefits of the printed paper as a digital replica.
Subscribe