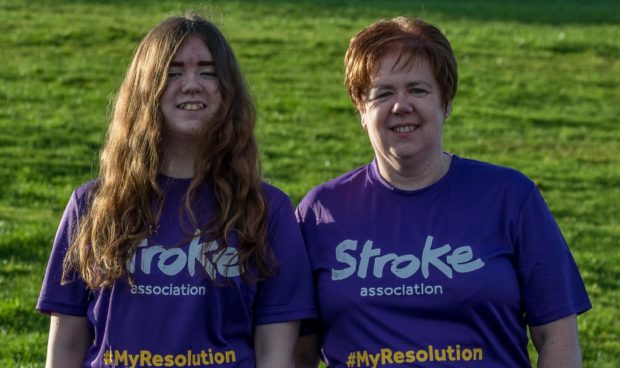 Suffering a stroke is a traumatic experience, and it's something survivor Lesley Dewar is hoping to highlight can happen to anyone.
Lesley, 54, had a stroke in June last year, but has signed up for the Resolution Run charity event to raise awareness of its hidden effects and the fact that it's not just something that happens to the elderly.
"Most people when they think of strokes imagine older people and not the younger generation," she says.
"It's amazing the amount of people under-65 who've had strokes. I wanted to raise awareness that it can happen to anybody."
Lesley recalls the events of that day back in June 2019 very clearly. She'd had a busy week, and put the headache she was experiencing down to tiredness.
But then she began to feel a weakness in her arms and was struggling to write properly.
"About lunchtime, I began to think something wasn't right but I couldn't pinpoint it," she says.
"I spoke to one of my colleagues and told her how I'd been feeling and she said: 'A&E, now!'
"I work in the Queen Elizabeth Hospital as a medical secretary, so my colleagues frog-marched me over there. I got investigated and they thought it was a possible TIA.
"After taking me into a clinic I spent about a week in hospital getting various tests done and the result came back that there was damage on the brain and it had definitely been a stroke rather than a TIA."
It was a scary and life-changing diagnosis, but Lesley was adamant she wasn't going to let it beat her.
"There is life after stroke," she says. "But there are hidden effects. Physically it's not affected me at all, but I have issues with fatigue, concentration, memory, anxiety – all the things people can't see.
"When they look at you they think you're back to normal and don't realise these things are still going on in the background."
Lesley, who praised the excellent support from the NHS, stroke charities, family and friends, will be joined on the run by her 14-year-old daughter Heather.
"She asked if she could do it with me when I signed up and I'm delighted she's joining me. She's young and fit and healthy so she's fine with it!
"I think it's going to be an amazing day, there's people of all ages and abilities doing this one. You can walk, run or whatever, so I'd say go for it. I might not be saying that afterwards, however!
"I've done one 10k about 15 years ago and never done anything else, so this was a little challenge I set myself after having the stroke.
"Even if I have to walk it, I'm going to do it."
There are 1.2 million stroke survivors in the UK, with charities like the Stroke Association providing specialist support to held them rebuild their lives.
Kirsty Scott, Fundraising Manager at the Stroke Association in Scotland, said: "Stroke recovery is a marathon not a sprint. And each recovery is as individual as each survivor. That's why we're encouraging people to join our Resolution Run in Glasgow and raise vital funds for the Stroke Association.
"Life after stroke is different for us all, but there is one way we can stand together. The Resolution Run is the perfect opportunity to mark a milestone in your own stroke recovery, show your support for a friend or family member affected by stroke, or in memory of a loved one.
"You can run, walk or cheer and choose your distance to suit you. It's more than a run, it's a resolution to help rebuild lives after stroke."
---
Entry fee for the event is £15, and runners can choose their distance from a range of distances depending on location.
To join, visit www.resolutionrun.org.uk, email resolution@stroke.org.uk or call 0300 330 0740.
---
You can donate to Lesley's fundraiser here.