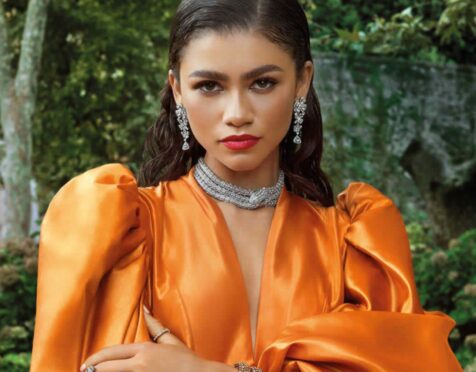 Hushed shops, locked cabinets and white gloves might have once been how jewellery was sold.
Since lockdown, however, sales have spiralled online, from the highest-end design houses to independent newcomers.
According to Business of Fashion and McKinsey's State of Fashion 2022 report, the American and European markets saw a 57% rise in the number of fine jewellery pieces ordered online in 2020, proving the switch from stores to screens did little to take the shine from our love of gems.
The "comfort baseline" for online shopping for the fine jewellery market, the report says, has been "fundamentally reset" and over the next five years, ecommerce is expected to account for 18% to 21% of total industry sales, with Forbes magazine estimating the global fine jewellery market will hit £285 billion by 2025.
Ruth Faulkner, editor of Retail Jeweller magazine, said that brands and businesses had been slow to invest in digital storefronts before the pandemic but that all changed during the lockdowns of 2020 and 2021.
She said: "Traditionally, the jewellery industry has always been very face-to-face, especially if people are spending a lot of money on a significant purchase. Historically, the industry was quite slow to adopt online and, as a general rule, much slower than the fashion industry.
"Then, obviously, when Covid happened and stores were closed, there were no opportunities for face-to-face selling, so it forced a lot of the industry to modernise quite quickly.
"We saw jewellers, who perhaps didn't have any online presence, launching websites really quickly, or selling through Instagram and social media, as well as adapting to things like video consultations with clients.
"Simultaneously, where people were at home, and if they were fortunate enough to stay employed during that time, they weren't paying to go on holiday, eat out or go for drinks with their friends, and they were saving quite a lot of money. So, where people were separated from loved ones and friends and family, buying something significant, like jewellery as presents, really started to increase because people had the cash to be able to do that."
As well as shoppers treating friends and family to gifts, jewellery sales also boomed as we treated ourselves, too. Victoria Houghton, CEO of jeweller Hamilton & Inches, said that one of the big trends of lockdown was the purchase of necklaces, bracelets, rings and earrings as so-called "self-gifts" which would not only boost the buyer's mood but also last a lifetime.
She said: "We've seen the trend coming through that people aren't just waiting to be gifted jewellery. People, especially women that would have waited for that birthday or anniversary, are treating themselves instead. Part of that is that people recognise that jewellery lasts for generations – it's something you can pass on to your children or loved one, so it's a very sound investment, as well as something that makes everybody feel good.
"The material things aren't that important when you go through something like Covid but jewellery lasts for generations and has that special meaning."
Carol Woolton, contributing jewellery director at Vogue magazine, agreed that precious gems took on a revitalised role during the pandemic: "People really realised what jewellery meant to them. We've always used jewellery to mark special moments and anniversaries but, of course, all our loved ones became even more precious to us during that time and marking our relationships became more important, too.
"That fact, combined with more familiarity and the necessity to use online stores to make purchases, meant people got more confident about shopping online. People weren't buying fashion in the way that they were buying jewellery because, A, they had nowhere to go and B, if you want to mark relationships, you're going to mark it with something that has a deep and personal meaning. Jewellery provided that role."
Although there is no replacement for seeing the sparkle from a diamond or the shine of silver in the flesh, Houghton said customers were also able to connect more deeply with brands that increased their use of social media sites such as Instagram.
She said: "Social media has many benefits because it allows us to reach a much wider audience. We're allowed to shine a light on the rest of the business, so we can show people the craftsman, the sales people, the whole set-up that we have.
"It's a very good tool to encourage new clients, returning clients, and it's made a lot of brands much more accessible, and jewellery more relatable. From social posts, customers can see a model wearing the product, how it fits and the size of it, too. We do see a correlation between our social media and website when it comes to jewellery."
For Woolton, one of the biggest changes in the industry has been the rise in opportunities for up-and-coming designers to reach customers and build their brand through social media. Where once graduates had to cut their teeth by working with an established brand, indie creatives can now go it alone.
"Designers now have the wherewithal, digitally, to create their own community, get themselves out there, get noticed and create their own group of consumers," said the writer and author, who also hosts the If Jewels Could Talk podcast. "That can be very powerful for them.
"Lots of younger designers have an online platform now, and people like that because they want their jewellery to be quite personal – and there's nothing more personal than getting involved in the creation of your jewel. If you go to a young jeweller, you can get involved in how it's created, the design and what you want the finished piece to be. That, of course, makes it extra special and gives the piece a sense of magic that's really very personal. That's what young creatives can do for people now."
Faulkner added: "Traditionally, if you were a new brand or designer starting out in the industry, the way you would get your products in front of customers would be to wholesale, initially via other independent retailers. Then once you got a basis in wholesale, and you became well known, then you could maybe launch your own store or website. Actually, what social media has done is flip that model on its head.
"People, brands and designers can launch straight direct to consumer and get that direct feedback immediately, while building that presence with their customers.
"There has been a real shift back towards localism and supporting smaller businesses, too. You see it massively with coffee culture – people don't want to go to chains any more, they want to support their independent local coffee shop. That's transferring across the board because people want something that's unique. They don't want to be the same as everybody else."
Now that stores have reopened, Faulkner said many brands are still offering online consultations and making good use of their digital platform, ensuring the trend for online sales will only grow.
She said: "I don't think there's any going back. That's not to say that now that stores reopen, people don't still want to go into stores and have that experience and see pieces and touch them and try them on face to face.
"I don't think that will ever go away. But everybody has to have a strong presence online and be able to reach consumers through multiple touchpoints, be that social media or video sales."
---
Our social media has given us a personal connection and the business is booming
When jewellery designer Laura Bond launched her business in late 2019 she had no idea the whole country would soon be locked down for months on end – and our pandemic shopping habits would lead to a boom in sales for her fledgling business.
Specialising in affordable solid gold jewellery, Bond started her eponymous brand alongside her husband, Doug, with an initial investment of just £5,000.
Despite what the 38-year-old calls "a myriad of challenges" – not least the pandemic and Brexit – their business has grown in value by more than 29,000% and is now worth £1.5 million, according to a third party valuator.
Achieving such success within just three years, she admits, has largely been driven by the rapid shift towards online shopping, as well as social media providing the opportunity to interact with customers.
"On a basic level we saw our web traffic increase substantially all across the world as places went into lockdown and people spent more time online," said Bond, who recently held her first retail pop-up at St James Quarter, Edinburgh. "Social media has always been really important for our business and in the early days it
was where almost all of our customers first discovered us.
"As we have become more established, repeat custom and positive online reviews have played an increasing role but social media is still very important to us.
"And we definitely notice sales are impacted by what people interact with – for example when we first started, we didn't sell many white gold pieces then a new member of the team, Chloe, made some Instagram posts featuring white gold, and a lot of people shared and commented on them. Since then we've sold almost as many white gold as yellow pieces.
"I always wanted people to feel a real personal connection with the brand, so we are always so active on social media. We've always encouraged people to feel they could get in touch, and we always aim to respond to messages and comments in a genuine, personal way rather than as some faceless corporate business."
With over eight years' experience working in the luxury jewellery market, including dealing with brands like Cartier and Rolex, Bond believes customers are no longer looking for just luxury or fast fashion pieces, but affordable mid-range designs that can be bought as self-gifts.
She said: "For a long time the jewellery market was split between luxury pieces that you hoped someone would buy you as a present, and inexpensive, fast fashion. A number of brands have filled that middle ground offering jewellery that is lovely to receive as a gift but that you can also justify buying for yourself as a treat.
"There were brands that I admired doing this for rings and necklaces but I couldn't find anyone offering dainty earrings at this quality or price point, so that's what motivated me to launch Laura Bond."
Alongside her growing customer base, Bond's delicate earrings and septum jewellery have attracted celebrity fans such as Michelle Visage and Jessie J, while Game Of Thrones actress Nathalie Emmanuel, wore her designs to the Oscars earlier this year.
Bond said: "I always believed in the brand and hoped that one day I would be able to leave my job and work on it full-time. But I never imagined that within three years I'd be working with four other people full-time, with our own office and planning to open our own store. It's been a brilliant journey."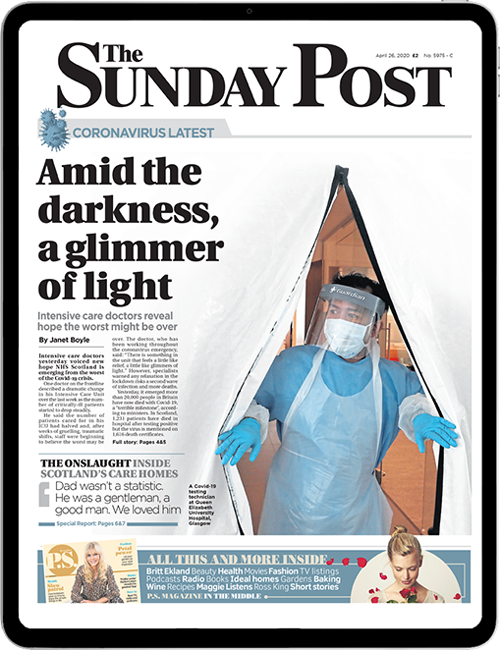 Enjoy the convenience of having The Sunday Post delivered as a digital ePaper straight to your smartphone, tablet or computer.
Subscribe for only £5.49 a month and enjoy all the benefits of the printed paper as a digital replica.
Subscribe