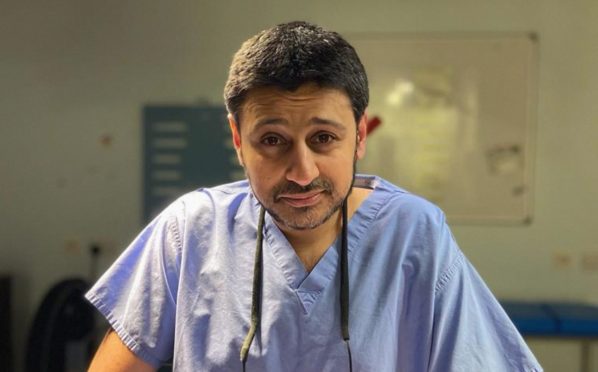 A transplant surgeon has warned a "tsunami" of problems will engulf the NHS without government action to tackle backed-up waiting lists when Covid restrictions are lifted.
Zubir Ahmed, who is standing for Labour in the Scottish Parliament election, said the repercussions of the pandemic on the health service were potentially devastating and must be a priority for the next government.
Dr Ahmed is the Scottish Labour candidate for the Glasgow Pollok seat, challenging SNP Justice Secretary Humza Yousaf.
The Govanhill-born 39-year-old is a vascular and transplant surgeon and has been an NHS doctor for 15 years.
He said: "Never in her years of being First Minister has Nicola Sturgeon got close to fulfilling the 18-week waiting time guarantee, and that was prior to the pandemic.
"A lot of outpatient services in the initial months of the pandemic, quite rightly, had to shut down. The clock started ticking for these patients and it has been compounded by a second wave.
"What we are looking at is a tsunami of waiting lists. It is no exaggeration to say that, with Covid combined with a government that has taken its eye off the ball and is always looking over its shoulder about how every single thing they do will play in a future independence referendum, we might be back to the situation we were in in the mid-1990s with a Tory government in terms of waiting lists."
Unveiling the SNP's manifesto earlier this month, Nicola Sturgeon said her party would undertake a "full-scale post-pandemic remobilisation of the NHS". She promised a 10% increase in inpatient, day case, and outpatient activity to address delays in treatment caused by the pandemic.
But Dr Ahmed accused the SNP of lacking a long-term focus or strategy for the NHS.
He said: "It is all about short-termism and massaging numbers, particularly around the time of an election. That is a symptom of an administration that has to be seen to be doing what it can in the short-term to validate themselves in the seat of government so they can pursue some greater good, which in their case is a referendum and separatism."
Dr Ahmed criticised the Scottish Government's £500 one-off bonus for NHS staff and social care workers for their work during the pandemic, which cost £180 million. He said: "It was ill-thought out and unlikely to benefit the people who need it most. It was literally a gimmick.
"People like me, who I would say are relatively well-off, get that bonus and half of it goes to the taxman. It is just recycling money. The ones at the bottom end who need it, those who are claiming in-work benefits, are penalised by having their benefits reduced. If the SNP had wanted to make a difference to people's lives rather than just grab a headline, they could have planned it in a way that delivered this money to people who most needed it."
Dr Ahmed said NHS staff could have been helped instead by reducing paperwork and bureaucracy.
He said: "Every doctor and every consultant will tell you that it feels like there is an exponential rise in the administration we do year on year. A lot of that could be taken away if we had a digital health strategy.
"Nurses are crying to get back to nursing. The other way we could reward NHS workers is by giving them some headspace, making sure they take their annual leave and feel able to take their annual leave without feeling guilty about leaving their colleagues in the lurch. Improving the operations management of the NHS is actually the best way to reward healthcare workers so that they can do the job they enjoy without the anxiety, insecurity, anger and depression that they have been feeling this last year."
Dr Ahmed also said he believed Scottish independence could put at risk the cross-border organ transplant network.
He said: "The transplant service is one of the few operations that are UK-wide. All four departments of health fund it and we are able to share organs, and it works wonderfully. Under separatism, I would fear for its future. I would certainly fear it wouldn't work as smoothly as it works now."
He added: "Nationalism and engendering difference is prioritised over the important stuff in the NHS. The SNP are very keen for every aspect of the Scottish Government machinery to be distinct from the UK Government. It is one of their obsessions.
"That obsession manifests itself in something as simple as wanting to stop surgeons from entering the details of our patients in registries that have been set to cover the four nations.
'The vascular registry is a four-nation registry which we input data into so over time we could work out what we're doing for patients and how we can improve.
"The Scottish Government edict was, 'We're going to have our own now, you shouldn't be entering that and we're going to stop paying for the Scottish component of the registry.'
"Another example is we used to have .nhs.net email addresses across the country, but now of course we have .nhs.scot email addresses.
"These are small things but when you add them up you realise they are fed by a certain philosophy, and it's philosophy over pragmatism and doing the day job."
The SNP has vowed to increase frontline NHS spending by 20% over the next five years, up by £2.5 billion. Its manifesto also pledges a £10bn investment programme in NHS facilities, and a minimum 25% rise in mental health spending.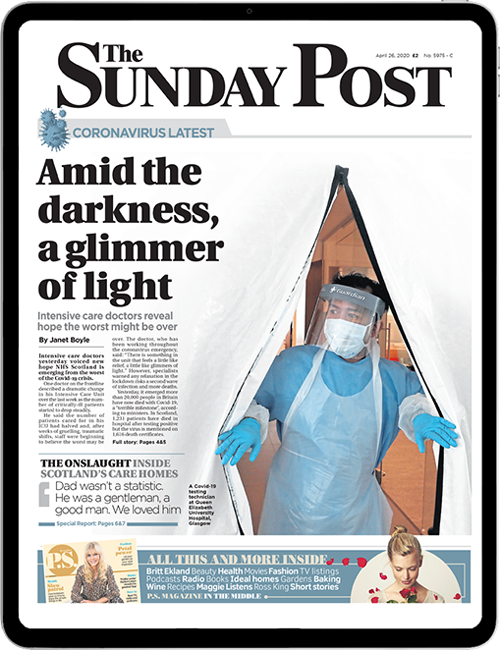 Enjoy the convenience of having The Sunday Post delivered as a digital ePaper straight to your smartphone, tablet or computer.
Subscribe for only £5.49 a month and enjoy all the benefits of the printed paper as a digital replica.
Subscribe