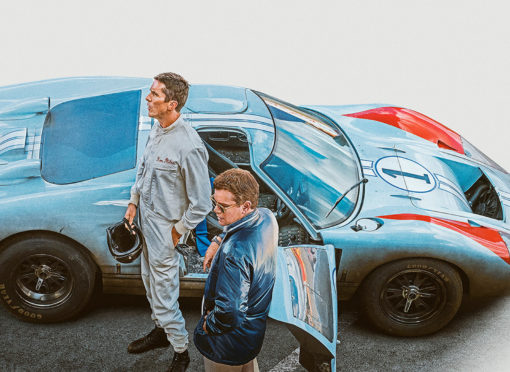 It was a thunderous, 24-hour duel fought at speeds in excess of 200 miles per hour.
The story of how car giants Ford and Ferrari went head to head at the height of the Golden Age Of Racing is roaring onto cinema screens in the Oscar-tipped Le Mans 66.
The movie, starring Matt Damon and Christian Bale, tells the story of Ford's attempts to overturn the Italians' dominance of the legendary endurance race when Ford's iconic GT40 sports car was helmed by New Zealand driver Bruce McLaren.
The man who plays him, Benjamin Rigby, could have been adopting a Scottish accent however because, but for an injury, sporting legend Sir Jackie Stewart would have been a Ford driver during the big race in 1966.
He had raced at Le Mans the year before and in qualifying two months earlier. However, a horrific crash in the Belgian Grand Prix the week before the companies went head to head at Le Mans ruled him out.
Yesterday looking back at the famous race, the three-time Formula One champion said he has no regrets about missing the duel, now billed as a pivotal moment in motorsport history. He does remember driving the GT40, however, with terrifying clarity.
Sir Jackie was contracted to Ford at the time and, after a disappointing attempt at Le Mans the previous year, was due to drive its revamped GT40 in 1966. He was at the wheel during the qualifying event at Le Mans two months earlier.
"The Ford was a pretty impressive car," he said. "I had an incident with it, going down the famous Mulsanne Straight, which is a very long straight.
"They've now added a chicane to slow people down because the speeds were getting ridiculous.
"We were doing 242 miles an hour on the straight. While at that speed, the driver-side door opened. Because we were going at that speed, the door helped take the car off the ground, and I was lifted up into the air.
"Luckily because we were going so fast the wind speed blew the door off completely, and the car banged back down onto the road again.
"I made a landing at around 200 miles per hour and somehow we didn't leave the road. It was just luck, really.
"I managed to drive back to the pits with no door."
Ford qualified thanks to Jackie's efforts but, in a sport peppered with intense rivalries, he wasn't too upset to see Bruce take the glory.
"I knew Bruce very well. He was a good friend," he recalled. "I did a lot with him when he was racing in England. He was driving for Cooper in Formula One and I was in Formula Three.
"My wife Helen and I stayed with Bruce before Monte Carlo in 1964, my first race abroad. He was a very mild person, very well-mannered. He was a collector of very good people, too. When he had his own car, and his own racing team, he gathered great people. He was an absolute gentleman.
"He never won all that many Grands Prix, but he created his own car in Formula One, and the sports car he created just dominated. I raced against it many times and to beat the McLaren he created was an immense challenge.
"And Bruce won the Belgian Grand Prix in his own car – that was spectacular. He was a proper friend."
The rivalry between Ford and Ferrari was sparked after a falling out between Henry Ford and Enzo Ferrari and the outcome of Le Mans 66 has gone down in motor racing mythology. Its significance was not lost on Sir Jackie, who later founded charity Race Against Dementia after his wife's diagnosis, at the time.
"What Ford accomplished that year was huge," he added. "Beating the Ferraris and the Maseratis? Ferrari had dominated for the previous few years.
"Henry Ford II was there himself to see it, all the Ford executives went to see it. It was so important for the company, and it was a big celebration. They had never done it in their history before. I never sent congratulations to Bruce – but it was never like that in those days. We knew we were going to see each other soon enough."
Although he never landed a Le Mans title, it's not a source of regret for Sir Jackie, who admits the 24-hour race was too long for his tastes.
"No matter what a Le Mans driver tells you, the car was never taken to its absolute limit," he explained. "Its gearbox and engine had to last 24 hours, being driven quite hard, but not at its absolute maximum.
"The drivers – there were two of them in those days – would have made mistakes over 24 hours. To finish first at Le Mans, you're never going to take the car to the limit. Some will tell you they do, but they aren't great drivers.
"Formula One was like 100 metres, but Bruce would have known Le Mans wasn't about doing a sprint, it's about doing a marathon. I don't regret missing it. I wouldn't say Le Mans was boring, but I was more interested in Formula One than I was sports cars or GT racing," said Sir Jackie.
"For me, a Formula One car is the ultimate on four wheels. It's one of the classic motor sporting events, and has been since it started. To have a 24-hour race when it all began was a challenge, and back in the 1960s the cars were more fragile than then too.
"It may have been long, but it was a dangerous race. A decade before I raced, there was a terrible accident where a car went into the crowd and 83 people died.
"Le Mans was and is one of the big events in the world of motorsports. Because there's only one Le Mans, there's nothing quite like it.
"I'll probably go to see the movie, although I wasn't really interested in who won back in 1966 because I wasn't racing!"
---
With thanks to Jackie Stewart's Race Against Dementia charity.
Founded by Formula 1 racing legend Sir Jackie Stewart, Race Against Dementia is driven to raise money to fund breakthrough and innovative dementia research.
Today, 50 million people around the world have dementia. Unless a cure is found, one in three people born today will get dementia in their lifetime. A new person develops dementia every three seconds.
To donate or for more information, visit raceagainstdementia.com