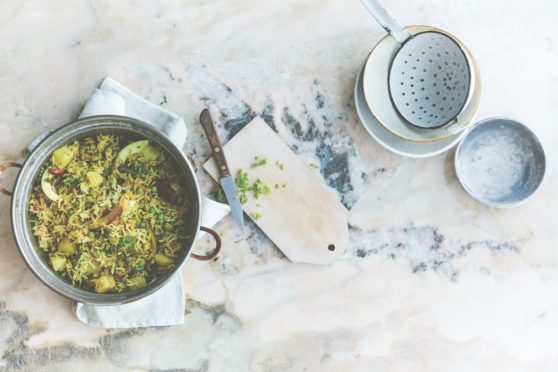 Cooking time: 1 hour. Serves: 4 to 6.
You'll need:
500g Tilda Pure Basmati Rice
1 medium red or brown onion, sliced
2 pieces of stem ginger, chopped
2 dry red chillis or chilli powder
¼ kernel of fresh coconut or a small amount of coconut milk
200g broad beans
½ floret of broccoli
2 handfuls kale
1 large potato, diced
100g peas or sweetcorn
3 tbsp oil
1 tsp salt
1250ml water
1 tsp black mustard seeds (optional)
1 tsp cumin seeds
½ tsp turmeric or curry powder
Ground cinnamon
Method
To make stock for the rice, pour the water into a saucepan and bring to the boil. Add a little bit of salt and, one by one, blanch the vegetables until cooked to the bite.
Once the vegetables are cooked and removed, measure the water to ensure it is a litre.
Heat the oil in a large pot or casserole pan (with a fitting lid) and add the mustard seeds and cinnamon. As soon as the seeds crackle, add the cumin, chilli, ginger and onion.
When the onion turns soft, add the coconut and turmeric or curry powder, and sauté. Pour in the vegetable stock and bring to the boil.
Preheat the oven to 130C.
Once the stock comes to the boil, check seasoning then pour in a fifth of the rice. Stir gently to prevent sticking.
Repeat intermittently until all of the rice is combined and the water is nearly absorbed.
Add the vegetables, stir well, cover the pot and place in the oven.
Cook for fifteen minutes before turning the oven off and leaving for a further 10 to 12 minutes.
Recipe from tilda.com.