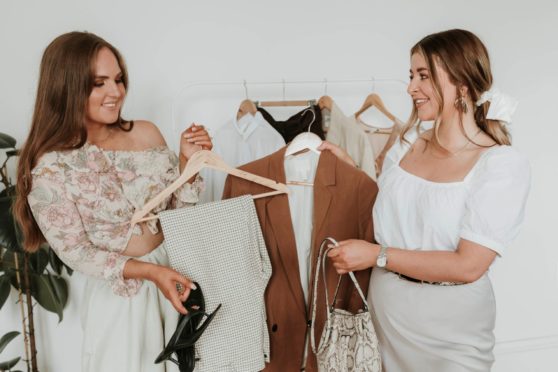 We all have a few skeletons hiding in our closet – and best friends Kirsty Irvine and Carolyn Knox know every shameful secret lurking behind our closed doors.
As owners of ElevenTwentySix, a Glasgow-based personal shopping and closet cleansing service, the stylish duo spend their working week sorting through wardrobes, drawers and boxes filled with everything from decades-old jumpers passed down from our nan to new dresses complete with tags, all in the name of helping Scots feel more organised.
And, as we've all spent more time at home during the Covid lockdown, Kirsty and Carolyn have seen a huge boom in demand for their special set of skills, which includes breathing life into old outfits.
"When lockdown started, and people were working from home for the first time, we saw a huge demand for our services," said Carolyn, 28. "People didn't want to be sitting in their pyjamas all day, but they also didn't want to sit around in jeans or office wear. So, we had quite a demand for virtual styling appointments. When you get ready in the ­morning, it does make you feel better about yourself, and your day flows a wee bit better."
Kirsty added: "A lot of our clients felt they had worn lounging outfits for the first few weeks, but that didn't help them feel good. They wanted something that was comfortable but picked up their mood. Plus, people tell us having their wardrobe cleaned and organised takes a weight off their mind – being in a more serene environment helps to kick-start their day."
Having started their careers as personal shoppers for high street brands, both Kirsty and Carolyn know the importance and impact of a well-chosen outfit. But the pair also believe feeling happy and confident can start with the wardrobe itself – especially as shows such as Netflix's The Home Edit and Tidying Up With Marie Kondo have made us more aware of the benefits of the "clean house, clean mind" mantra.
The ElevenTwentySix Closet Cleanse service sees the ladies visit clients' homes (albeit virtually during lockdown) to edit, clear and organise their wardrobe, creating "lifestyle sections", neat piles and displays to make mornings that little bit easier.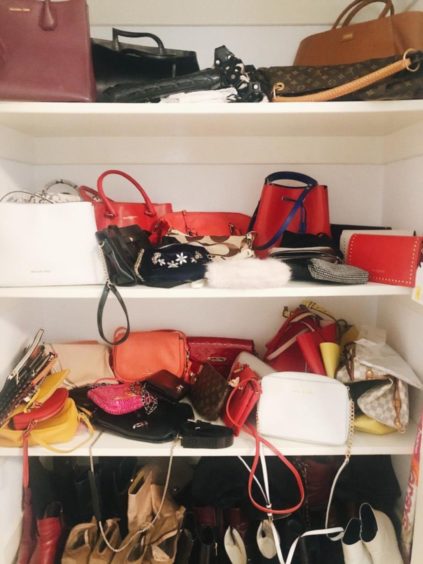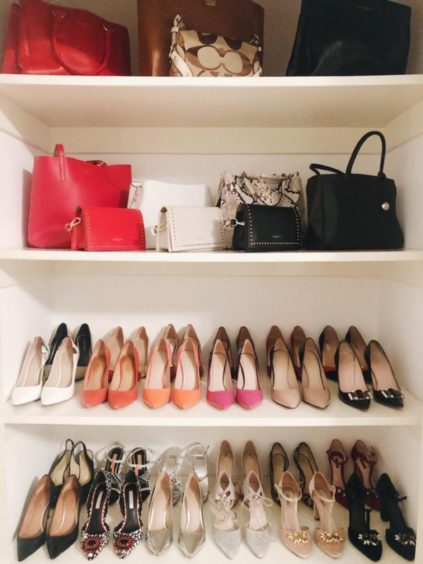 Kirsty, 32, explained: "We started out as personal shoppers and stylists, but clearing out and editing the closet goes hand in hand. You see first hand how much joy and excitement you bring to people with an organised lifestyle.
"The closet cleanse is our ­most-booked appointment – and I actually think it's our most beneficial. Shopping trips give our clients a confidence boost, but I think having us visit their home feels more comfortable. We don't have set rules because everybody connects on different emotional levels with clothes or specific items in the wardrobe. So, myself and Carolyn will always give our opinion and read their body ­language. Although, if there's something we think a client really needs to get rid of, it does help that there's two of us!
"Sometimes, when we're done, it might not look like the rainbow effect you've seen on The Home Edit, but that's because we organise into sections – work, going out, casual, workout – to make life quicker and easier."
She added: "Tidying really is so good for your mental health, especially when you are working at home and you aren't getting the escapism of the office. For example, one of the first jobs we did in person after lockdown was for a client who had a lot going on at home. Making a perfect space that's just for her meant she's able to close the door, and have somewhere that's completely separate to the rest of the chaos of the house."
Carolyn continued: "People do underestimate the power of a tidy wardrobe. It sounds trivial to say messy clothes can make you feel a certain way, but it actually plays such a big part in your day. That's where you get ready, and where you style yourself to feel good – if that space is chaotic, you're more likely to grab the same things on repeat, and that doesn't make you feel great."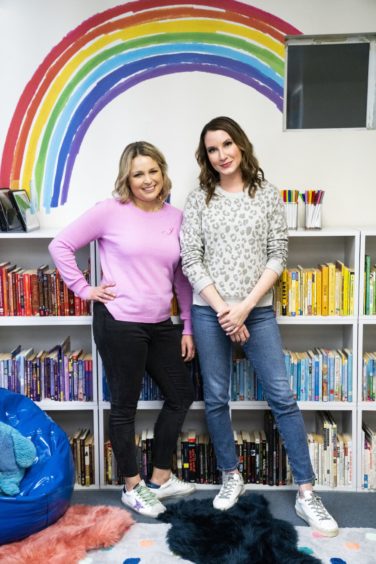 Although their clients are ­predominantly women, Kirsty and Carolyn say people from all lifestyles and backgrounds seek out their help, and they tailor their advice accordingly, taking anywhere from three hours to three days with each client. And if the thought of having someone rifle through your ­drawers is a little daunting, don't worry – the ladies have seen it all, and they don't judge. "Sometimes we pick an item and the client will automatically say, 'Oh don't look at that, just put it in the bin', laughed Carolyn. "But if it's an item you wear regularly for cleaning the house or lounging about, that's totally OK. It's fine to have one or two old things… Just not 45 of them!"
As well as helping their clients feel more self-assured, Kirsty says the other driving force behind Closet Cleanse was to encourage more people to shop less and wear more, moving away from so-called fast fashion, which experts believe has led to 10,000 items of clothing being sent to UK landfills every five minutes.
She explained: "In the past, when we were working for brands as personal shoppers, it was about selling units and volume. But now, we want to make sure we have a more sustainable spin on our wardrobes, and we're definitely trying to instill that in our clients."
Carolyn added: "In this generation right now, it's become a bit of a trend to buy and wear something new for every occasion or night. So, we want to show people it's OK to re-wear your outfits. You maybe just need to restyle them to look new."
---
Experts: How to declutter the way we think
Scrubbing toilets, mopping floors or folding the weekly wash may not be everyone's favourite activity, but studies have shown household chores can boost our mood and make us feel happier.
According to research, by Kärcher, 86% of us feel cleaning positively benefits our wellbeing, and more than a third of respondents admitted tidying made them feel less stressed.
So, why does a clean house make for an unburdened mind?
"Cleaning and organising can positively impact our mental health as it helps give us a sense of control over our environment," explained Dr Elena Touroni, a consultant psychologist and co-founder of The Chelsea Psychology Clinic.
"Decluttering our physical space can be reflective of the decluttering of our mental state, helping instil a sense of calm and accomplishment. What's more, cleaning can be a mindful activity, bringing us more in touch with the present moment."
Research by Princeton University also found that being surrounded by clutter can make it more difficult to focus on specific tasks, as the brain's visual cortex can be overwhelmed by task-irrelevant objects, explaining why many people feel more calm and relaxed after cleaning.
Behavioural psychologist, Jo Hemmings, believes the current shared-stress of the pandemic could also be influencing our decision to clean up our living spaces.
She said: "During difficult times such as these, much of our anxiety comes from increased levels of the stress hormone cortisol. But studies have shown that cleaning – even for just 20 minutes – can reduce this.
"Tidying, cleaning and decluttering actually adds to our sense of overall wellbeing and has been shown to encourage us to lead a healthier lifestyle, be more productive and feel more positive emotionally."
Dr Touroni says just watching organising shows such as The Home Edit can still provide a sense of calm. She continued: "We experience a sense of satisfaction simply watching people organise their space if we're able to put ourselves in their shoes."
---
Instagram for inspiration
If you need a little motivation and inspiration to declutter your wardrobes, drawers and cupboards, these Instagram accounts are filled with tips, tricks and neatly organised shelves.
Marie Kondo, 3.8 million followers @mariekondo
As author of The Life-Changing Magic Of Tidying Up, the tidying expert arguably kick-started the trend for neat, organised and immaculate wardrobes and drawers. Her KonMari Method encourages users to categorize their belongings, throwing away anything that doesn't "spark joy".
The Home Edit, 3.9 million followers @TheHomeEdit
Best friends Clea and Joanna, and their team of cleaning wizards, recently landed on Netflix with their own show, Get Organised With The Home Edit, which even provides a peak inside the closets of celebrities including Eva Longoria and Reese Witherspoon. Their colour-coded rainbow organising system is as impressive as it is eye-catching.
Simply Spaced, 89,000 followers @simplyspaced
Professional organiser Monica Leed uses her Instagram feed to focus on "transforming cluttered minds", and her carefully curated posts certainly have a calming influence. Her book, Simply Spaced: Clear The Clutter And Style Your Life, released last year, works as a step-by-step guide for styling your home.
A Bowl Full Of Lemons, 235,000 followers @abowlfulloflemons
Cool calming colours, perfectly risen cakes, and "home organisation challenges" provide inspiration for creating a picture-perfect home. And, of course, there is also a related best-selling book, The Complete Book Of Home Organisation.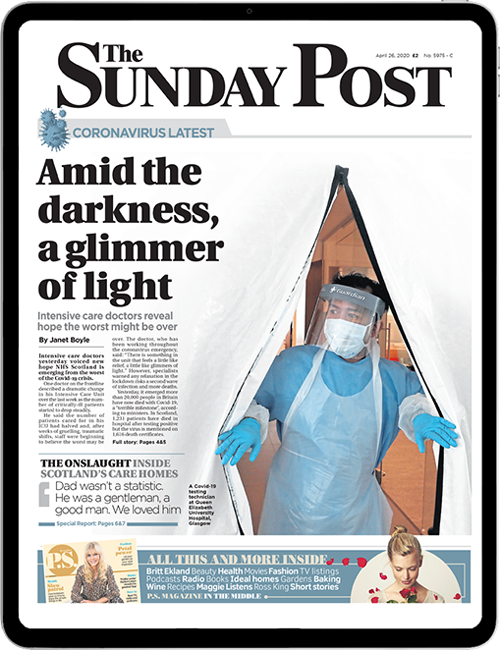 Enjoy the convenience of having The Sunday Post delivered as a digital ePaper straight to your smartphone, tablet or computer.
Subscribe for only £5.49 a month and enjoy all the benefits of the printed paper as a digital replica.
Subscribe