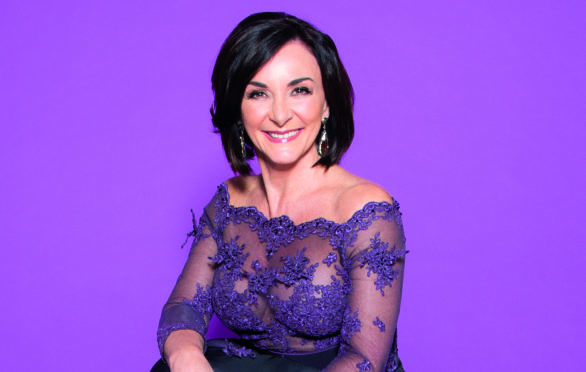 She brings glamour and a dancer's elegance to Britain's favourite ballroom but Strictly judge Shirley Ballas has revealed the romantic secret of her newfound confidence.
The BBC show's head judge told how her previous marriages dented her self-esteem, but her new partner Danny Taylor – 12 years her junior – has her head over heels, and already thinking about marriage less than a year after they started dating.
Shirley, 59, told Platinum magazine how much her life has changed over the last 12 months, and it's all thanks to Danny.
After two unsuccessful marriages, she has finally met the one – and she couldn't be happier.
"I can't really say that I've ever truly, truly been in love or really known what it's like to love unconditionally with a heart that throbs when a man walks in the room – until I met Danny," Shirley said.
"Danny's showed me the way, particularly when it comes to self-esteem and how a woman should feel about herself."
Shirley – who first met Danny last Christmas when they were working together in panto – tied the knot with ex-husband and ballroom pro Corky Ballas in 1985. Before that she spent five years married to dancer Sammy Stopford.
The relationship with Corky, Shirley said, was volatile and left her with no sense of self-worth – and seeing a therapist for help to get through each day.
"My second husband liked me to go to bed with all my make-up on, and Danny once took a wipe and removed all my make-up. He just looked at me and said 'there she is'."
The star, who is a dress size bigger than her usual start of Strictly size six, said since meeting Danny, she's a new woman who doesn't worry about her figure any more.
"It would have been dressing gown on, trying to put the dress on without even showing a little bit of flesh and now it's like I'm free! I'm free!" she said.
In the aesthetically-perfect world of Latin dance, where "nobody likes to see anything jiggling and wiggling", Shirley was fanatical about controlling her weight and this continued into her 50s.
As recently as two years ago Shirley ate five or six fist-sized portions of food daily – primarily salad – and rarely drank alcohol.
Waving goodbye to her strict regime, she said, has made life far more enjoyable. "You go out, you have a drink and a meal and that's what they call a social life. I've never had that before. It's called living!"
And Shirley – who recently introduced Danny to her father at the theatre star's request – revealed marriage may be on the cards, with hints of an engagement in the near future.
With 2020 being a leap year, it's tradition for women to propose on February 29.
But Shirley, who yesterday urged women not to have breast implants after having hers removed last week, doesn't think she'll need to.
"Would I consider proposing to him?" she said.
"I'd have to be sure and he'd have to be sure. Of course, we take into account his family, his son and my family – but, as for the rest, it doesn't really matter."
If you enjoyed issue one of Platinum magazine, you will adore issue two. Get ready for Christmas with our festive release, packed full of home décor ideas, family recipes, travel features and inspiring stories✨#PlatinumMag #PlatinumSubscribe pic.twitter.com/gAIyjSCyFs

— Platinum Magazine (@PlatinumMagUK) October 25, 2019
Rather than third time lucky, Shirley said she hopes the next time a man puts a ring on her finger, it will be the "last time".
It's undoubtedly been a year of change for Shirley and this Christmas will be no exception.
She and Danny are performing together in Jack And The Beanstalk in Darlington before spending Christmas Day with their respective families.
This Christmas will be Shirley's 16th without her brother David, who took his own life in early December 2003 at the age of 44.
Last year was the first time since his death that Shirley and her mum acknowledged the festive period.
"It was only last year after we met Danny that we even put a tree up," said Shirley.
"We didn't celebrate it for all those years.
"It feels like a cloud's lifting. We never forget David. He was a huge part of our lives, but maybe it's time to cut ourselves a break and enjoy a little bit of what life has to offer."