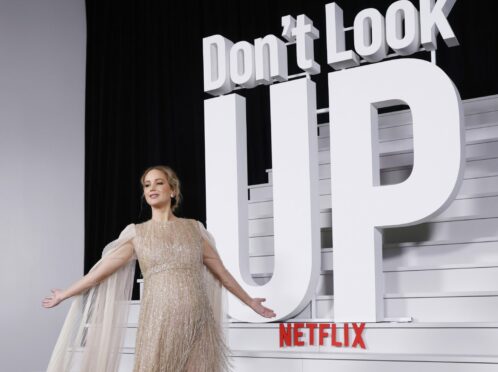 With a slew of Oscar nominations last week, a slate of exciting TV shows to come and more than eight million new subscribers signing up, the mood at streaming giant Netflix should be akin to that of a celebratory Bridgerton soiree.
Instead it's more like its other hit series, the dystopian Korean thriller Squid Game.
Shares in Netflix have plummeted in recent weeks after the company announced fewer subscribers than expected in the past few months. Investors dumped stock, wiping a cool $45 billion from the company's value.
The battle for subscribers is part of the Streaming Wars where the entertainment giant, as well as Amazon Prime, Disney+, and Now TV, try to win the hearts, minds and monthly subscriptions of viewers.
The multibillion-pound stutter could signal a change in the way we watch television, according to industry analysts.
Financial firm Deloitte has estimated 150 million subscriptions will be cancelled in the next few months alone, and analysts have predicted that, ultimately, there's room for only three streaming services; at the moment there are at least eight.
"People might have dipped into free trials throughout the pandemic but now's the time, especially with the cost-of-living crisis, when they'll be wondering if they're value for money," said Tom Goodwyn, the UK entertainment editor of TechRadar.
"If you were to create ideal conditions to grow a streaming service you would have created the pandemic: not only do you have lots and lots of people with suddenly a lot of time on their hands, but they fundamentally couldn't go outside and do anything else. But, as we look ahead, there are big decisions now being made by households."
Netflix has created a model, according to Goodwyn, whereby expensive shows like The Crown or hit thriller series Better Call Saul are delivered weekly, which attracts new subscribers as well as retaining existing viewers. No lockdowns mean less time in front of the television.
"As long as Netflix were gaining more and more subscribers, the share price was fine and venture capital firms were happy to stick with them," he added. "Once those things start to turn it's difficult to attract new investments and keep growing.
"The pandemic packed about a decade's worth of growth in a few months, and keeping that up was always going to be unrealistic. They're now not only having to compete with people going back to cinema, sport and theatre, there's also more and more streaming competition."
Netflix says its still gaining subscribers, even in territories where rivals like Disney+ are blossoming but streaming services are increasingly worried about "churn": where viewers adopt and then drop subscriptions from month to month.
"Starting and stopping subscription services is fairly easy to do, as long as you are on top of your life admin," said Dr Amy Holdsworth, senior lecturer in film, TV and theatre studies at Glasgow University.
"I'm constantly starting and stopping my Now TV subscription because I don't watch it for ages and then it goes into something I want, and then if a series comes on, like Succession, I'll pick it back up again. If you can't afford to subscribe to everything, which a lot of people now can't, viewers will choose who's got the most compelling content.
"You may be looking at Disney+ who have done really well. They've created compelling content and have a massive archive of much-loved material."
Disney+ differs from Netflix in that it tends to release premium series in weekly episodes; last week Star Wars spin-off The Book Of Boba Fett concluded after seven weeks. Apple TV also put hits like The Morning Show out one week at a time. Meanwhile, on Netflix, the first half of the fourth season of money-laundering family thriller Ozark appeared as a complete set with the rest to come later this year.
It was a selling point with streaming services when Netflix first launched but, with increasing churn as viewers switch, Netflix may move away from that tactic.
"If a platform is doing a single drop of a series you can just sign up for a month, watch what you want to watch, and then wait till the next season comes out or the next big hit," added Holdsworth.
"The weekly release model means that you've got to keep subscribers paying on a monthly basis to watch programmes. I think Netflix especially will need to look at its model and consider their so-called release cadence.If you think about it, that's more a kind of release cadence that you would associate more with traditional broadcast TV."
Bad news for those who enjoy binge-watching an entire series over the course of a weekend. Further attempts to keep costs down might see another feature of classic telly return: ad breaks.
"On Demand services like All4 are free to use but you can pay a small subscription fee so you don't have to watch the adverts," she said. "Adverts creeping back is interesting to see. If you think back to when these streaming services appeared, the selling point was that you could watch them without the ads but these older forms of delivering content seem to be coming back. And it's because they actually work."
Weekly episodes and commercial breaks might be a return to traditional broadcasting but Sky and the BBC will still struggle as the Streaming Wars intensify, according to Goodwyn.
"Sky have in recent years built their drama offering on US channel HBO's programmes," he says. "How much longer will HBO provide that? HBO are launching their streaming service, HBO Max, around the world. It's not coming to the UK just yet but it will likely be part of their long-term strategy.
"For Sky, a lot of their growth was down to Game Of Thrones and, more recently, Succession. So that would be a huge change if those shows went to HBO Max and, at some point, that will happen. The BBC are doing a lot of co-productions with streaming services like Netflix and Hulu which will help them.
"Both Sky and the BBC are in decent positions but, ultimately, they're not going to be able to compete with Netflix, Disney+ and Amazon."
Recently, Fleabag creator Phoebe Waller-Bridge signed up to make a new show for Amazon Prime, joining an increasing list of talent drawn to streaming platforms that have offered plenty of creative freedom as well as, of course, money.
It's all part of a talent arms race, according to Goodwyn. "Netflix, for instance, have Shonda Rhimes, who came up with Bridgerton, and Ryan Murphy who previously created Nip/Tuck and Glee," he adds.
"Perhaps we'll see them snapping up more and more of these big-drama empresarios. What's Jed Mercurio up to? I can see a streaming company saying to him, 'give us 10 dramas over the next two or three years'."
Yet the desperation to create premium content doesn't mean there will be a free rein for even the creator of Line Of Duty.
"Previously, Netflix could say to someone like David Fincher, 'Here's a bunch of money to do what you like', and he would go away and make a project like Mindhunter.
"With the financial pressure we're seeing now there's going to be a bit more oversight, and it'll be less of a playground for creators.
"As the amount of money at stake grows, the accountants are going to be a bit more interested in what's being made and whether it keeps people subscribing."
---
The one where old classics like Friends bag more viewers than much hyped hits
In Netflix's hit South Korean thriller series Squid Game, contestants battle to escape with their lives. Meanwhile on Bargain Hunt, the participants try to make a modest profit on a Chinese clay teapot.
Both may be equally exciting but last year Squid Game won the hype war on social media.
Yet despite the buzz, it gained fewer viewers than the daytime antiques show according to Digital i, a media analysis firm which measures the viewership of Netflix shows.
According to its figures, Squid Game reached nine million households in October, while Bargain Hunt reached 9.4 million.
Measuring Netflix's audience is difficult as the company doesn't regularly release figures and, unlike traditional broadcasters, a third party doesn't measure them.
The top 10 rankings which appear on Netflix as you scroll can't necessarily be trusted, according to Sophia Vahdati, marketing director of Digital i.
"Depending on what metric you rank your shows then you can make Netflix originals look really, really popular," she said. "You don't need to say which metric. you're using.
The 'Trending' category we see – is that viewer hours? Trending with who? What time? We just don't know."
Using its own survey data, Digital i not only discovered Squid Game, Netflix's most popular show, was 14th in the ratings in October (lagging behind Blankety Blank and Countryfile) but that the platform's big hits perhaps weren't the ones which kept us captivated.
"Netflix original shows generate a lot of hype but, apart from the Squid Game, which created interest for two to three months, most original releases stop having a significant impact after three to four weeks on the platform," said Vahdati, "whereas there are shows like Friends or The Office which people watch day-in, day-out and keep people engaged.
"Perhaps the unspoken, important and integral part of Netflix, Prime Video and the rest of these platforms are long-running acquired
US shows."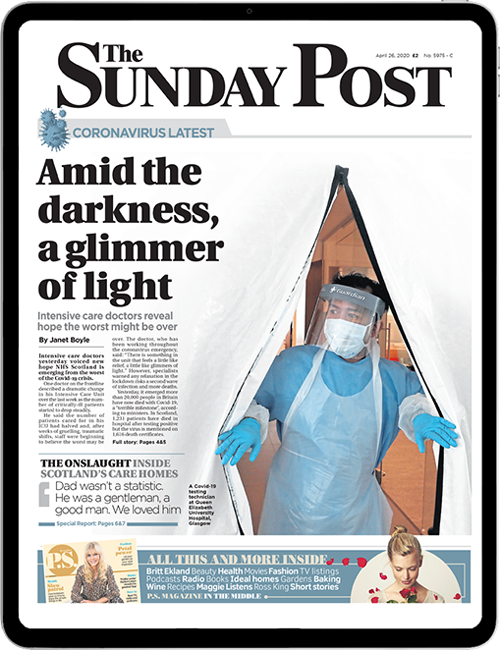 Enjoy the convenience of having The Sunday Post delivered as a digital ePaper straight to your smartphone, tablet or computer.
Subscribe for only £5.49 a month and enjoy all the benefits of the printed paper as a digital replica.
Subscribe