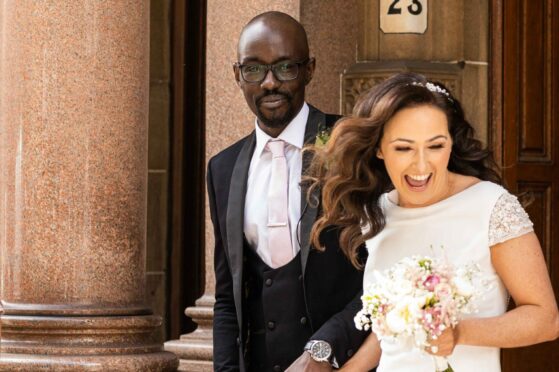 When film-maker Stewart Kyasimire got married, it wasn't just the biggest day of his life but the start of his next big thing.
The 42-year-old director, who made the Bafta-nominated Black And Scottish documentary, used his wedding as the inspiration for a series of six short films that will launch tomorrow, just five months after getting hitched in May.
He hopes the films, which were all written, directed and cast from within the black creative community, will chart the shared common ground of a diverse, modern Scotland.
The idea for The Wedding, which reveals the story of a Scots-African marriage reception from the perspective of six different guests, came from Bond and Resident Evil actor Colin Salmon, a close friend of Kyasimire, who was a guest at the marriage.
"He was very observant at the wedding, seeing these black Scots, and said afterwards I should do a story on it. Colin and I wrote the six initial characters," explained Kyasimire, who used his acclaimed documentary to explore his childhood experiences of growing up in Glasgow after moving from Kenya in 1983.
"I met Colin about three years ago. He got in touch with me and we have worked together on Black And Northern Irish, a documentary. He's basically an older version of me; we're best friends. He gives me a lot of advice and hope. He told me not to point fingers but to tell positive stories initially and then I can work my way down.
"The films are about positivity and bringing diverse characters together but they do also touch on issues like immigration and people feeling alone. The second episode, The Bartender, is a great example. The character is embracing the Scottish culture but she's questioning her race and culture because Scottish people are questioning if she belongs, and she tells a harrowing story. But at the end you see black and white people dancing together.
"Watching the films back was emotional for me, because at home my wife is Scottish and we have mixed-race kids, and for us it's normal and not anything to speak about. But a lot of the time when we walk out of the door a lot of people are staring at us, this black and white couple with mixed-race kids, so I'm trying to show this is normal and it's something we should all embrace.
"I'm trying to start something here in Scotland to show communities are growing. The black people who I know came over here as immigrants are good friends of mine and I want to show the Scottish public they can be their friends, too. Don't look at the stigma, look at the person.
"This is the first black film in Scotland that lets you hear their stories and in each film you are given an insight into a world you might never have known before. Hopefully, by the end of the films, people will have an understanding of how an immigrant feels, or a black African mother feels, or a young black woman. It's insightful."
Kyasimire, who runs a production company with his wife, Emma, had long had aspirations to make drama and hopes this is the beginning of a long and fruitful career in the genre.
He is proud of the diverse cast and crew he assembled in front of and behind the camera for the project.
"So many of the black community had watched Black And Scottish and wanted to be part of this," he continued.
"Knowing these actors and writers personally was the reason we could turn it all around so quickly. If I hadn't made Black And Scottish, I don't think I would have been so successful.
"I'm 42, so when I was out clubbing in the late 1990s I wouldn't see many black people, but now I think, 'Where did all these people come from?' and the amount who want to work in TV and film is fascinating. It's a great platform to tell stories.
"I run a talent pool and I wanted to show the diverse crew available. This is the first time a BBC production has not only had a black cast, writers and directors but a crew that is made up of 80% black and brown people from all over Scotland. And it was fairly easy to find that crew. It's the first time we've seen that statistic, not just in Scotland but the UK.
"I'm really proud of that and I've proved it can be done. It's part of the core of what I'm doing – not only making positive films with poignant messages but showing a black workforce in Scotland can create beautiful content and we can do it together. Hopefully this is the start of something going forward. It's exciting times."
The wedding stories
Stewart's BBC short films tell the story of a wedding from six different perspectives.
The 2nd Best Man
A gay friend of the groom, who at one time thought there might be more between them, gives a bittersweet speech about not finding a love of his own.
Starring Brian James Leys (Ash King in River City) and written by Lorna King
The Gambling Uncle
He arrived in Scotland three years after his sister and, while initially confident, he has somewhat lost his way through gambling and ties back in Africa.
Starring Bruce Fummey and written by Manu Kurewa
The Bartender
She came to Scotland five years ago from Nigeria and aspires for a creative life in modelling and acting. She acts as the commentator, rounding up the evening's events.
Starring Lola Aluko (BBC series The Demon Headmaster)
The Teenage Daughter
A 16-year-old, equal parts teen rebellion and insecure, reflects on her mixed-race heritage.
Starring Nandi Hudson (Netflix's Army Of Thieves and BBC's The Nest). Written by author and journalist Eilidh Akilade
The Estranged Sister
A wild child in her teens, she fled the family in acrimony to live and work in Spain. Now she hides in the bathroom and thinks about the reception that awaits her.
Written by and starring Moyo Akande (Guilt)
The African Mother
The mother of the groom reflects on her feelings about other characters and her strong African roots.
Starring Michelle Chantelle Hopewell. Written by Kenyan-Scottish artist Mara Menzies
---
The Wedding on iPlayer from tomorrow and BBC Scotland later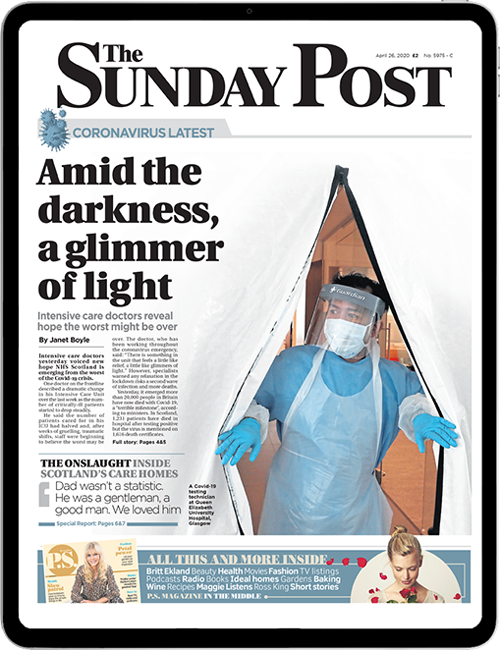 Enjoy the convenience of having The Sunday Post delivered as a digital ePaper straight to your smartphone, tablet or computer.
Subscribe for only £5.49 a month and enjoy all the benefits of the printed paper as a digital replica.
Subscribe