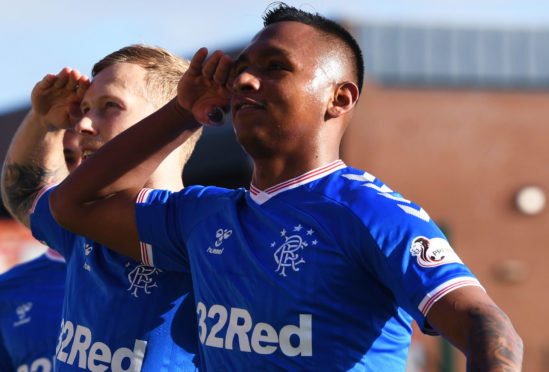 Steven Gerrard is on a mission to get his strikers hitting the net again.
But the Rangers boss admits he can't be sure if Alfredo Morelos has a long-term future at the club.
Having the Colombian fit and in form would be a big boost for the Ibrox side, whose form slump coincided with Morelos going off the boil.
Since the turn of the year, he scored only once in the 11 matches he took part in.
Since lockdown started, Gerrard has had plenty of time to reflect on what really went wrong.
But the 40-year-old doesn't believe his team's collapse had anything to do with their winter-break trip to Dubai.
Gerrard said: "There isn't much, looking back at that trip, that I would have changed.
"If you look at us falling away domestically after the break, it's a combination of things.
"In the final third, we stopped firing.
"Up until the Old Firm game, we were terrific, really consistent, defending really well, looking hungry, being a threat going forward and our main scorers were scoring goals.
"That changed after January. That's the reason, in certain competitions, we fell away.
"Whilst that was happening, we had been on an incredible European run.
"It's quite strange that from game to game, we would perform at such a high level and then under-perform days before or days after it.
"We have had time for reflection to try to find solutions and ways to address that moving forwards, so it doesn't happen again."
Morelos is back in Glasgow with his new baby daughter, but it's hard to know how long he'll be hanging around for.
Gerrard went on: "I know first-hand that having a daughter in your life does change you. Of course it does.
"Alfredo looks absolutely delighted and you can see it on his face. Everyone is pleased for him.
"He's spending some time with the medics at the moment because he has a couple of issues, nothing important.
"He still has to spend a bit more time with the medical lads then, hopefully, he will be back out there training with us.
"He's a fantastic footballer. He scores goals in big volumes, and I am really looking forward to getting him match-fit, up to speed and ready to play.
"I suppose what you want me to answer is: 'Is he going to be here next year?'. That's the million-dollar question.
"But you and I know that every player has his price.
"I want all my best players here. I've said it many times.
"For us to be successful, we need all our best players fit, available and out there on the pitch.
"Will we get bids for our best players? It's quite possible and something I can't control, so it's something we are just going to have to manage going forward."
Gerrard has already started to tweak his squad.
Ianis Hagi was secured on a permanent deal, Leicester City youngster, Calvin Bassey signed a pre-contract and Scotland goalie Jon McLaughlin arrived from Sunderland.
Others are set to join them, and Gerrard is determined to get players with the right mentality.
He went on: "There's no doubt that to be successful over the course of 60 games, you have to have a certain level of physical and mental strength.
"From a mental point of view, it's something that the players will have to prepare for individually.
"We can help and guide them, give them support with the right people and make sure they are ready from a physical point of view.
"What's important is we need to get them some help, and make sure that we identify the right players to come in and help us.
"We want to strengthen the starting XI, and the squad to make us better prepared to go the distance.
"On two occasions now, we have been consistent up to a certain point and then come away.
"If we can become more physical as a team and more mentally strong, it will certainly help us."
Starting the season behind closed doors – if that happens – will be a new test for everyone involved in Scottish football.
Some sides will relish visiting venues like Ibrox and Celtic Park without an intimidating home crowd.
Gerrard added: "I don't think it's going to be ideal playing in stadiums without fans, especially when the Rangers fans are such a big help to us.
"Having said that, the players have to be strong mentally and realise that, even though they are not in the stadium, they are still with us."
Rangers have been in touch with the Post to clarify that Florian Kamberi's loan from Hibs has not been extended.