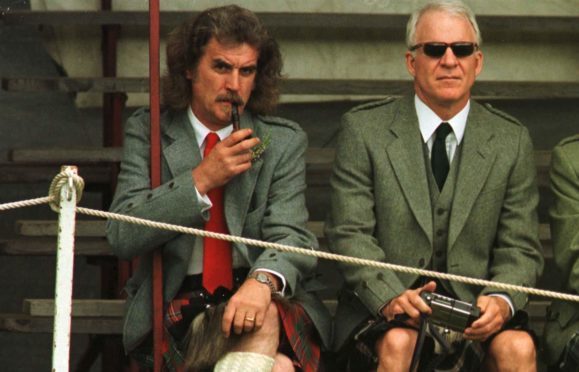 Hollywood legend Steve Martin says he can't wait to return to Scotland – but this time he'll leave his kilt at home.
The Planes, Trains & Automobiles star was a regular guest of Billy Connolly and Pamela Stephenson at the star-studded Lonach Highland Games in Aberdeenshire two decades ago.
The 74-year-old comedian will be back in the country next month alongside his Three Amigos and Father Of The Bride co-star, Martin Short, as they bring their acclaimed live show to Glasgow.
"I loved those Highland Games," Steve said. "Robin Williams and Eric Idle were there as well. What a group that was, they were so funny.
"Pamela bought us all kilts to make us very Scottish looking. It was a really fun time.
"I still have the kilt at home, but I don't think I'll wear it at the Hydro, because it's pretty bulky for travelling with, and then I'd need to take the shoes, sporran, jacket and shirt with me, too."
Steve was a huge stand-up star in the States during the 70s before moving into acting full-time in 1981. His live act saw him tell jokes in between some accomplished banjo playing.
Unbeknown to Steve, Billy Connolly was doing similar in Scotland at the time.
"I couldn't believe it when I first heard him play," Steve continued. "I said 'really, there's another comedian who plays the banjo?'
"He's a frailer, which is a type of playing, which means he uses the back of his fingernails rather than a guitar pick. He is really, really good.
"I play frailing and scruggs-style, which is three-fingered playing. I'll do both at our show in Glasgow.
"I've not seen Billy in a long time. I don't quite know where he is these days. I heard they were on a boat in Florida or a while but I really don't know."
Steve and Martin first worked together on 1986 comedy, The Three Amigos!, alongside Chevy Chase, and have remained close friends ever since.
The idea for the show came after they interviewed each other at a film festival and this developed it into a variety show featuring comedy and music.
They filmed a well-received Netflix special and have since toured their double-act round America, Canada and Australia.
Innerspace star Martin said: "I've always been on stage, and although I never really did stand-up in the beginning, I was part of an improvisation group, and was on Broadway and had my own shows.
"So it's not a big change to be back on stage, but what is different is being on stage with Steve, that's new and has been invigorating."
The duo will team up again on screen later this year when they make a new TV series, a comedy called Only Murders In The Building.
"We play two guys who live in an apartment building in New York and they discover they have a mutual love of true crime shows and decide they'd like to solve some crimes themselves," explained Steve.
"But because they're old and tired, they will only investigate murders in the building, just so they don't have far to travel."
Live comedy has become huge business in the last decade, with stand-ups like Kevin Bridges and Michael McIntyre outselling major music acts.
Rather than being an escape from negative news in the world, Steve believes live comedy's new level of popularity is due to the internet.
"Times are always tough – you could argue the 50s were tough because of the atomic warfare threat and the 60s had rebellion, so I don't think it's that," argued Steve.
"In the last 10 years there's been an explosion of comedy online, like on Netflix.
"People accept it more, and a comedy show is very cheap to put on. It's usually one guy, so it's very marketable if you find a great comedian – and there is nothing like a great comedian to leave an audience happy.
"Marty and I want to make the funniest show the audience has ever seen.
"If people in Scotland don't come, they'll hear from friends how funny it was and they'll feel bad they missed it.
"Then they'll feel like losers. And you don't want to feel like a loser in this day and age."
---
Steve Martin and Martin Short: The Funniest Show In Town At The Moment, SSE Hydro, Glasgow, March 9.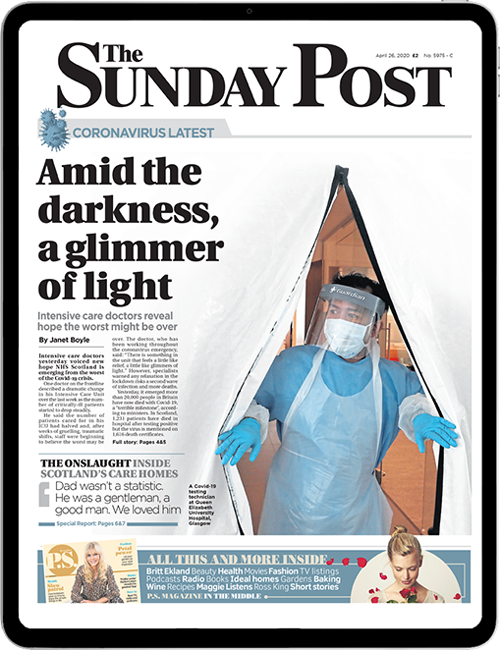 Enjoy the convenience of having The Sunday Post delivered as a digital ePaper straight to your smartphone, tablet or computer.
Subscribe for only £5.49 a month and enjoy all the benefits of the printed paper as a digital replica.
Subscribe