Steve Clarke will use lessons gleaned from the horror show in Kazakhstan in his bid to get his reign as Scotland manager off to a flying start.
The 3-0 drubbing in Nur-Sultan in the opening match of the Euro 2020 qualifying campaign was one of the worst results in the country's history, and a major factor in the sacking of Clarke's predecessor, Alex McLeish.
McLeish himself described the performance at the time as "horrible", if anything an understatement with the Kazaks 2-0 up in 10 minutes and never in any danger of being pulled back.
"I had a little look at the Kazakhstan game and at the San Marino match (a 2-0 victory) as well," said Clarke, as he looked ahead to Saturday's visit of Cyprus, and the clash with Belgium in Brussels three days later.
"Those are the two most-recent performances. Obviously, I have my way of playing, my tactics and I can see some things that I would change.
"It was important to have a look to see how they have been playing – and how they have been asked to play – so we can quickly smooth things over and try to get my style and my system so the players can understand that and take it on to the pitch.
"That is what I am here to do. That is what I am paid for. I also have a little look at the opposition coming up.
"Not Belgium, because I know how they are going to play and how we are going to play in that game. I hope that it is positive."
Twelve of the 14 players who lost to Kazakhstan are in the squad and Clarke makes no apology for that.
"I can't go out and give everybody a different nationality," he said.
"These are the Scottish boys, these are the boys that are here.
"I'd like to think those that were involved in these trips will be hurting. They will want the chance to put it right.
"If they get the chance to do that in the upcoming games, then good.
"Certainly, I hope you see the desire and hunger to put things right."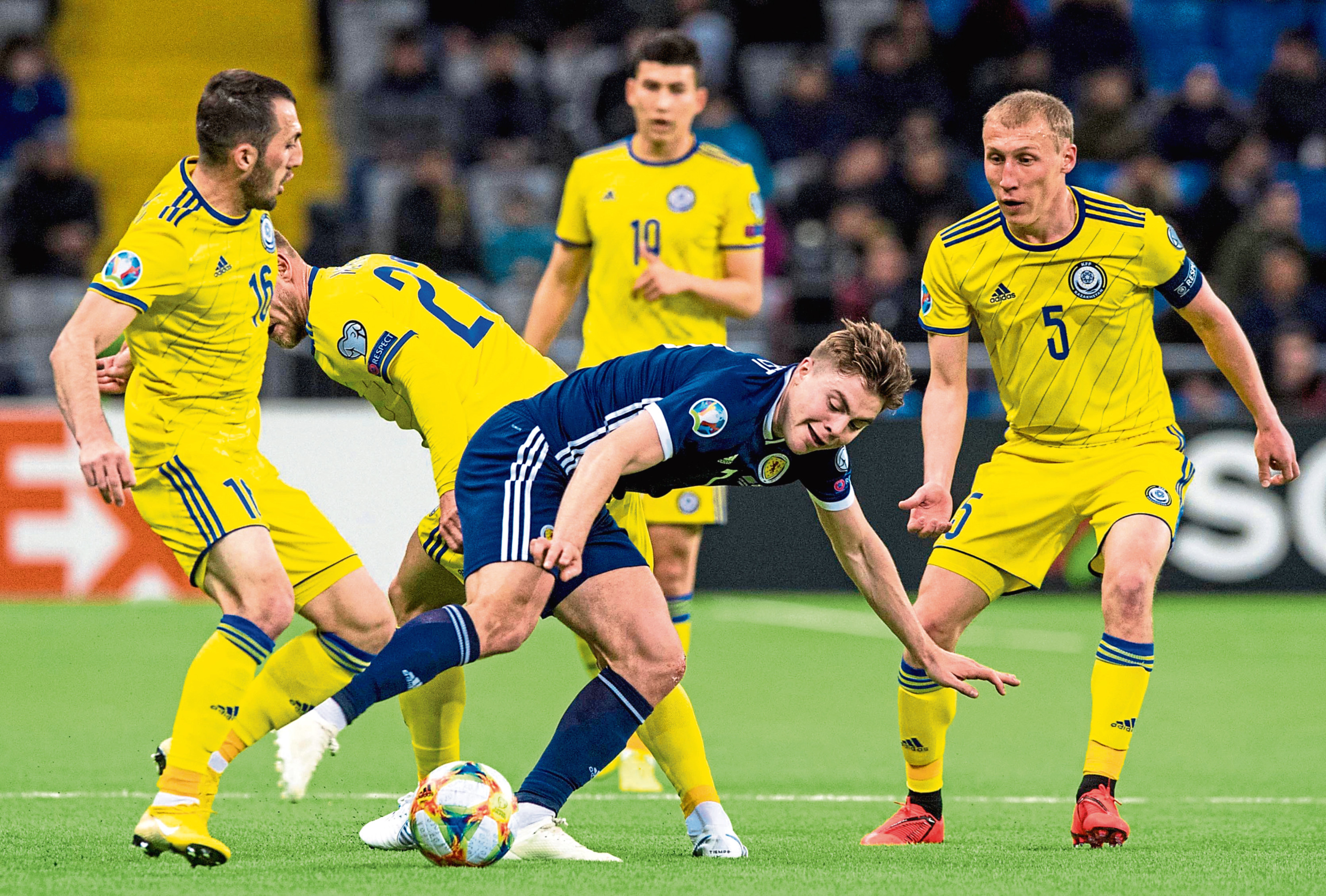 Desire will certainly burn bright in the 55-year-old himself when he leads a team out at Hampden for the first time in his career.
"I played at Hampden a couple of times for St Mirren in semi-finals. I never quite made a final," said the new national boss.
"This will be the first match I've actually been in the dugout.
"From first impressions, it looks a hell of a long way from the seat to the edge of pitch, so I'll get my steps in.
"I imagine it will be a proud moment. A couple of months ago, I was expecting to be on holiday right now.
"My wife likes a beach holiday and I like a week sitting under an umbrella under the sun. That is what I do when we go abroad.
"We will manage to get away later on, but for now, I am concentrating on the job in hand.
"Hopefully, we'll get a big crowd that gets right behind the team and we give them a performance that sends them home happy. That has always got to be the aim.
"I was at Hampden for the Scottish Cup Final and it was a terrific atmosphere.
"If you get an atmosphere like that at Hampden, with the Scottish public behind the team, then we can make this a place for the opposition to fear coming to in the future.
"I haven't had a match yet, but they still seem to like me in Saltcoats!
"I've never met so many Kilmarnock fans in my life. Everybody who stops me says, 'Congratulations and good luck on your new job, but I'm a Kilmarnock fan so I'm gutted'.
"It has been really positive.
"I hope that they are still shaking my hand on June 12, after the two games. Hopefully there is the same positivity.
"I can't wait for Sunday night when I get a chance to meet these guys face to face and say hello and get to work on the Monday.
"I am champing at the bit to get going again, get my whistle out.
"This is a chance to get people onside. I don't think there is any point in hiding away from it and trying to play it down. It is a big game, it is my first game and I want to start with a win.
"Hopefully I can transmit that to the players and they will know as well. We have given ourselves a difficult start in the group. But we have to try to make sure we get points in the bag as quickly as possible.
"There won't be any great surprises in terms of the group, although hopefully someone will turn up and be even better than I thought they were.
"That would be a good surprise.
"But most groups of footballers are pretty much the same. I am sure there will be the same characters, the same jokers, the same serious ones, the same ones that doubt themselves.
"It is my job to get the best out of them. That is what I will try to do.
"I have had a little look at Cyprus. I saw their game in Norway, I watched 60 minutes of that and they are OK
"They have some decent players but I think as a nation we have to recognise where we are.
"We have to have a little bit of humility and look at every opposition and say, 'Right, we have to be at our very, very best'.
"If we get that mentality, if we treat every opponent with respect, then we should be okay.
"I spoke about this when I was a club manager.
"You have to respect every opponent and then go out there and put on your best performance.
"Hopefully that will be good enough to get us some points."
Six of Scotland's goals in the Nations League wins over Albania and Israel came from the wings, with James Forrest grabbing five and Ryan Fraser a single.
Clarke sees the pair as crucial to the country's prospects over the double-header.
"They are both good wide players who understand the game, when to be inside and when to be outside," he said.
"James Forrest, in particular, has improved a lot on knowing when to be inside in the right area.
"That's probably why he got his hat-trick against Israel, and has scored a few goals this year.
"Ryan maybe doesn't get quite as many goals but his assists are plentiful, which is good.
"I've got two strikers in Mark McNulty and Eammon Brophy, who will score if they are given chances, so there is a big onus on the wide forwards to do well for us."
The former Kilmarnock boss is, meanwhile, looking forward to a time when he will be able to welcome two Scotland favourites back into the fold.
"I have been pleased to hear the news that Leigh Griffiths is hoping to be back for pre-season," he said.
"Obviously, the most important thing for Leigh is he gets himself fit and well. Once he is healthy, then we can start talking about the football side of things. But he has to be healthy first.
"Of course, it would be good to have somebody of Leigh's ability back. He is a proven goalscorer at international level.
"I had a good chat with Steven Naismith as well. He was in at Hampden and came into the office.
"Steven is one that would also be good for us and is raring to get playing again.
"Hopefully, he has a good s pre-season and can be part of the future."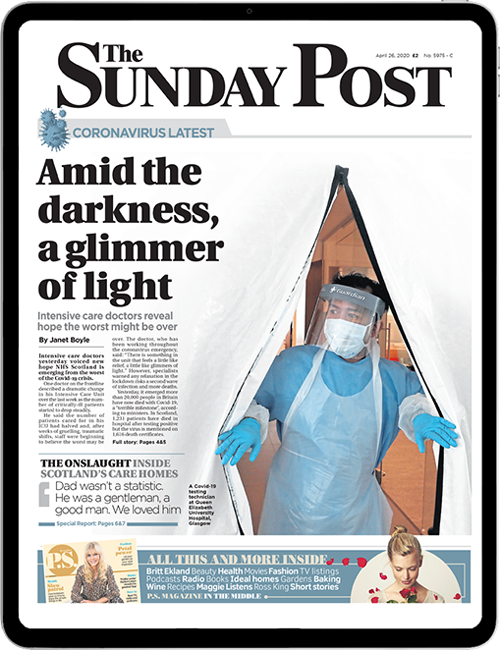 Enjoy the convenience of having The Sunday Post delivered as a digital ePaper straight to your smartphone, tablet or computer.
Subscribe for only £5.49 a month and enjoy all the benefits of the printed paper as a digital replica.
Subscribe