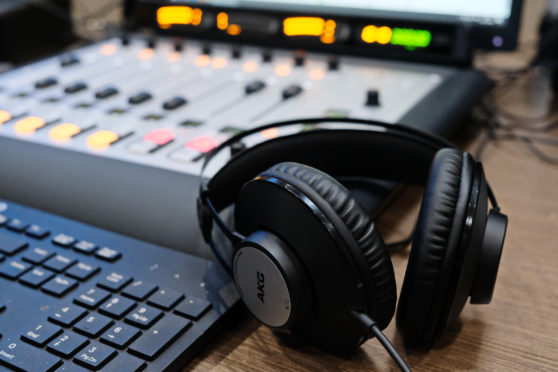 Concerns remain over the future of Scotland's community radio stations despite newly announced funding measures from the UK Government.
Earlier this week, it was announced that funding will be available within weeks to assist community stations hit by the current crisis.
The Department of Culture, Media and Sport said stations would be able to bid for emergency grants through Ofcom to help meet core costs, drawing on a £400,000 Community Radio Fund administered by the regulator.
The money is usually allocated annually by the government to support stations, to be spread out over the year.
In this instance, it will be made available 'within weeks.'
John Whittingdale, Minister for Media and Data, said: "Community stations across the country are helping people through the pandemic with up-to-date news and entertainment and through their role coordinating volunteer networks.
"We recognise the difficulties they face and are releasing emergency funding to help them continue providing programming and services for the communities they serve."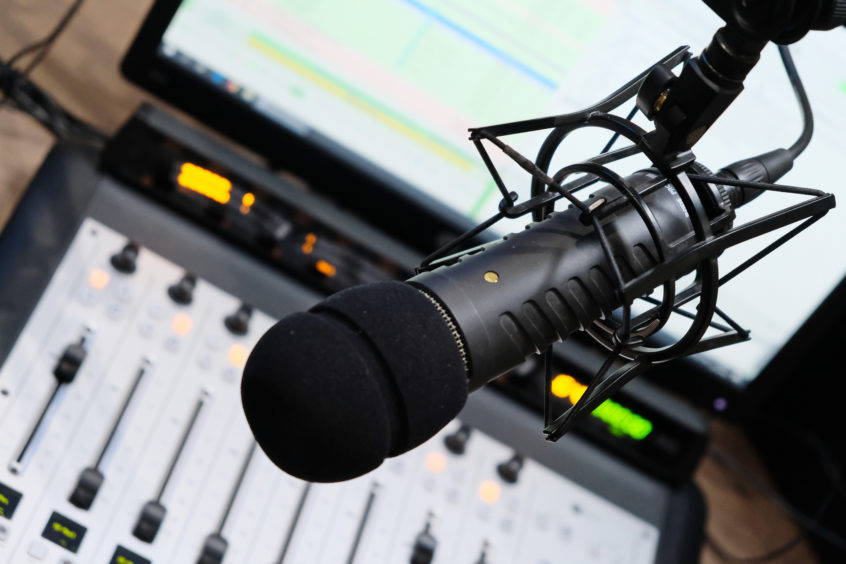 The news has been welcomed as "immediate short-term relief for those community radio stations facing immediate hardship" by the Community Media Association, which represents the 296 community associations licensed by broadcast regulator Ofcom.
But the strain still remains on the country's community broadcasters.
Volunteers can no longer visit the studios to broadcast, fundraising events have been cancelled and advertising revenues have shrunk to a minimal level.
A number of stations see their futures in doubt, with little to no cash reserves as income dries up.
Regulator Ofcom says it is taking the impact of coronavirus on schedules and production into account when considering broadcasters' commitments.
They have contacted all licensees about their financial arrangements, while also developing a new license for temporary stations to broadcast during the pandemic.
Gus Maclean, chairman of Barrhead-based Pulse Community Radio, welcomed the newly announced funding but criticised the process.
"Stations shouldn't have to do apply," he said. "Everyone gets £10,000 and it solves it all. Applications are just red tape.
"We're good enough as a community station and we're very pro-active in the community, our biggest income is events and that's how we keep the station going.
"We've lost all of that. We'll be lucky to get anything before at least Hallowe'en."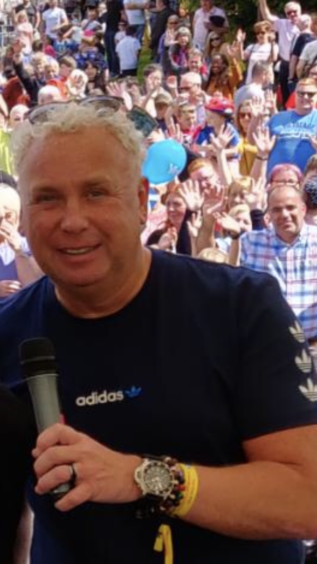 Maclean, a DJ for club nights and events outwith his role at Pulse, says he has lost a lot personally through the coronavirus crisis.
And, like almost all in community radio, he's giving up his time to the station for nothing.
"We don't need to do this, at the end of the day. We do it because we enjoy it, and get no remuneration for it at all.
"Sometimes people get confused with us being a community station and thinking we can do things for nothing.
"But every time we turn a light on we've got to pay a bill, and people don't realise that.
"I don't know what will happen at the end of this. I think we'll be fine, but I don't know about other stations."
Scotland currently has 28 community radio stations, ranging from the likes of CamGlen on the outskirts of Glasgow and Kirkcaldy's K107FM, to more remote organisations such as Bute Island Radio and Two Lochs Radio in Wester Ross.
Most are still broadcasting, with volunteers presenting and producing shows from home.
Stations across the country have had to find new and inventive ways of remaining on air, at a time where they are of utmost importance.
"I'm overwhelmed by our presenters," Maclean added.
"People doing it from their house are going the extra mile, having to buy extra bits of kit. It's incredible. We're very lucky, everyone's doing amazing shows.
"The default would just be to leave it alone, but we've got people doing shows every week. For people volunteering and being members, everyone's said yes and I think that's incredible."
First Minister Nicola Sturgeon was asked about community radio stations as part of her daily coronavirus briefing on Thursday.
She said: "I'm a big supporter personally of community radio, I see the benefit of it and the great impact that it has on my own constituency and further afield.
"I don't underestimate the impact that what we're living through right now is having on not just community radio, but local media generally, just like it's having an impact on the rest of us.
"We will continue to have ongoing conversations in general with every sector of the economy about how we can provide maximum support, and will be happy to take that discussion forward with community radio as we will with others as well."
Speaking after the announcement of the Community Radio Fund grants, Kevin Bakhurst, Group Director of Content and Media Policy at Ofcom, said: "During this challenging period, community radio can provide a reassuring local voice to millions of people.
"We know many community stations are facing significant challenges as a result of coronavirus, and we will be working as quickly as possible to administer this fund so they can continue to reach local listeners."
---
Broadcasting across the country
Scotland's community radio stations have had to adapt in recent weeks to continue to provide an important service to the areas they serve.
Here, we talk to some volunteers, presenters and programmers about how their stations are coping.
David Gallacher, 32, Irvine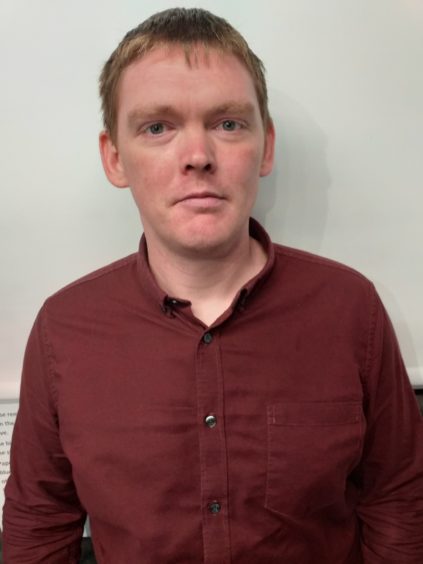 David Gallacher has been a presenter with Irvine Beat FM in Ayrshire since 2012, and is the station's program controller.
"We've got four presenters who can livestream and a lot who can record from home. We're just getting by the best we can just now, the same as everybody else I think," he said.
"Now is a more important time than ever for community radio. We're finally getting to do what we're set up to do.
"At the minute we're working within the community trying to keep them as up to date as possible with everything that's going on locally.
"I don't know if we'll be decreasing people's boredom, but if people are listening we're trying to take their mind off the difference they're having at the minute."
David is full of praise for his presenters, saying they've gone "above and beyond".
He added: "Everybody's trying to pitch in and help. Although it feels as if we're all far apart, we've been drawn closer in. Everybody's desperate to do a wee bit to help out when they can. It's amazing to see them all coming together."
Looking to the future, like many community stations, funding will be key.
"It's always hard for community stations to get funding, now I think it'll be even harder because there are things deemed more important than us," David added.
"We make a lot of our revenue from advertising. Advertising has disappeared. We're hoping we can get through the best we can and that after the lockdown companies come back and advertise."
---
Simon Abberley, 36, Fort William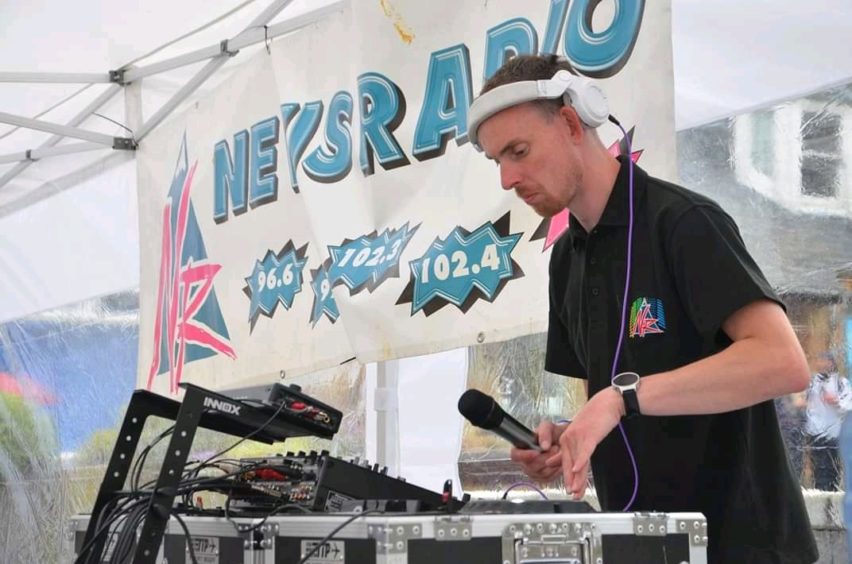 Nevis Radio's station manager Simon Abberley said it's critical that they can continue broadcasting.
He said: "Where we are in Lochaber, we're probably the only station that a number of areas in the region get. That's including some BBC stations.
"For people that are isolated, maybe the older generation, we'll be the only voice that they might hear for a couple of weeks."
At the moment, the station is operating as close to a normal service as possible.
"It comes down to a community effort really," said Simon.
"Some presenters haven't been comfortable with the way it all works at first but they've given it a go and found it's not as bad as they first thought. They've adapted quite well.
"The major downfall is the general financial side with the lack of funding. It's hard to tell at the moment the impact though. We've taken quite a hit from the lack of local events, as well as on the educational side. We're not able to run classes with high schools and colleges.
"It's down to adverts now and all of the advertisers are closed. We're fortunate that a lot of them are quite supportive and understanding. Other than that it's down to funding applications which are hotly contested right now."
---
Derek McCutcheon, 57, Cambuslang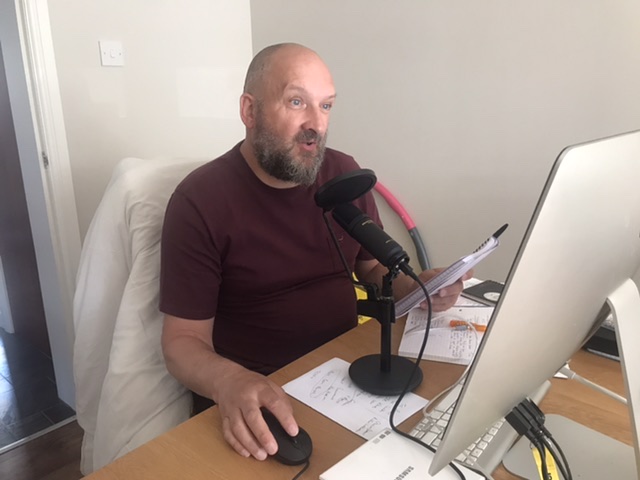 Derek McCutcheon, from Cambuslang, is producing a show every two days for Cambuslang and Rutherglen's CamGlen Radio.
He said: "It's been interesting, I'm doing interviews over Zoom and things like that which I haven't used before. It's a steep learning curve but I'm getting there.
"Recording from home it's more about creating links between the songs rather than just chatting. You're a bit more relaxed in the studio.
"There are other things going on in the house as well when you're trying to record. I have a duvet that I stick over my head because I don't have a suitable room where the sound quality is good!
"Rather than sounding like I'm at the end of a tunnel, I've got a duvet sitting over a chair here which I put over my head to record the link."
Derek reckons stations like CamGlen are providing a vital service during the coronavirus crisis.
"People are struggling at home and struggling for things to do. There's live radio out there, local messages and that would certainly break up the day for them.
"I'm retired and do this as a hobby. I love it and that I'm still able to do it and engage with people."
---
Christina Littleson, 43, Paisley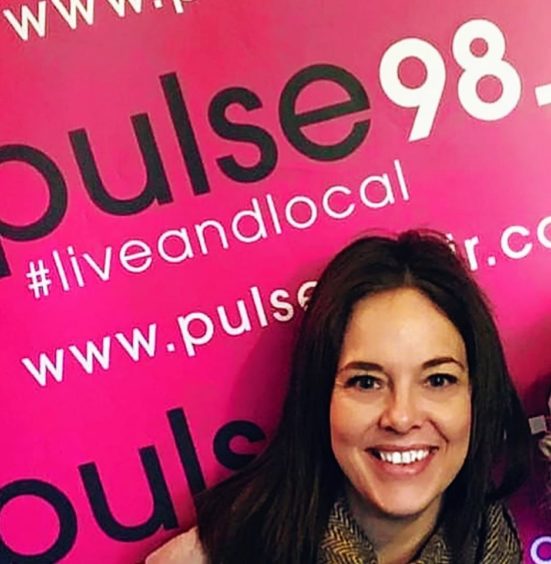 Scriptwriter and producer Christina Littleson, 43, presents Arts on Air, a weekly show on Pulse 98.4.
She said: "Recording from home has made a difference as I don't think the show is as upbeat, although I try. It's just not the same as being in the studio and I miss it. It's also hard with a child and dog.
"Zoom interviews aren't as good quality and don't feel the same as interviewing guests in the studio.
"But I can also do my show in my jammies and don't need to even brush my hair or put on make up!"
Christina's show focuses on the arts, another area where lockdown measures are having a huge impact.
"It's incredibly important for the arts to have somewhere like Pulse to share their stories and let people know there's still arts happening, just in a different way," she said.
"Community radio is probably the most important thing during the crisis as with national radio you hear statistics and national news, but with community radio it's more personal and up to date with what's happening in that area."
Despite massively changing our way of life, Christina, from Paisley, still reckons there are some positives to emerge from the coronavirus crisis.
"There are lots of new opportunities and ways of doing things, and we're realising not to take for granted things we normally do.
"We're appreciating our lives and the people we love, and there's precious time to catch up on things, take up new things, learn, read, relax and so much more.
"An amazing community spirit has emerged in the past few weeks – I've never been closer to my neighbours."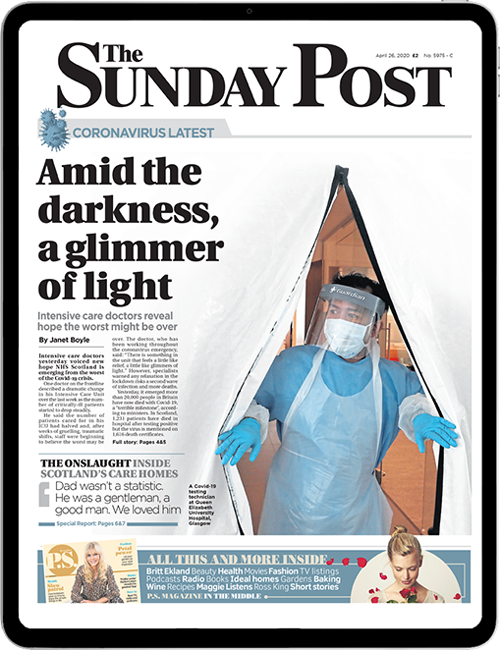 Enjoy the convenience of having The Sunday Post delivered as a digital ePaper straight to your smartphone, tablet or computer.
Subscribe for only £5.49 a month and enjoy all the benefits of the printed paper as a digital replica.
Subscribe