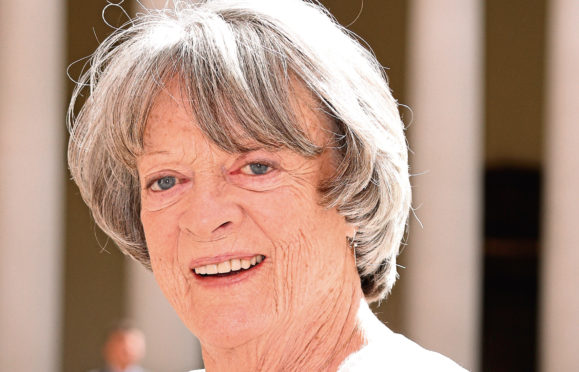 What a year it is turning out to be for the world's favourite Countess!
Dame Maggie Smith is not only returning as the Dowager Countess in Downton, which is due to hit the big screen on September 13, but she is also back on stage in London as Brunhilde Pomsel who became secretary to Joseph Goebbels during the Second World War.
Not bad for an actress who has won more awards than Ant and Dec and will be 85 in December!
Downton Abbey would not be the same without the wit and wisdom of the Dowager Countess but it did seem for a time that she would have been missing from the movie.
"I think it was the timing," said Maggie. "If it had been too further forward, the Countess would have been well over a hundred or in her box.
"I did wonder if I might have a small part as the body but the film only moves forward a little so all is well.
"I am delighted Downton was such a success because it was a lovely piece of work from Julian Fellowes and was so well produced," said Maggie – or Dowager Countess Violet Crawley, if you prefer.
"The cast were excellent and we did have some fun making it.
"In the series, my character often crossed swords with Isobel Crawley played by Penelope Wilton.
"In fact we had a lot of laughs and got on really well.
"Downton did change my life quite a bit. I hadn't done much television, mainly stage and films, but TV puts you in front of millions worldwide and I don't think any of us anticipated that Downton would be so successful.
"I made a point of never watching it myself as there would always be something I wished I'd done differently and that would be annoying to see.
"However, the audiences were huge in different parts of the world and as a result, you find yourself getting recognised much, much more.
"I often have people coming up to me for a photograph. Everyone has cameras these days on their phones and they want selfies. Selfies?
"It can be difficult to handle. I don't want to be rude but I do sometimes want to be able to walk down the street without having to stop for a photo.
"I don't refuse children, of course, and I know I should be flattered by the attention but it can be very invasive.
"As far as Downton is concerned, I am pleased to have been a part of it again. I did wonder if I would have the same wig and I was looking forward to getting back into those corsets again!
"I think it will be well received, I hope so."
In the meantime Dame Maggie is also returning to the stage for a five-week season from April 12 to May 11, playing a lady who was at the very centre of the German headquarters during the Second World War.
"Brunhilde was quite a remarkable woman who found herself going from humble secretary to working for Goebbels, who was the Nazi's PR man," said Dame Maggie.
"She was quite a lady and only died a couple of years ago, aged 106!
"I prefer stage work because no two performances are exactly the same and you know where you stand.
"You know what time you have to turn up at the theatre, what you will do when you are there and roughly when you will go home.
"If something goes wrong, you can look forward to putting it right in the next performance.
"The film world is not like that. You are often on call and hanging around for many hours each day not knowing when you will be called.
"It can be cold or raining and you have to try to remain at your best. It is much harder work."
Dame Maggie Smith started life as Margaret Natalie Smith on December 28 1934 in Ilford, Essex.
Her father was Nathanial, a teacher at Oxford University, and her Scottish mother was a secretary. A move to Oxford came about when she was four.
It did not seem like it at the time but it was a move that would play a major part in her amazing success story.
"I had a fairly happy childhood although my father was very protective and saw potential danger in things like cycling and swimming," she recalled.
"I wasn't particularly bright at school but I did go to Oxford High School and had a growing desire to be an actress, which is why I joined the Oxford Playhouse.
"It was a big step up for me and I felt very much at home.
"It was the Playhouse that did repertory theatre in Oxford. It was brilliant training and I worked there for quite a while, mostly on stage management, understudying and being a general dogsbody.
"The good thing was that the university was mostly attended by males. They certainly weren't mixed in those days.
"There were male colleges, and there were very few female colleges.
"So there was always a demand for women to be in productions. We did quite a lot of amateur reviews. And we did them up in Edinburgh, right at the beginning of the Edinburgh Fringe.
"That led to me getting picked for a review that went to Broadway in 1956 so it could be said that I made my real professional debut on Broadway."
That debut led to a lifetime of amazing roles and many honours including two Oscars (for The Prime Of Miss Jean Brodie and California Suite).
Would Dame Maggie change anything?
"I would improve a lot of things I have done but basically I have no real regrets and I would choose an acting career again," she said. "I don't know if I would like to be starting out now.
"That said, I love being an actress and I feel very privileged. I have no idea what else I would have done."
Away from the spotlight, Maggie is her own woman and has faced the harsher side of life more than once.
She has been married twice and suffered two bereavements and she has battled cancer, too.
"That was a tough time but I kept going," she recalled. "I didn't want to give in, that's not me.
"You find yourself clinging onto things and telling yourself you can't handle it. Then another voice tells you that you must and so you get on with it – and you do.
"There is this endless debate about how there aren't any major drama parts for women over a certain age.
"I think they must mean middle-age because I have continued to get work although there can't be many more parts for the age I am. I mostly get to play old bags now – the Dowager, the Lady In The Van – great characters but certainly of a particular age.
"Retirement is not an option, I can't see myself doing that so I'll keep going with characters like Violet or any other old biddy that might work for me."
Dame Maggie Smith might play "old biddies" these days but she is still a very feisty lady and a star in every way.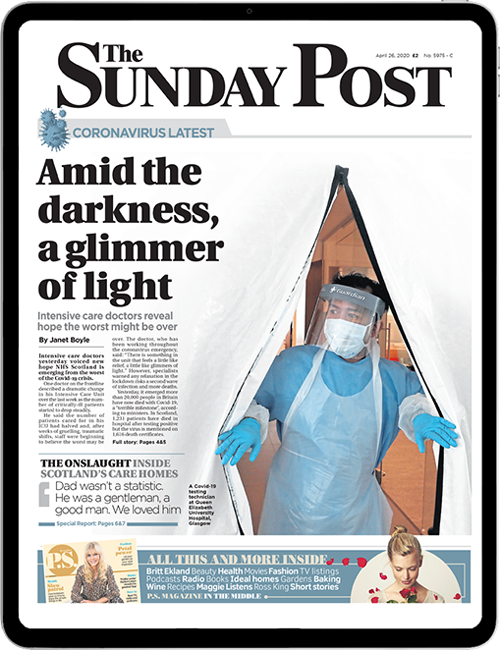 Enjoy the convenience of having The Sunday Post delivered as a digital ePaper straight to your smartphone, tablet or computer.
Subscribe for only £5.49 a month and enjoy all the benefits of the printed paper as a digital replica.
Subscribe