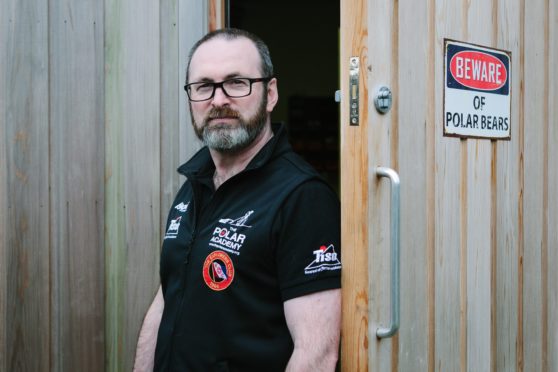 It is the ultra-elite society that has counted adventure pioneers such as Ernest Shackleton, Roald Amundsen and Neil Armstrong among its members.
Now adventurer Craig Mathieson, one of only a handful of Scots to be admitted into the enigmatic Explorers Club in New York, has thrown open the doors on the illustrious group.
Mathieson is a well-known face around the West Lothian town of Bo'ness, but few know that the man who hangs out at the local Corbie Inn in his scruffy jeans and T-shirt is part of the exclusive club where he has rubbed shoulders with moon-walking Apollo astronauts Neil Armstrong and Buzz Aldrin, US technology magnate and SpaceX designer Elon Musk, and British explorer Sir Ranulph Fiennes.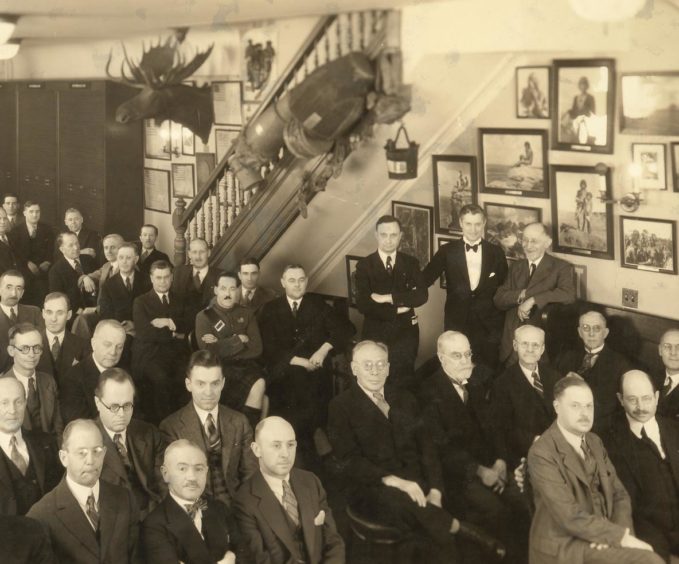 The Scottish explorer explains the rigorous application process to become a member of the club, a society for extraordinary adventurers and scientists set up in 1904 in a mansion on East 70th street, a stone's throw from Times Square.
"It is not just the case of sending an email and saying 'I want to be a member'. You have to go through quite a lot," said Craig. "I initially contacted Mark Wood, chairman of the club's Great Britain and Ireland chapter.
"Even then you are still not in, you have to get letters of support from members and that is really hard because you don't know who the members are until you're a member. They don't list them – it's word of mouth."
Mark, who has 30 major expeditions around the world under his belt, introduced Craig to fellow member Rory Golden.
Craig said: "Rory, an Irishman, is a diver who was on the Apollo missions. He picked up the capsules when they came back down to earth. He has also dived on the Titanic and has done amazing things. They both wrote a recommendation letter about me to the main club in New York.
"It had to go to the inner sanctum. Once they decide it's a possibility, your name is put up in the club for a month. If anyone has any issues you don't get in. If there's none, after a month you get notification by letter to say you have been accepted and you get a certificate."
Craig, who runs Scotland's Polar Academy – featured last year in a BBC documentary as it took a group of schoolchildren broken by bullying on one of its regular confidence-building Polar expeditions – today has in his hands a personal invite to the club's 116th annual dinner. The dinner will feature appearances by world-renowned primate expert Dr Jane Goodall and legendary singer-songwriter Paul Simon.
Craig, 51, who was at last year's event with some of the surviving Apollo astronauts when members tucked into a feast of python and scorpions, said: "I have been working hard for 30 years to get in there and never expected to. When it happened, it was amazing – like winning gold at the Olympics.
"Then my wife Michele and I got the opportunity to go to New York and attend the annual dinner. It coincided with my 50th birthday.
"I live in Bo'ness and walk about in jeans and a scruffy T-shirt most of the time, and then there I am in New York with The Explorers Club blazer on in front of the Apollo astronauts who are true legends. At the clubhouse you are surrounded by people I have only seen in photographs in National Geographic. I felt truly humbled.
"All of my childhood heroes were members of the club; people like Roald Amundsen, the first man to the North and South Poles and Sir Ranulph Fiennes.
"I met Sir Ranulph a few times when I was a boy at book signings. At one in Edinburgh when I was 16 I told him I would hopefully one day walk in his footsteps. I haven't met him at the club yet."
Craig joins historic members of The Explorers Club like the first Scottish member, bagpiper Gilbert Kerr, who was part of the Scottish National Antarctic Expedition that carried out scientific and exploration work between 1902 and 1904. And Craig is no stranger to challenge. He successfully led the first dedicated Scottish expedition to the South Pole and is currently the Royal Scottish Geographical Society's explorer-in-residence.
But he revealed it was his work with the Polar Academy that secured his place. He said: "The club is about the furthering of knowledge and what you do for others. It's not about personal success or celebrity."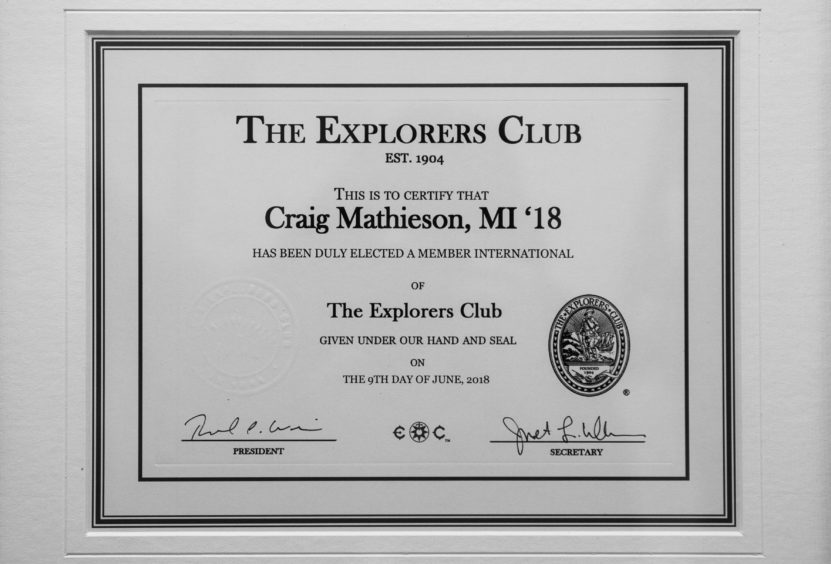 But he admitted: "Buzz Aldrin is a rock star of space, he is in his 80s and still works for NASA on the Mars missions, and is still a diver. There were nine other Apollo astronauts at the dinner. They turned up in black tuxedos or the club blazer and Buzz came in a silver silk suit, with a T-shirt, lots of gold chains and a big ring on every finger – proper rock'n'roll.
"I was speaking to Rusty Schweickart from the Apollo 9 mission that tested everything before Buzz and Neil Armstrong went to the moon. He chatted as if we had been pals for years. He is a legendary astronaut but was a humble guy.
"I met another guy there and when I asked what he did he said, 'I just fly'."
More questions revealed he was with Richard Branson's spaceflight company Virgin Galactic.
"There was this woman who looked like something out of an Indiana Jones movie. She dresses full-time in 1920s clothes and is an archaeologist," said Craig.
"Even the food was incredible. They have an ethical chef and look for alternative, sustainable meat to serve, that is farmed without detriment to the climate. A full-sized python was laid out on the table and there were bits of python on crackers. We also had scorpions in chilli and giant beetles dipped in chocolate.
"And there are all these artefacts just sitting around the clubhouse. There was a lion's skin donated by US President Roosevelt. The lion had been causing havoc in villages and he went out to shoot it.
"There was a coffee table made from a hatch cover of the Explorer, one of the few ships that escaped the bombing of Pearl Harbor in December 1941. It's incredible.
"Everywhere you look there are pictures of past members. Explorers' flags are everywhere. They had one that had been to the bottom of the Marinara Trench in the Pacific, which is the deepest known point on the planet (10,984 metres). The same flag was taken to the highest point of the earth – the summit of Mount Everest (8,848 metres). There was another that went with the Apollo mission to the moon."
Craig, whose spirit of adventure was born at age 12 after reading a book about Captain Robert Falcon Scott's journeys to the Antarctic, had his picture snapped alongside the club's Wall of Fame that bears photos of his childhood heroes.
But he can't make the grand dinner in March. He revealed: "I am off to the Arctic with The Polar Academy the following week and can't risk a delay."
He'll have to wait another year to tell Sir Ranulph his good news.
---
Writer took a novel approach to exploration
Long before The Explorers Club was born, the spirit of exploration and adventure was being celebrated by French author Jules Verne.
His novel Around The World In 80 days was one of 54 in the writer's Extraordinary Journeys series. The series began in 1863 and was completed in 1905, a year after the club launched. Its aim, according to Jules's publisher, was to outline "the geographical, geological, physical, and astronomical knowledge amassed by modern science and to recount it in an entertaining and picturesque format."
Around The World In 80 days captured the public's imagination and it has stayed with them, twice being made into a movie, the latest in 2004 starring Jackie Chan, Steve Coogan and Cecile de France.
But it was actor Sir Michael Palin who took Around The World In 80 Days to a whole new level.
In a 1989 seven-part BBC 1 television series, Palin followed in the footsteps of the fiction's Phileas Fogg as he and sidekick Passepartout followed up on a £20,000 bet (about £243,000 today) to travel the world in 80 days by steamship and train.
Just as they did, Palin said he and his crew (collectively named Passepartout) left London's Reform Club in Pall Mall: "One hundred and fifteen years, three hundred and fifty-six days, ten and three-quarter hours after Phileas Fogg."
And, just as he had, they travelled by rail and boat, taking in, as closely as possible, Paris, Turin, Brindisi, Suez, Aden, Bombay, Allahabad, Calcutta, Singpore, Hong Kong and Shanghai.
In the book Phileas doesn't win his bet. He is wrongfully accused of bank robbery and misses his train. Ironically, after arriving home safely and on deadline, Palin wrote that his Passepartout collective also "faced prison for their pains" after being arrested while filming. He said: "They were released after giving the police some story about going around the world in 80 days."