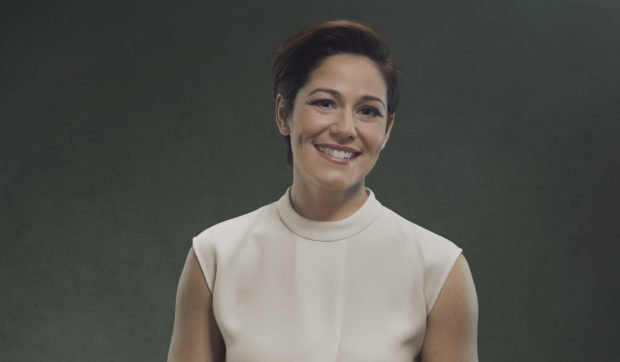 She will help bring a sensational summer of sport into Scotland's living rooms but Eilidh Barbour has told how her own playing days ended in agony.
And the popular presenter revealed her injury nearly put paid to broadcasting from one of the world's most prestigious sporting events, the Ryder Cup.
Eilidh, 36, has always been a keen footballer, fitting in games when possible with Partick Thistle's women's team.
However, putting her foot in to block a shot last August left her in agony with a dislocated ankle.
"I heard a weird pop and I knew before I hit the ground that it was a bad one," said Eilidh. "It pulled my foot right out of the socket, spun it around and popped it back in the wrong place. I went to hospital and found I'd done just about everything except break a bone. The doctor read out a list of the things I'd done to it – torn, ruptured, the lot."
The injury came just four weeks before Europe took on America in golf's biggest tournament at Le Golf National at the end of September last year.
Eilidh admits she had anxieties at first at the prospect of being unfit to work at it, but her recovery progress meant doctors were able to give her the all-clear.
"I did think I might not be able to do it, but then the specialist said I should be all right.
"I did the Ryder Cup in full plaster. Obviously there were challenges in trying to get around a golf course on crutches and I had to get buggies everywhere. Luckily, the way the TV role works, you're not on the course too much, it's just a case of getting from A to B.
"Usually I'm only filmed from the waist up but there were a few women's football shows for BT Sport where they filmed me full length with the big moon boot on."
Eight months on, Eilidh is much better, but the damage is such that she's had to accept she'll never get back to playing properly.
"Thistle have been great in letting me come back and I've been kicking a ball tentatively, but it's pretty much ended it for me."
While Eilidh admits she will not get to play, she will be starring at a major tournament in her presenting role at the Women's World Cup, which will be staged in nine different French cities between June 7 and July 7.
Scotland have been drawn in Group D, alongside England, whom they'll play in Nice on June 9, Japan and Argentina. The women sealed their first qualification with a thrilling 2-1 victory over Albania last September.
"I didn't know if I'd ever get to follow Scotland in a major tournament," admitted Eilidh. "I was absolutely thrilled when they qualified.
"I was looking forward to this World Cup anyway, but to have Scotland there is something else. I'm delighted from a personal level, but I also know a few of the girls and have watched their careers grow.
"To see them on the biggest stage possible is incredible."
Eilidh covered the 2016 Women's World Cup and, having seen the boost England's national team got as a result of finishing third, she's hoping Scotland's women can similarly push on.
There is a thriving professional set-up down south, with major clubs like Manchester City, Arsenal and Chelsea devoting big resources towards their women's teams.
"I think we're still a wee bit off following what's happening in England, with a fully professional league," said Eilidh. "But success brings interest and we are developing a lot of very good young players in Scotland. It's about trying to create that next step for them."
With Scotland's men's team in the doldrums after failing to qualify for a major tournament for more than two decades and a new manager being sought after Alex McLeish's departure, Eilidh welcomes the positivity the women's game brings.
"I think the women have the chance to bring some joy to Scotland fans.
"They all play under the same badge and Scotland are at a World Cup for the first time since 1998."
The Women's World Cup is just one of a number of events coming up and Eilidh says she's excited at the prospects for women's sport.
"I think we're at a turning point with the visibility of women's sport this year. We're celebrating women for being athletes and we are hearing less of 'she's not bad for a woman'.
"You still hear it and you can be offended by it if you like, but you're not going to change decades of culture just like that. I think rather than look back we should look forward and think that perceptions are changing.
"They are changing faster in some countries more than others and in Scotland we're still a little bit behind.
"When I go down to England and see that they are doing with women's football, the change is faster there. But then they have had the success of a World Cup."
Eilidh feels that with altered mindsets come greater avenues to success and as a sports-mad youngster, she's only sad that the changes didn't come sooner.
"I think it's a really exciting time. I would have loved all the opportunities young girls have these days.
"What I do now is the next best thing to being out on the pitch. Being a professional athlete would have been a dream."
Eilidh is now one of telly's most familiar sports presenters and she says it's very much a good time to be a women in an ever-changing broadcasting environment.
"It's certainly competitive now. I'm lucky in that when I started my career most of the barriers had been broken down.
"You had Hazel Irvine, Gabby Logan, Clare Balding, incredible women who'd broken the barriers. Now we just have a pool of very good broadcasters and that's what I want to be seen as a part of, not as a woman."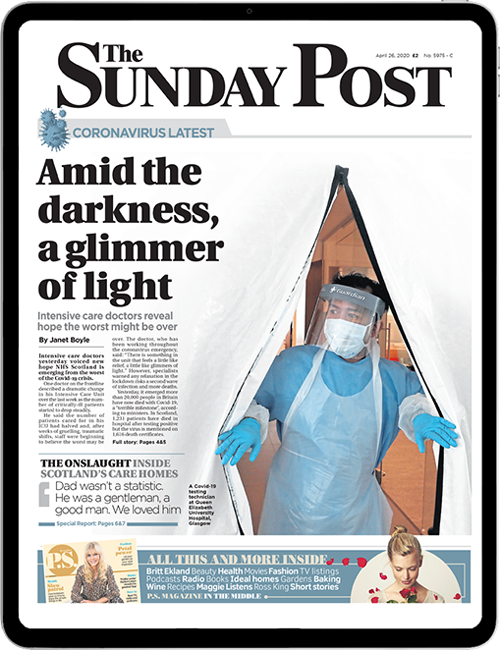 Enjoy the convenience of having The Sunday Post delivered as a digital ePaper straight to your smartphone, tablet or computer.
Subscribe for only £5.49 a month and enjoy all the benefits of the printed paper as a digital replica.
Subscribe