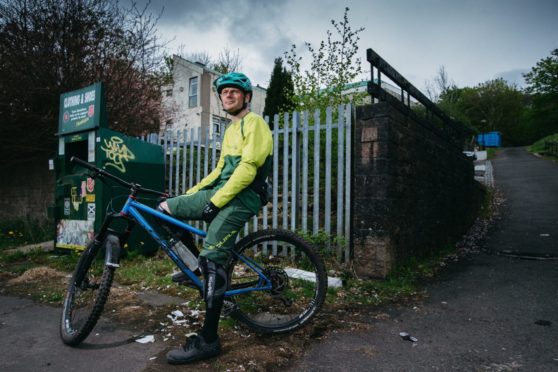 Flagship sports facilities built as a legacy of events like the 2014 Commonwealth Games have been scrapped or mothballed as experts claim they are ineffective at promoting physical activity.
Research by leading sports ­academics has found that fun – not hi-tech facilities – is the key factor in spurring on people with disabilities to participate in sport, leaving many legacy projects underused or defunct.
It comes as a former church in Castlemilk, Glasgow, earmarked as the Cathkin Braes Mountain Bike Activity Centre, has been sold for just £1 after the project fell apart. Funding had been secured for the renovation of the former St Martin's Roman Catholic Church but the plans were scrapped as red tape over its B-listed status meant it would never be financially viable.
The 1960s church is now boarded up and on the buildings-at-risk register, despite local support for its transformation into a modern facility close to the Commonwealth Games mountain bike track. Plans had included a cafe, climbing wall and community space.
The popular Barlia Football Centre in Castlemilk has also been shut as part of a string of closures of city ­council-owned sports facilities, prompting claims by community campaigners that the area "is getting left behind".
Now experts have called for ­better community engagement to establish the needs of local people and make facilities more accessible.
Maureen Cope MBE, a community activist in Castlemilk and chair of Ardenglen Housing Association, said: "It would have been ideal if we could have used the church for the community. But the business side of it didn't stack up. It's not an area that has a lot of passing footfall.
"We would have needed people who had experience of running a venue like that. We feel we are ­getting left behind."
Another community facility, the £3.5 million Legacy Hub in Dalmarnock – close to the Emirates Arena which hosted the 2014 Games – was passed back to Glasgow City Council for £1 after shutting in 2019. George Redmond, a former Labour councillor, said: "It was like you were asking the locals to take over a business."
Researchers for the GoWell study on regeneration in Glasgow found some Dalmarnock residents felt the Emirates Arena was too expensive for them to use. But a public consultation launched to decide the future use of the Legacy Hub fits with the advice now being given to the UK Government by experts on grassroots sport.
Dr Chris Mackintosh, a special policy adviser to the House of Lords national select committee inquiry on grassroots community sport, said tackling barriers to participation was far more important than focusing on top-class facilities when it came to the legacy of world sporting events.
He said elite sport did not tend to inspire the public to take part, whereas mass participation events and local engagement had been shown to have a positive effect. The key is to ask ­communities what they need and can support.
Dr Mackintosh, a senior ­lecturer in sport development at Manchester Metropolitan University, said: "The reality is that if you're looking at changing the behaviour of someone there's a lot of other ways of having a go at doing it but investment in a mega event is not going to do it.
"There is an answer, and I think it's threefold. One is stop putting forward the idea that there is a legacy. Two, design local programmes that are designed by local people, driven by local people, based upon what they need. The third part is that this is about community development as opposed to legacy. The first thing you do is go and ask the local people what they think, what they want, what they know, what they don't know, what are their fears, what are their expectations."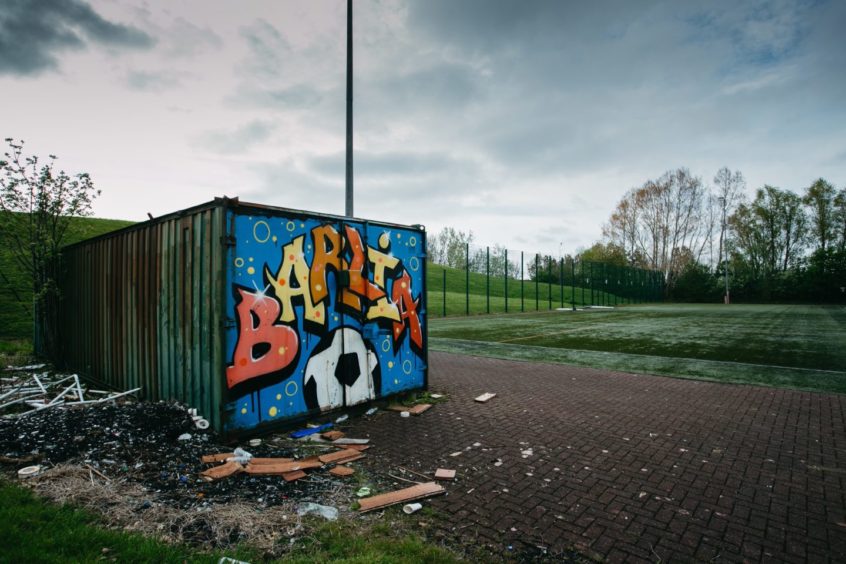 The National Hockey Centre at Glasgow Green – built for the 2014 Games and now the home ground of Scottish Hockey – is also not due to reopen as Covid-19 restrictions ease. The centre is owned by Glasgow Life.
Dr Russell Jones, public health programme manager at the Glasgow Centre for Population Health, worked on the health impact assessment for the 2014 Games, when Glasgow hosted around 4,950 athletes from 71 nations. He said many positives came out of the games, including the creation of the Cuningar Loop, a woodland park on the River Clyde near Dalmarnock.
Studies found the Commonwealth Games – like the 2012 London Olympics – boosted activity levels among people already taking part, but did not encourage those who were inactive to start exercising.
Dr Jones said: "The reason we did the health impact assessment was because Glasgow made such big claims about how it was going to improve the health of the population and we knew there was no evidence that holding an event like that would do something like that.
"It certainly served as the ­catalyst for a lot of what was going on in the east end, and probably moved things along a lot quicker.
"But, in terms of behaviours, I don't think the evidence would bear out much of a difference between the before and after."
Work is ongoing to boost ­participation in physical exercise in Glasgow but meetings had to be suspended during the pandemic.
Glasgow Life – the charity that delivers sporting activities on behalf of Glasgow City Council – said: "Glasgow has recognised the need for engaging with communities to boost participation in sport since before the Commonwealth Games were held in the city, which can be seen via Glasgow's Community Sport Hub programme, introduced in 2012.
"The forced closure of sports facilities due to the pandemic has meant every community has had to live without access to venues.
"Glasgow Life has seen its income plunge and its budgets reduce, meaning we can't reopen all our venues. This does not mean venues are closed permanently and we continue to discuss with the city council what can reopen when funding becomes available.
"Sports pitches at Springburn, Stepford Road Sports Complex and Nethercraigs are already being run by local groups and more than 230 expressions of interest have been made to take active roles delivering services across the city through the People Make Glasgow Communities programme."
---
Academic: People will not pay to play sport when they struggle to pay bills
People are more likely to embrace exercise if they find something they enjoy rather
than being inspired by elite athletes, experts believe.
Participation levels in sport in Scotland did not rise after the 2014 Commonwealth Games in Glasgow, according to a report published by the Scottish Government in 2018.
The percentage of Scots adults meeting the guidelines for moderate or vigorous physical activity remained stable at 64% and in 2016 it stood at 61% in Greater Glasgow and Clyde.
The GoWell East study examining Glasgow's east end found the figure dropped from 62% to 53% between 2012 and 2016.
But academic Lynda Challis, who studied the legacy effects of major sporting events when she was a lecturer in sports development at Bournemouth University, said a helpful approach can be finding an activity where exercise is secondary to enjoyment.
She said young people were often less interested in sports traditionally played in schools and preferred the more social or adventurous vibe of activities such as table tennis, paddle boarding or frisbee golf, which were provided in many of Glasgow's parks.
She added: "It's about affordability too, certainly in an area that's deprived, as the last thing people are going to want to pay for is leisure when the priority is they want to make sure they have the money to live, for housing and food and so on.
"The area for priority is the health side of things. It's the physical activity linked to health agenda rather than sport. I think that's the way forward."
Ruairidh Mackenzie credits mountain biking on Cathkin Braes with keeping his spirits high during lockdown.
But the social side of the sport is as important to him as the exercise and he believes the area would have benefited from the mountain bike activity centre in Castlemilk.
The 50-year-old dad of two, who lives in Cathcart, Glasgow, was able to cycle to the Braes during lockdown and would ride home to refuel with coffee and cake in his garden.
He said: "In terms of my mental wellbeing, mountain biking up at Cathkin Braes has been of huge benefit to me.
"If I go to Glentress, which is the supermodel of mountain bike facilities, then the period in the cafe afterwards is as much of an important aspect of the day out as the actual bike-riding.
"If you were coming from further afield, then to me the lack of a cafe at Cathkin Braes is a missed opportunity.
"Going to a cafe afterwards is a big part of making it a social event.
"Exercise? I'm not interested in it, but it's a wonderful bonus. I don't do it for the exercise but I love the fact it gets me to places in Scotland that I would never get to if I didn't have the bike.
"The views, the scenery, the fresh air, the chat. I am, in summary, a little boy who likes playing on his bike."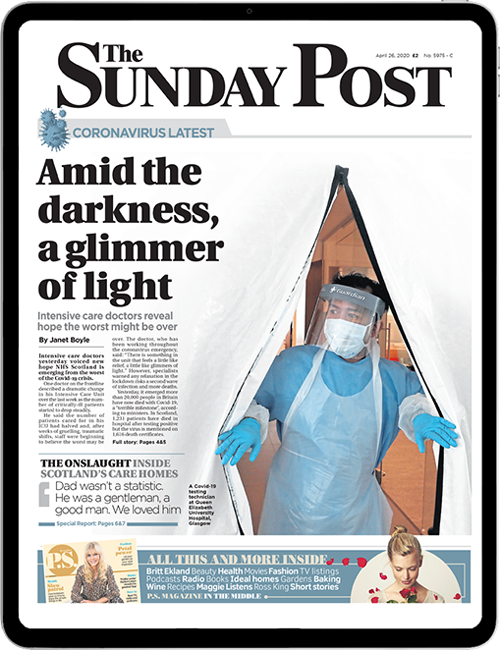 Enjoy the convenience of having The Sunday Post delivered as a digital ePaper straight to your smartphone, tablet or computer.
Subscribe for only £5.49 a month and enjoy all the benefits of the printed paper as a digital replica.
Subscribe