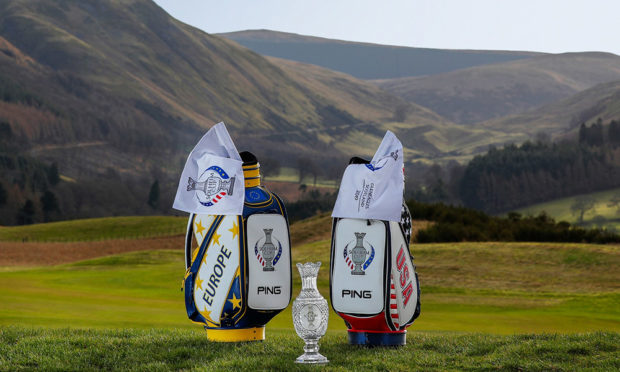 When The Solheim Cup gets under way at Gleneagles in just over a week's time it will crown a glorious summer of women's sport.
The tournament will see 24 of the world's best female golfers compete, as Team Europe take on Team USA, and is the last all-female event on the global sporting calendar following on from the football World Cup, the Netball World Cup, The Women's Ashes, the UEFA Women's Under-19 Championship and the first-ever Women's Tour of Scotland cycling event.
And, it is hoped The Solheim Cup, like the summer's other events, will leave a lasting legacy, inspiring a new generation of young golfers as well as bringing the sport to a wider audience. Long gone are the days when golf was considered stuffy and a men-only pursuit. Today it is more accessible than ever – and it is women like golf pro Heather MacRae (pictured below) who are making that possible.
Heather is an inspiration, not just because of her golfing success but because of the grit and determination she has shown following her recent cancer diagnosis. Heather was told she had cervical cancer in March but still competed in – and won – the Women's PGA Championships in May this year, two weeks before her operation.
The golfer, who has recently returned to work after a four-month break, said: "I am definitely recovering. I have been back to work for a few weeks now and have been training hard in the gym but it has been a strange summer.
"I am not totally recovered but I am obviously well enough to play golf. The first round that I have played was this week. I played 18 holes which was nice and I played really well. I still feel a lot more tired than normal as it was only a couple of months ago that I had pretty major surgery.
"It will take time before everything is back to normal. Sometimes, I feel like it has happened to someone else. It's not until other people talk to me about it, I realise it was a pretty big deal.
"For me, it is much better to have goals and golf has helped me with that because there is the Women's PGA Cup in October and that was my only goal this year to play in that. I have done everything I can to give myself the best chance.
"I am very lucky that I love my job and get to spend a lot of time doing that, but it was a life-changing experience and I can appreciate things a lot more. I don't take anything for granted."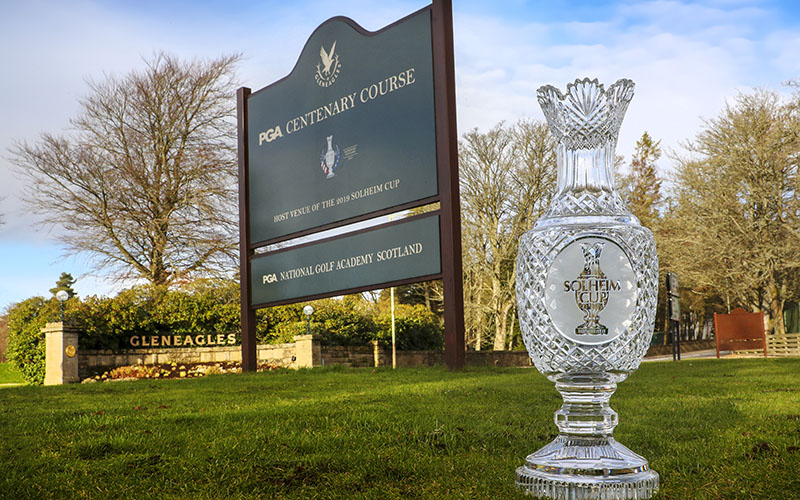 Being a golfer from Dunblane (just a stone's throw from Gleneagles), Heather is more excited than most to see The Solheim Cup being played on home soil, particularly as it was this very event that inspired her to turn professional in the first place.
She said: "When you have something that big happening on your doorstep and the world is watching, that's pretty cool.
"I remember years ago when The Solheim Cup was at Loch Lomond, I was about 11 or 12 and around eight of us went with Scottish Ladies Golf to watch it. It was great. Whenever you see anything like that, it inspires you."
Keen to pass her skills and knowledge on to the younger generation, Heather now teaches golf – you can learn from the pro from just £25 – and more recently has been involved in junior golf clinics, funded by The Solheim Cup and Golf Perthshire, something she is very passionate about.
"I love golf. I have played it for almost 26 years now. A big thing for me is to make it accessible to everyone. It doesn't have to be expensive and you don't have to go to fancy clubs. I think it is important to give kids the chance to try it.
Gleneagles is one of my favourite places in the world; it's the perfect stage for some of the best players in the world. It is also very easy to get to. Hopefully people will see that women's golf is fun and competitive and that there is a lot more to it than hitting a ball around a field.
"Go and watch the women play, if you can see it, you can be it."
It's the 16th year of the biennial tournament, named after Karsten Solheim, founder of the PING golf equipment empire. Since its inception in 1990, the number of American wins outweighs the European victories, but this year is particularly special as Team Europe is being captained by Scot Catriona Matthew (pictured below).
Almost four years ago, VisitScotland won the bid to host the 2019 event at Gleneagles and since then a team of organisers have created what is billed to be "the most family-friendly golf event in history".
Pushchairs, storytelling and baby change areas are not often things you would associate with a golf tournament, but they are an important part of The Solheim Cup because attracting families, as well as golf fans and those new to the sport, was an important part of the bid.
Having attended every Solheim Cup since 2007, former Sky Sports golf producer Katy Mathieson has watched the tournament evolve and is now part of the team responsible for hosting it at Gleneagles. Katy, from Falkirk, is on
EventScotland's organising committee – in partnership with Ladies European Tour, Perth & Kinross Council, Gleneagles, Transport Scotland, Police Scotland and IGM Golf – and cannot wait to see their collective hard work come to fruition.
The keen golfer, who was once part of Scottish Golf's junior squads at under-16, under-18 and under-21 level, said: "For me this is very different from what I was doing in production teams for Sky Sports, so it is a big learning curve. From an event delivery perspective, it's been a great experience, very exciting and a lot of hard work. I think it will be very rewarding getting to the course and seeing everything that we have discussed coming together.
To see the packed grandstand at the first tee and hear the chanting will be exciting!"
Working on the golf team at Sky Sports, Katy has travelled the world covering major events for the broadcaster, including the European and PGA tours, but the 39-year-old insists The Solheim Cup "was always a particular highlight". Her former colleagues will be there along with other TV companies beaming the event to 600 million viewers across the globe as more than 100,000 people attend over the event's seven days.
The organisers' aim for this year's Solheim Cup is to make it as family friendly as possible, so as well as free entry for under-16s, there is a whole host of family attractions on site including family parking, have-a-go activities, a tented family area with arts and crafts, storytelling and a play area, a quiet zone where mums can breastfeed, as well as an autograph zone, merchandise and food/drink stalls.
Also on the organising committee is Alan Grant, VisitScotland's senior golf manager. He is keen to encourage as many families across Scotland and beyond to the "bucket list event"
Alan said: "There will be lots of things going on for families to experience a golf tournament in a slightly different way. We want a match that will ignite people's excitement beyond an audience that would normally be engaging with it.
It is important that we position this as a bucket-list event because it deserves the same exposure and attention to detail as other golf events in Scotland get and we want people to be excited about it being hosted here.
"We are welcoming 24 of the best female athletes in the world to one of the most outstanding match-play golf courses in the world, and that was important."
The 2019 event, which launches on September 9, begins with three practice days before an all-star opening ceremony on Thursday, September 12 and three days of competition cumulating with the final on the Sunday.
*For your chance to be part of The Solheim Cup, you can book tickets, from £25 for adults and up to six children, by visiting www.solheimcup2019.com
We knew it already but the World Cup proved women's time is now, says Judy Murray, star supporter and Sunday Post columnist:
"The viewing figures for the women's football World Cup were confirmation of what we in women's sport already knew – that our time is now. And it was an achievement much longer in the making than this summer. It's an accumulation of the momentum and it has taken a long time and such a lot of effort.
The Solheim Cup is a massive opportunity to showcase women's golf. When you consider the average age of men and women playing golf is 52 and 57 then that should be a source of worry. Heather is a former Scottish junior international from Dunblane who is helping run taster sessions aimed at getting more women and girls into golf.
It's initiatives like this, along with family-friendly events that you can take kids along to and allow them to have fun around sport, that offer the best chance of improving participation in Scotland."
Your guide to the family friendly fun at The Solheim Cup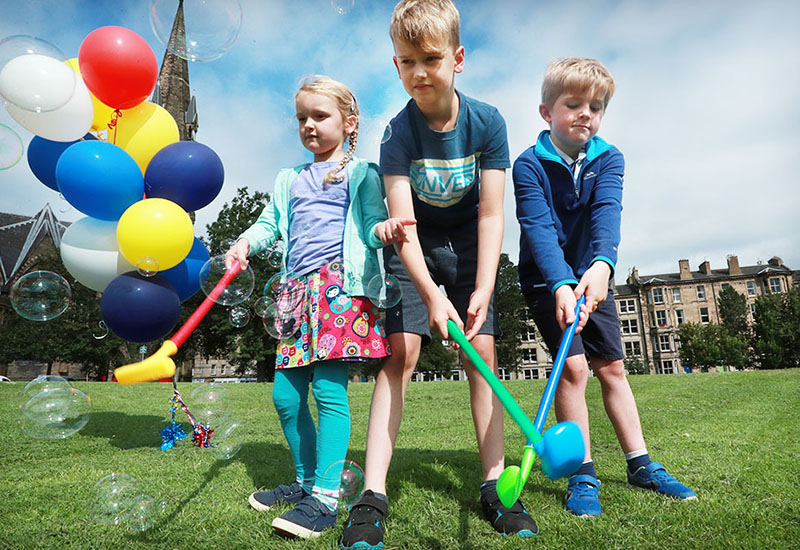 Autograph Zone: Players from both European and American teams will be on hand to meet and inspire young people and sign autographs. This is also a great photo opportunity for selfies. Remember to share your photos on social media using the Solheim hashtag #itallleadstothismoment.
The Golf Zone: Kids can try their hand at driving, putting and chipping by hitting balls in the specially-designed interactive Golf Zone, as well as taking part in a long putt competition.
Family Area: This will be a place where parents can have a coffee while their children enjoy arts and crafts, storytelling and a play area (aimed at babies to under-7s).
John Deere Tractors: The agricultural giant will be bringing along mini diggers and tractors for children to ride on.
Catering: Stands at the Spectator Village will be introducing children's menus so even the fussiest eaters will be satisfied.
Opening Ceremony: The Spectator Village will host the main stage for the opening ceremony on the Thursday, where there will be music, dancing and entertainment, headlined by Texas.
Quiet Zone: For those who wish to escape the crowds, there is an autism friendly chill out area breastfeeding zone.
Celebrity play-offs: Well-known faces and Scottish junior golfers will take part in an exhibition challenge match.
On-site family parking: There will be a number of parking spaces dedicated to families just a five-minute walk from all the activities. Tickets are priced from £5, and must be booked in advance from the website by clicking here.
Merchandise stalls: Purchase mementoes in the merchandise tent or pick up free goodies at the Spectator Village.
*For your chance to be part of The Solheim Cup, you can book tickets, from £25 for adults and up to six children, by visiting www.solheimcup2019.com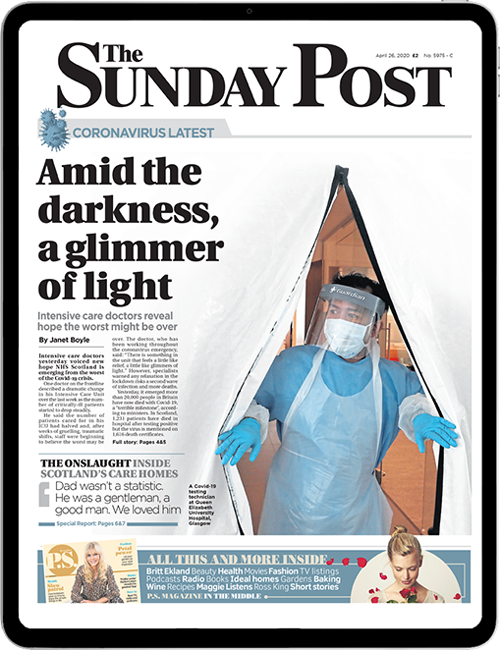 Enjoy the convenience of having The Sunday Post delivered as a digital ePaper straight to your smartphone, tablet or computer.
Subscribe for only £5.49 a month and enjoy all the benefits of the printed paper as a digital replica.
Subscribe