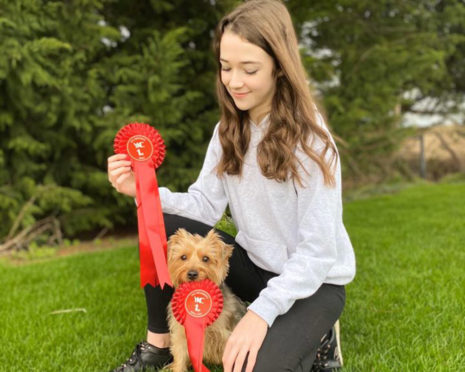 Established in 1956, Dog Aid Society of Scotland is an independent dog re-homing charity based in Edinburgh providing valuable services to dog owners all over Scotland including a personal and unique re-homing service.
The Society does not have kennel facilities, dogs stays with its current owners while the charity actively looks for a new home.
If you find that you can no longer care for your dog the Society will support you through the whole process of re-homing from the time you call to enquire about re-homing to your dog going to its new home. It even ensures your dog is settled into its new home.
All the dogs re-homed by the Dog Aid Society of Scotland are vaccinated, micro-chipped and neutered. If a dog is over the age of eight years old at the time of re-homing, the Society will cover all veterinary bills (with the exception of routine treatments such as worming and vaccinations) for the remainder of the dog's life as part of its Old Dog Scheme. It also cover costs relating to conditions that are pre-existing at the time of re-homing, for dogs of any age, again for the remainder of the dog's life.
As part of its unique re-homing process, the Society always enjoys hearing about the 'journeys' the dogs make, even if it is years after they were re-homed. It has heard lots of heart-warming stories about its dogs, but it is exceptionally proud that not one but THREE of the dogs (Bounce, Inca and Macy) that it re-homed recently qualified for Crufts 2020.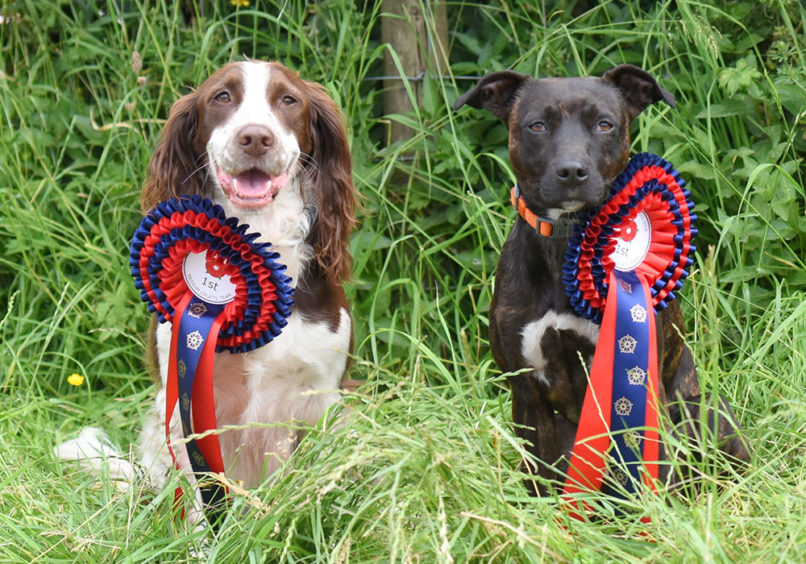 Bounce, a four-and-a-half-year-old Staffie cross was part of an unexpected litter that the Society re-homed. Bounce (pictured above, right) arrived at the Society with three of her siblings at 20 weeks old. They hadn't had the best start in life and lacked basic socialisation. However luckily for Bounce, Dog Aid found a devoted owner who has ensured that she has grown up to be a wonderful ambassador for the Society. Bounce had qualified to be part of the Medium Team Agility.
Inca, a six-and-a-half-year-old Springer Spaniel (pictured above, left) arrived at the Society as her previous owner had to make the heart breaking decision to re-home her due to a change in family circumstances. Inca competes in Agility, Flyball and Rally and she loves all three activities. Inca had qualified for the Scottish Rally Obedience Team and the medium team event in Agility.
Macy was given to Dog Aid as a small puppy for re-homing as her owner wasn't aware of the responsibility of puppy ownership. Luckily for Macy, the perfect home was out there. She was swiftly taken under the wing of her new family and in particular, 14-year-old Ailsa (pictured top), and they have a wonderful bond together. Ailsa enjoys training Macy and they had qualified for the Young Kennel Club's Basic Obedience in Crossbreed Handling Event.
It just goes to show that rescue dogs make the perfect addition to the family and each have a different story to make. All the dogs that Dog Aid have re-homed are very special to the Society.
Dog Aid Society of Scotland provides other services as well as re-homing: Neutering Scheme, Veterinary Aid Scheme and Bequeath Service.
For more information on these schemes visit the Dog Aid Society of Scotland website (by clicking link) or contact the office on 0131 668 3633.
You can also call the number to speak to one of the team members about re-homing. The staff can give you reassurance that your dog's welfare is very important to the Society, and it always strives to find exceptional homes for all dogs.
The Dog Aid Society of Scotland is based at 60 Blackford Avenue, Edinburgh, EH9 3ER. For more information call 0131 668 3633.