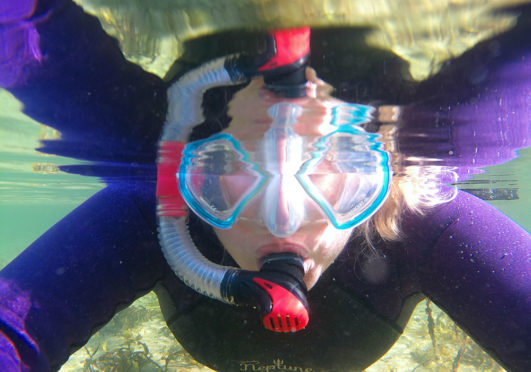 Naomi Dempsey is living her best life after moving to the Orkney island of Hoy off the north coast of Scotland. She swapped her busy and hectic life in Surrey for the beautiful landscapes of the Orkney Islands back when she was studying for her Master's degree, and she loved it so much, she has never left.
Today, the environmental analyst is settled on Hoy and is about to buy a house on the island after finding love with an Orcadian salmon farmer, who is now her husband of seven years.
But it's not just the romanticism that has kept her embracing island life, for Naomi is passionate about the environment and, in 2014, landed her dream role as an environmental analyst for Cooke Aquaculture, which operates around 40 of Scotland's 200 fish farms that collectively produce more than 150,000 tonnes of salmon every year.
Naomi, 39, said: "I absolutely fell in love with Orkney, it was complete contrast to where I lived in Surrey which was far more populated and busy than it is here.
"I love my job. As salmon farming is such an integral part of the community here, it is easy to talk about in this kind of environment. Yet, in other areas of Scotland and the UK, there is so much about food production that people separate themselves from so it is harder to appreciate where food is coming from and how it is produced."
The role of her team at Cooke is hugely important to the quality of fish produced at the firm's salmon farm in the coastal waters of Hoy. Prior to Covid-19, Naomi was involved in sampling to assess the nature of the seabed and the marine environment.
She explained: "It is really about rearing the best quality salmon that we can, so we need to have a good quality environment to do that. We need to ensure we are not having a detrimental effect and to maintain the environment for the salmon to be healthy, so we have a strong and high quality product. It is really important."
The environmental analyst studies currents and different water depths and their effect on how fish are reared and the environment they are farmed in. She is also part of the team at Cooke Aquaculture that is looking into offshore salmon farming which, as she points out, is a "whole new ball game for us".
"A lot of aquaculture is coastal based in shallower water – less risk, basically – but when you move the equipment out to sea with higher wave heights and currents, there is a different way you have to approach it, but it is all essentially about minimising the risk to the environment during salmon production," she added.
When she is not helping to analyse and improve the environment for Scottish salmon – which is one of the UK's biggest exports – you will find Naomi, not on, but in the water as she also enjoys free-diving for scallops.
Naomi, who completed her PhD at University of Aberdeen, explained that this new hobby was something she discovered recently while on lockdown: "I love all seafood, especially shellfish like scallops and mussels. During lockdown we were limited on what we could get on the island, and I had a very strong craving for scallops.
"Then one day I was walking along the beach. There was one of the lowest tides I'd ever seen and I was able to pick scallops up along the shore! Then I discovered I could snorkel for them, so I did. I free-dived just a couple of metres down, in one breath, to pick them up from the seabed. Now my freezer is full of them, just enough to eat! I pan fry them with butter, two minutes on each side, and serve with some beautiful black pudding."
Living on Hoy, Naomi has naturally established a strong connection with the world around her, on both land and sea, and she loves every minute of it.
She added: "I am sitting in my front room looking on to Scapa Flow. I go out walking every day with my dogs, I go swimming in the sea, and I forage for plants. Because we see people working in it, we really appreciate how important it is to maintain and sustain the world around us, and it is critical for me to have that interaction."
---
You can find out more about Scottish salmon farming, its importance to rural communities, the Scottish economy and how it can contribute to the green recovery – as well as the health benefits of eating fresh farmed salmon – by clicking here.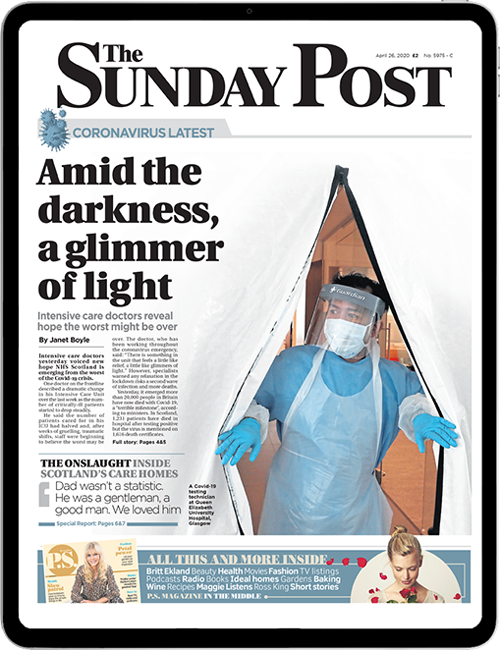 Enjoy the convenience of having The Sunday Post delivered as a digital ePaper straight to your smartphone, tablet or computer.
Subscribe for only £5.49 a month and enjoy all the benefits of the printed paper as a digital replica.
Subscribe