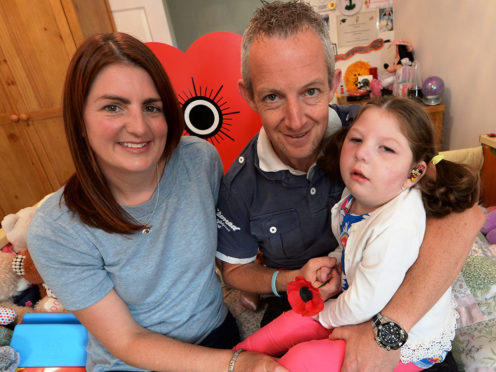 Giving birth is an exciting moment for any new mum, but Stephane Reid's joy quickly turned to fear when doctors predicted her new-born baby girl had just months to live.
Little Maisie, who has cerebral palsy spastic quadriplegia – the most severe type of cerebral palsy – spent the first 10 days of life in intensive care, but was allowed home on Christmas Eve 2012.
Hooked up to a machine with an alarm that sounded if she stopped breathing, she spent her first Christmas with her mum, ex-soldier dad, Stewart, and sister, Kayleigh, 15, by her side. Doctors thought it might be her last – but today, six years on, Maisie is doing well and is well-supported in her family home that is specially equipped to meet her needs thanks to funding from Armed Forces charity Poppyscotland.
Although she cannot speak or walk, she is surprising specialists at Ninewells Hospital in Dundee where she continues to receive treatment.
Stephane, 38, from Bridge of Earn, Perthshire, explained: "There were complications before she was born. My waters broke at Perth Royal Infirmary and it was obvious that something was wrong, so I was rushed by blue light to Ninewells. We were told by doctors they didn't think she'd live beyond three months old."
It was a tough time for the whole family, including her husband Stewart, 40, who feared for his first child's life.
Fortunately, help was at hand. Because Stewart had served in the Army, spending seven years in the Royal Electrical Mechanical Engineers (REME), they were able to apply for financial assistance for home adaptations from Poppyscotland, which provides life changing support to the Armed Forces Community.
The ex-serviceman said: "Having Maisie massively changed my outlook on life overnight. I try to be more positive now, but, at the time, it was very difficult; it was a horrendous, stressful time."
Stewart, who works as a service engineer, revealed: "Thinking back now, sending her home on Christmas Eve was not coincidental – it was so we could have Christmas together as a family. The doctors did not expect her to live longer than three months.
"But when we went back to Ninewells, you could see the shock on the doctor's face; he could not believe she was here. She is doing so well; she is six now and is a cheeky wee monkey."
Stephane added: "It was so great to have Maisie finally home with us as a family. It was a bit surreal and we didn't really know what to do, but we tried to put on a normal Christmas for our other daughter Kayleigh.
"Before she turned one, Maisie was at up to five hospital appointments a week. Other friends and family members were having kids at the same time as me, and I felt isolated, as the other mums were having play dates and we couldn't go."
Maisie's condition affects all four limbs and the rest of her body. Because she cannot control her legs, arms and body, it means she is confined to a wheelchair, but Maisie's fun personality shines through, said her proud dad: "For a while she couldn't smile or show facial expressions, but now we get a lot of that. She is interacting with us and it makes us really appreciate what we've got. When she smiles, she lights up the room."
Given the challenges facing Maisie, Stewart and Stephane took the decision to move from their two-storey house in Perth to a bungalow in Bridge of Earn when Maisie was 18 months old.
Stephane added: "It was perfect for us and all on the one level, and it meant that Maisie would never be isolated – she would have been in the other house – but our new home only had two bedrooms."
To build a specially-adapted extension with a third bedroom needed for Maisie, the couple were faced with a bill of £55,000. While the majority of the costs were met by the local authority, it left a shortfall of £20,000 to be paid by the family.
But Poppyscotland gave the family a helping hand. The Armed Forces charity offers practical assistance including providing job training, respite and mental health support, as well as access to a grants scheme, all funded by money raised during the annual Scottish Poppy Appeal and other year-round fundraising.
The Reids received £15,000 from Poppyscotland which was, at the time, the biggest-ever individual grant the charity had awarded. An additional £5,000 was raised by friends and family members as well as some smaller donations from other charities. Their generosity meant that instead of getting into significant debt, the couple were able to extend their home with a third bedroom and wet room, free of financial burden, and get a mobility car.
Stephane said: "As well as an extension, we had to fork out for a mobility car so we could get out and about with Maisie, and a new driveway. It is great Poppyscotland was able to fund it, as we would have had to take a loan out and would not have been able to afford a mobility car without Poppyscotland's contribution.
"We had heard about Poppyscotland, but had not actually considered contacting them. My uncle Peter was in the Forces, so he knew that they might be able to help. If it wasn't for Uncle Peter, we would never have got the grant."
Husband Stewart, who ran his first marathon in 2015 in aid of Poppyscotland, added: "When we got the funding, we were gobsmacked. It was amazing that Poppyscotland donated that amount of money.
"We thought a wee bit of help would have been nice, but we certainly weren't expecting the amount we were given. It was life changing. Looking back, we had no idea where we would have got the money from. Nobody likes to ask for help, but we would have been goosed without it."
For servicemen and servicewomen used to defending others, asking for help in times of crisis can be difficult. But through tailored support, the charity can help Forces personnel and their families get back on track.
Now the Reids want to share their story and encourage people to call for backup from Poppyscotland as it is available in times of need.
Stephane added: "What Poppyscotland has done for us changed our lives. They went above and beyond. They might be able to do the same for you so don't be afraid to ask."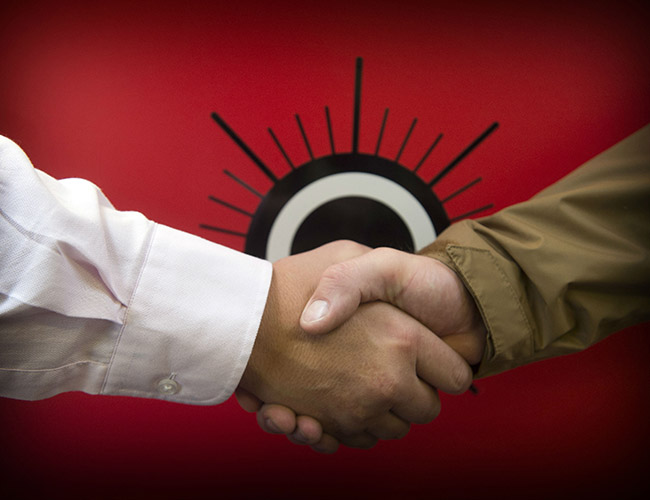 Advice and support to get you on your feet again
Poppyscotland provides year-round support to those who have served in the Armed Forces along with those still serving and their families. At times of crisis, many may feel too proud to ask for help, so it is vital to spread the word about the support that is available to those who have given so much to aid others.
The money raised in the annual Scottish Poppy Appeal goes towards the following services:
Tailored Support and Funding
The charity can provide wide-ranging grants for areas such as home repairs or adaptations, replacing household goods and clothing, and supporting in other areas of need.
Advice
Through Welfare Centres and the Armed Services Advice Project helpline and advisers throughout Scotland, support is offered with financial problems, employment, housing and more.
Employment
From retraining to help finding work, a range of services are in place for veterans.
Mobility
Occupational therapist assessments, home adaptations and mobility aids are just some of the ways the charity can assist disabled servicemen and servicewomen.
Respite
Much-needed breaks are provided for those in the Armed Forces community who wouldn't otherwise have the means or opportunity.
Housing
Funding can be provided for home improvements, rental deposits and home-start items, often working alongside housing organisations.
Mental Health
Poppyscotland works with specialists to provide advice and support to veterans suffering with mental health difficulties.
*If you need assistance or support, call Poppyscotland for backup on 0131 550 1557 or visit the website by clicking here.