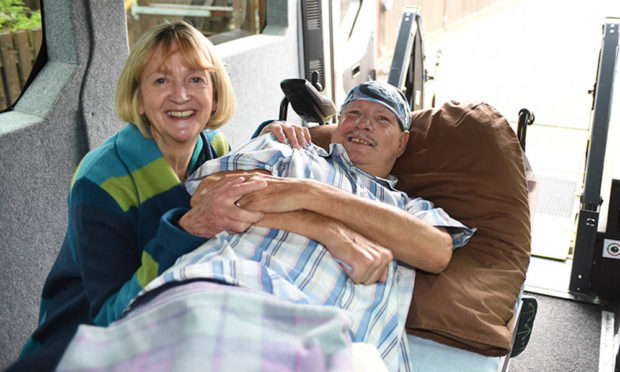 It is the charity behind the iconic Scottish Poppy Appeal, gathering funds for former and currently-serving members of our Armed Forces and their families.
But the annual appeal is only the starting point for Poppyscotland's year-round work, with the money raised used to support ex-service personnel and those still serving at times of crisis in every aspect of their lives – from retraining and finding employment, to assessing the needs of disabled veterans and providing specialist equipment to help them live independently.
Mary Spence is one of a new team of four welfare support workers and two independent living advisers working across Scotland to provide veterans with help that is tailored to their unique situation and can include funding for household provisions, respite breaks, and accessing healthcare and counselling.
The Welfare Support Service provided by the team was launched in May and has hit the ground running. Mary, whose role covers the south of the country, from Lanarkshire to the Borders, explained: "There are two welfare support officers in my region as well as myself as the independent living adviser. If a veteran or a family member needs help they can go to the Poppyscotland website where they are directed to a 'Get Help' section.
"Initial contact would be made by our support services team in Edinburgh, and, after assessing their needs, myself or one of my colleagues might go out to do a home visit. We also work closely with partner organisations, including other Armed Forces charities and local authorities."
Having spent more than 20 years working with veterans at the MoD and at the Department for Work and Pensions in a mental health community partner role, Mary is perfectly placed to offer former servicemen and servicewomen the help they need yet are often reluctant to ask for.
She said: "We ask a lot of the people who serve in our Armed Forces. Whilst they are part of the military they are cushioned from life's other issues, but at the end they come out into a world they have no knowledge of, where they don't have experience of registering for health services or arranging appointments.
After the camaraderie of military life, it's a big adjustment when they come out and have no one covering their back. They all want to contribute and be independent, but some need guidance and support. Many are very resistant to charitable help and it can take a lot of encouragement to help them use it."
To those concerned about a loved one who has served or is serving, getting in touch with Poppyscotland can be the first step to finding a way forward.
Mary added: "If you know someone who is struggling but who is reluctant to get in touch then you could make contact with us.
"Individuals have to want our services, but we can also offer advice to family about how they could begin to open doors. We often find in those situations that the people who have done most of the shoring up for a long time are also in need of help themselves.
"Sometimes they will reach out on behalf of a loved one, but, once we scratch the surface, we can offer help to all the parties concerned. A lot of people are more comfortable making contact to ask a specific question about how to do something. Once we begin a conversation you'll often find there is more we can help with. The first step is reaching out and asking a question."
Christopher's story: Forces charity has changed my life totally
Christopher Fisher joined the Royal Navy aged 16 – a decision that pleased his mother who thought it would keep him on the straight and narrow and offer him a new life away from the Clydebank council estate where he grew up.
As a Leading Seaman he toured the Far East, West Indies and was involved in typhoon rescue work in the Taiwan straits. He spent five years in the Merchant Navy as an Able Seaman working on supply vessels and carrying out deep-sea work in India before joining the MoD Police in 1982. But in 1990, Christopher was medically retired due to a degenerative condition which has caused his hips and knees to fuse, forcing him into a foetal position.
Christopher, 65, who is a father-of-three and grandfather-of-five and lives in Cardross, near Helensburgh, has shown remarkable resilience in the face of enormous physical challenges, completing an Open University honours degree in law and embarking on a criminology and psychology course.
As his condition deteriorated over the years, Poppyscotland had been able to provide mobility aids for his home. And the charity was on hand to help again in 2016 when Christopher and his wife Julie were dealt a financial blow after their 20-year-old van failed its MOT, and they faced having to pay out for a new one. Within six weeks of contacting Poppyscotland, Christopher had a new mobility vehicle with a lift at the back.
He said: "I can't emphasise enough how life-changing Poppyscotland's support has been. The new van has really opened up my life. If the support had not been available it would have been mentally debilitating and I would have been housebound.
"I would have rather done it myself, but needs must and it's nice to know that the support from Poppyscotland was there. I would encourage people to take a step forward and find the courage to ask for help instead of suffering in silence."
*Is it time to call for backup? Your time in the Forces never leaves you, neither does Poppyscotland. Visit the website by clicking here, email: GetHelp@poppyscotland.org.uk or call 0131 550 1557.