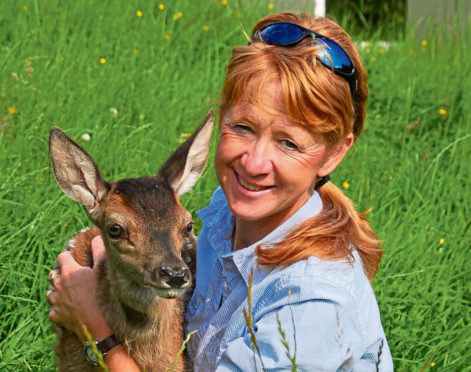 During my childhood in Ardnamurchan, while driving home in the gloaming, deer dominated our journeys.
Their shining eyes and exaggerated shadows caught mysteriously in the car headlights and instilled awe. I have had a passion for our largest land mammal ever since.
Even now, I find it fascinating that stags shed their antlers annually, and that the new growth is the fastest growing mammalian tissue on earth. Red deer have a fascinating life-cycle and they epitomise a unique part of our wild heritage. During the winter, red deer become more visible as they descend to the low ground in search of easier pickings.
Conversely, during the summer, they venture to wind-bruised ridges and high crags to avoid the vagaries of insect life. By June, gone is their dun-coloured coat and in its place a resplendent rich red colour of burnished conkers, giving rise to their name.
Towards the end of May and throughout June, dappled calves are born. When I was a child, I wandered on to the flanks of Ben Hiant, Ardnamurchan's highest hill overlooking the Sound of Mull, to watch deer. At calving time, I lay in the tawny grasses listening to the ticking of grasshoppers, the mewing of buzzards, or the harsh "krrk" of ravens.
The hinds break away from the herd as birthing time approaches and choose a sheltered location.
I might find a calf, hours old, curled up sleeping in a grassy corrie on Ben Hiant and awaiting the return of its mother. Its pale camouflage spots perfectly mimicking the landscape of rippling bog cotton. I hoped that one of the stalkers might find an orphan calf for me to bottle-rear. Over the years I have hand-reared numerous roe fawns, but until 10 years ago, a red deer calf remained elusive.
Close relationships with animals have punctuated my life. I relish the challenge of hand-rearing orphans, though it often comes with a high emotional price.
It was a sultry June afternoon when a female red deer calf was delivered to me, cocooned in a thick insulated jacket in the boot of a car. She was pathetic. Her head was lolling back on her body in the ghastly position I've come to dread with any animal – indicating death may shortly follow.
She was hot and stressed and I felt there was no hope, but didn't want to appear negative as her story unfolded. The calf had been found in a ditch and taken to the vet who had diagnosed a heavy tick burden.
She had been given strong medication and treated for dehydration. My visitor had her for two days and said that during that period, she had rallied, but he had no time or space to keep her.
When I pinched her spotty coat, it remained like a tent and did not slip back into place – indicating she was dehydrated again and urgently needed fluids. I mixed a solution of glucose and milk powder and tried to get it down her. But she couldn't suckle and seemed barely able to swallow.
Eventually, I injected fluids under the skin and left her to recover. Stress is the biggest killer of wild casualties, and she needed peace. Glancing back as I tiptoed out, two huge brown eyes rolled uncontrollably, revealing their whites. It seemed hopeless.
Next day I rose at dawn. In trepidation, I rushed down to the pen. I felt sure she would have departed. Instead, large donkey-like ears moved expressively, and bright dark-brown eyes peered up at me nervously. The cut leaves I had put out remained untouched, and she hadn't moved. But she was alive.
Initially, I had felt she would be better to be put to sleep, but she had a will and brightness. She was a sunbeam breaking through a dense black cloud. We named her Ruby. Sceptics might ask, why bother when there are so many deer in Scotland? I bothered because I thought she was one of the loveliest beings in creation.
If she did recover, which seemed unlikely, we would have her for life, but that wouldn't be a problem for my partner Iomhair and I.
This was not a casualty that could be released, but I knew that red deer hinds are easily domesticated. An elderly stalker friend whom I loved spending time with had told me about a hind calf he reared. He had her for years, and she would even follow him out during the stalking season.
I wanted to beat the ticks too, for they are the most dangerous creatures in the Scottish countryside – tiny yet with the power to severely disable, carrying diseases that trigger fevers and paralysis. Over the past 20 years, tick-related issues have become increasingly prevalent – and Lyme disease can be devastating for humans.
With more valuable farm livestock lost to ticks each year, we felt it would be a coup if we pulled the calf through this, and perhaps we might learn ways to deal with the problems.
But let's not forget, we had completely fallen for this beautiful animal. Having always wanted to be a vet, caring for animals is something that makes me extremely happy.
Two vets, including a locum from Belgium who had never experienced ticks, or indeed deer, came to see her. Both wanted to see how she would fare after such an infestation. Could she ever recover?
They gave her more strong antibiotics, steroids and vitamin injections. She was covered in repulsive, bulbous grey ticks, and each had to be removed since it seemed that the toxins in perhaps only one tick's saliva were the cause of the paralysis. The Belgian vet and I lost count after we had pulled off 200.
The calf's legs were powerless and muscles useless. So, too, was her sucking reflex. Getting any fluid into her was a struggle, but she remained bright and visibly pleased to see me whenever I appeared.
Our neighbour Margaret helped in the ensuing saga and was an excellent nurse when I was away.
Then after nearly a week, the calf suddenly started to suckle. The bottle of milk vanished, and then she was looking for more. It was as if someone had pressed a switch and now there was light.
Her legs remained weak and useless, like those of a floppy rag doll, but we continued to massage them to stimulate blood flow. We had been taking her out and helping her to stand in the field and had been propping her up between bales inside.
I decided that if she couldn't get up by herself after a month, then we must let her go. It hung over the three of us.
Then, after a fortnight, I went to her pen and there she was standing, wobbly, but all by herself, unaided.
Was there perhaps a tiny glimmer of hope?
To be continued…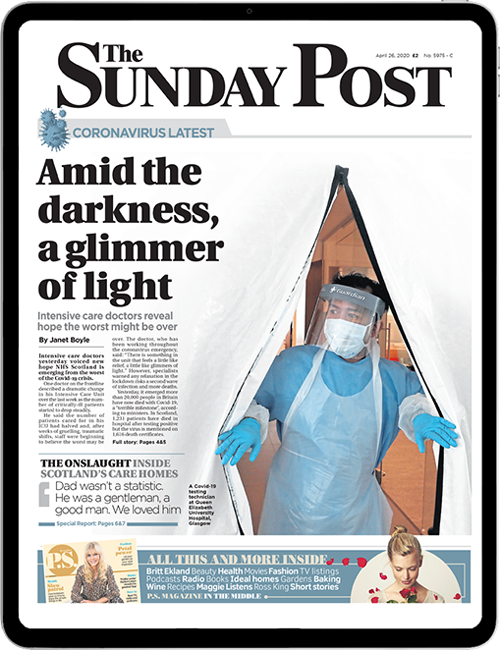 Enjoy the convenience of having The Sunday Post delivered as a digital ePaper straight to your smartphone, tablet or computer.
Subscribe for only £5.49 a month and enjoy all the benefits of the printed paper as a digital replica.
Subscribe