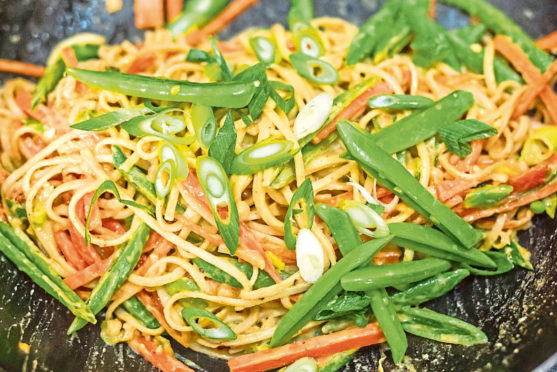 This recipe is from The 7-Day Basket by Ian Haste, Headline, £25.
You'll need
125g dried egg noodles
Splash of olive oil
1 tsp chilli flakes
1 carrot, peeled and sliced into matchsticks
200g sugar snap peas, halved
1 tbsp soy sauce
4 tbsp crunchy peanut butter
Juice of 1/2 lime
2 sprigs coriander, finely chopped
2 spring onions, cut into small slices
10 peanuts, crushed
Salt
Method
Add the noodles to a pan of salted boiling water and cook until starting to soften, then drain.
Pour a splash of oil into a wok or high-sided pan. Add the chilli flakes, carrot and sugar snap peas and stir-fry for one minute. Add the soy sauce and peanut butter, stirring the sauce through the veg for around a minute.
Add the noodles and a squeeze of lime and mix together well, adding a splash of water if this is looking too sticky to loosen it off, then stir in the spring onions and most of the coriander.
Serve the noodles with the crushed peanuts over the top and the remaining coriander.