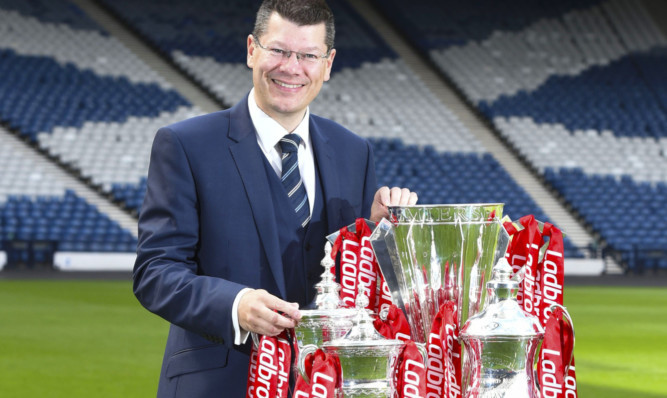 The SPFL has released the post-split fixtures as the Premiership season draws towards its close.
The first weekend of top six fixtures sees Rangers head to Hearts and Kilmarnock hosting Aberdeen, while Celtic head to Hibs.
The Old Firm clash at Ibrox on May 12, and an Edinburgh derby is scheduled for April 28 at Easter Road.
Celtic host Hearts on the final day of the season, with Rangers at Kilmarnock and Aberdeen at Hibs.
In the bottom six, the final day will see Dundee welcome St Mirren, St Johnstone head to Hamilton and Motherwell host Livingston.
The full list
TOP-SIX
Saturday 20 April, 2019
Heart of Midlothian v Rangers – Live on Sky Sports, kick-off 12 noon
Kilmarnock v Aberdeen, kick-off 3.00pm
Sunday 21 April, 2019
Hibernian v Celtic – Live on Sky Sports, kick-off 12.30pm
Saturday 27 April, 2019
Celtic v Kilmarnock – Live on Sky Sports, kick-off 12.30pm
Sunday 28 April, 2019
Hibernian v Heart of Midlothian – Live on BT Sport, kick-off 12.15pm
Rangers v Aberdeen – Live on Sky Sports, kick-off 3.00pm
Saturday 4 May, 2019
Aberdeen v Celtic – Live on Sky Sports, kick-off 12.30pm
Heart of Midlothian v Kilmarnock, kick-off 3.00pm
Sunday 5 May, 2019
Rangers v Hibernian – Live on Sky Sports, kick-off 3.30pm
Friday 10 May, 2019
Aberdeen v Heart of Midlothian – Live on BT Sport, kick-off 7.45pm
Saturday 11 May, 2019
Kilmarnock v Hibernian, kick-off 3.00pm
Sunday 12 May, 2019
Rangers v Celtic – Live on Sky Sports, kick-off 12 noon
Sunday 19 May, 2019
Celtic v Heart of Midlothian – Live on Sky Sports, kick-off 3.00pm
Hibernian v Aberdeen, kick-off 3.00pm
Kilmarnock v Rangers – Live on BT Sport, kick-off 12.30pm
BOTTOM-SIX
Saturday 20 April, 2019
Hamilton Academical v Motherwell, kick-off 3.00pm
Livingston v St Mirren, kick-off 3.00pm
St Johnstone v Dundee, kick-off 3.00pm
Saturday 27 April, 2019
Hamilton Academical v Livingston, kick-off 3.00pm
Motherwell v Dundee, kick-off 3.00pm
St Mirren v St Johnstone, kick-off 3.00pm
Saturday 4 May, 2019
Dundee v Hamilton Academical, kick-off 3.00pm
Motherwell v St Mirren, kick-off 3.00pm
St Johnstone v Livingston, kick-off 3.00pm
Saturday 11 May, 2019
Livingston v Dundee, kick-off 3.00pm
St Johnstone v Motherwell, kick-off 3.00pm
Monday 13 May, 2019
St Mirren v Hamilton Academical – Live on BT Sport, kick-off 7.45pm
Saturday 18 May, 2019
Dundee v St Mirren – Live on BT Sport, kick-off 12.30pm
Hamilton Academical v St Johnstone, kick-off 12.30pm
Motherwell v Livingston, kick-off 12.30pm