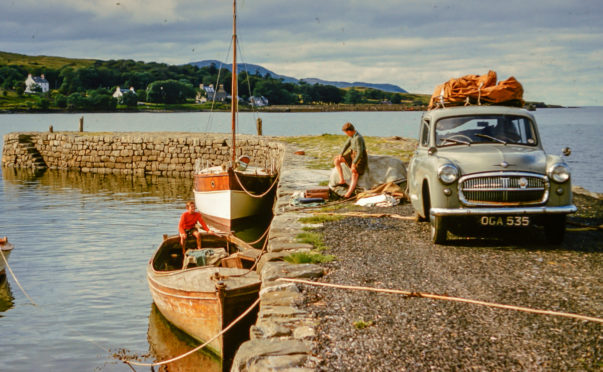 As the crow flies, it lies just two and a half miles from bustling Broadford on Skye but crows can't swim and, for Len and Margaret Whatley, the island of Pabay could have been the end of the earth.
In 1950, the couple moved there from the Midlands, having seen Pabay while on a family holiday to Skye three months earlier.
For them, the dream of being far from the madding crowd, to be real-life Robinson Crusoes or a Swiss Family Robinson, was to become a reality.
Despite doubts from family, friends and locals on Skye, the family made a go of isolated life, only moving on 20 years later due to ill health.
For historian Chris Whatley, professor of Scottish history at the University of Dundee, Pabay and its three miles of coastline is dear to his heart.
As the nephew of Margaret and Len, he was a frequent visitor to the island from when he was just three years old. Towards the end of her life, Margaret made Chris promise to tell the family's story of life on Pabay.
True to his word, Pabay: An Island Odyssey tells the tale of what Chris describes as a "story of regeneration, of incomers succeeding".
"Margaret was a dear aunt, a surrogate mum," said Chris. "I was very fond of her, as she was of me.
"I owed her a lot, as she showed me a lot of love and support, and I feel I've paid my debts with the book.
"She had a remarkable life. She came to Pabay at 19, with her two children, and a dislike of the sea.
"They had to do all sorts to make ends meet.
"I've written lots of history books, but this one is different because it's partly autobiographical and it touches on themes that are timeless, of trying to survive on an island."
Len was a conscientious objector during the Second World War, so was given agricultural work instead.
This gave him a taste of farming and he continued on after the war, but the city of Birmingham was encroaching from all sides and he was on the lookout for somewhere new.
That turned out to be Pabay.
"When they saw it from Skye it looked like a jewel in the green, lush land, but it's broken many hearts over the years," continued Chris.
As chance would have it, the owner of Pabay was an older lady who lived just 10 miles from them in Birmingham and was prepared to sell. It was the first time Pabay was sold as a free-standing unit.
Life on the island didn't get off to the best of starts.
Many of their possessions were ruined by the wind and rain as the ferry transporting their furniture hit bad weather.
Times would rarely get easier, but the enterprising family dug in and found a way to eke out a living.
"They tried various forms of farming," Chris said. "It wasn't really a self-sustaining island.
"Len had a breakthrough with hen production. He set up an accredited poultry station, sending eggs around the country, and then got into rearing and selling one-day-old chicks."
But a bad back and a heart attack in the early '60s put an end to farming, and other means of making a living had to be found.
"They were always very practical and turned their hand to anything.
"Margaret would make bedclothes, turned orange boxes into bedside cabinets, knitted. Len rigged up one of the generators to work with the wind.
"He helped with knitting designs, then got into painting, selling them to the island's visitors. Margaret sold lots of home baking.
"They were given permission from the Post Office to produce Pabay stamps, which made a useful sum of money."
It was a chance find that led to the family's later, very successful, pottery business.
Len came across some dark red boulder clay and taught the kids how to make a pot. It sparked an interest in pottery and he devoured several books on the subject.
In 1964, a Sunday Post reporter travelled to Pabay, described in the article as "Len's Kingdom", to write about the "family's thrilling life on the deserted island".
Around that time, the family actively began trying to sell the island and, in 1970, a seller was found.
The Whatleys, now six children strong, sold for just £14,000 and departed to Skye where they set up Edinbane Pottery, which remains successful and family-run to this day.
Len passed away in 1974, aged just 55, and Margaret was later remarried to a local crofter.
Today, Pabay is a holiday island and while trees have been replanted, Chris laments the fact there is no trace of the graft and endeavour his aunt and uncle put into the place.
But the memories of Pabay remain vivid and hold a special place in his heart.
"As a child, it felt like being part of an Enid Blyton adventure – the beaches, caves, cliff, playing on boats," he added.
"Anyone who has been to Pabay has become a more independent person and it taught people like me, a Glasgow boy, several skills.
"I suppose Len and Margaret were pioneers.
"It was tough, but it shows what can be achieved when you're determined."
---
The story: July 12, 1964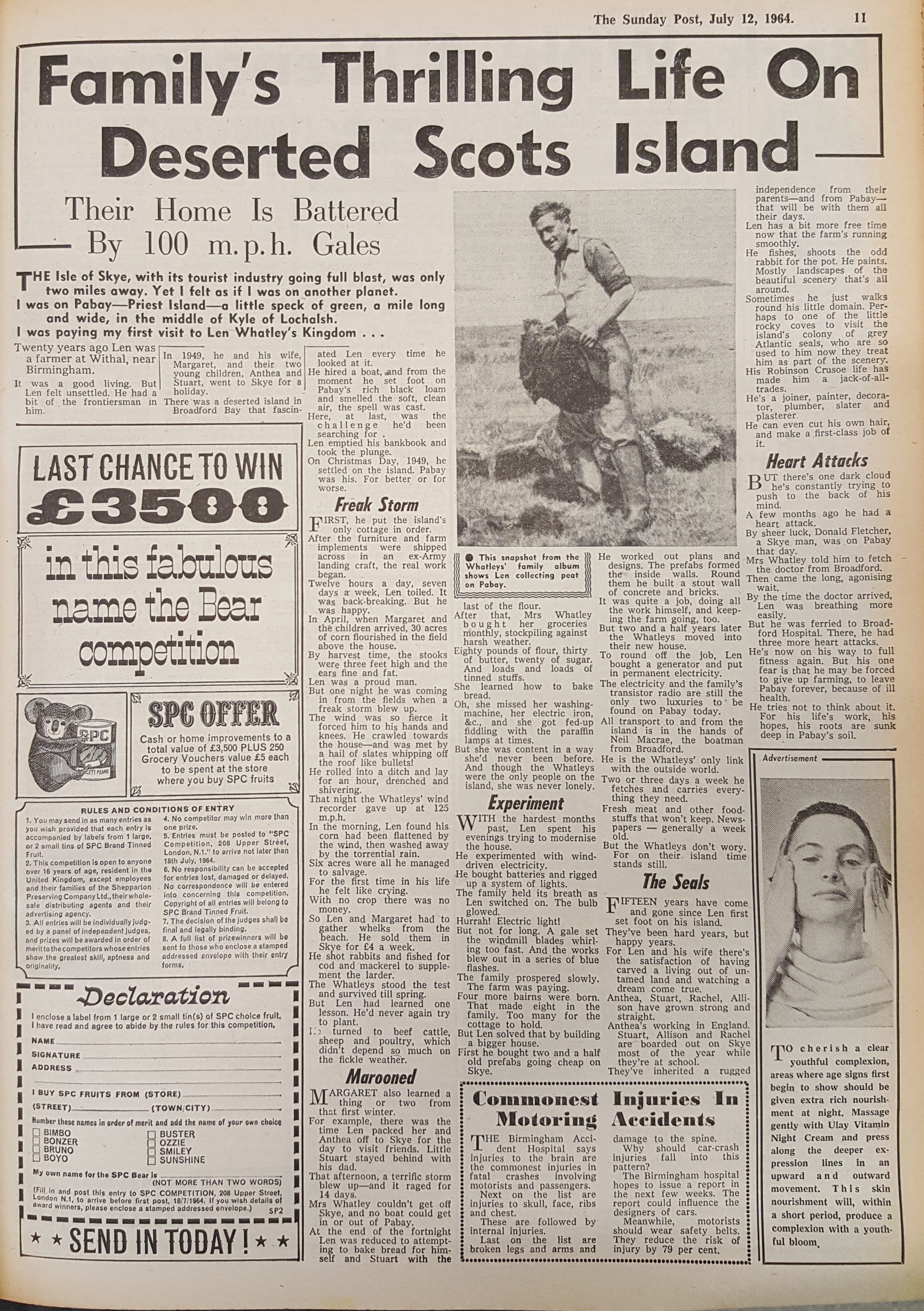 In July 1964, The Sunday Post visited Len Whatley's island, 14 years after he settled there. Headlined "Family's Thrilling Life on Deserted Scots Island", the story celebrates the family's endurance and commitment to Pabay but remembers the first harrowing months.
Twelve hours a day, seven days a week, Len toiled. It was back-breaking. But he was happy.
In April, when Margaret and the children arrived, 30 acres of corn flourished in the field above the house.
By harvest time, the stooks were three feet high and the ears fine and fat.
Len was a proud man.
But one night he was coming in from the fields when a freak storm blew up.
The wind was so fierce it forced him to his hands and knees. He crawled towards the house and was met by a hail of slates whipping off the roof like bullets!
In the morning, Len found his corn had been flattened by the wind then washed away by the torrential rain.
Six acres were all he managed to salvage. For the first time in his life he felt like crying. With no crop there was no money.
So Len and Margaret had to gather whelks from the beach. He sold them in Skye for £4 a week. He shot rabbits and fished for cod and mackerel to supplement the larder.
The Whatleys stood the test and survived till spring…
Len has a bit more free time now that the farm's running smoothly.
He fishes, shoots the odd rabbit for the pot. He paints. Mostly beautiful scenery that's all around.
Sometimes he just walks round his little domain. Perhaps to one of the little rocky coves to visit the island's colony of grey Atlantic seals, who are so used to him now that they treat him as part of the scenery.
---
Pabay: An Island Odyssey, published by Birlinn