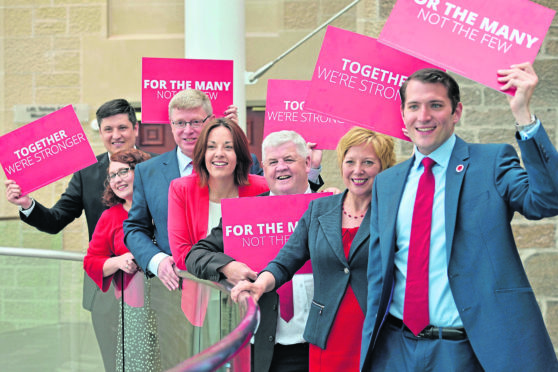 A Scottish Labour MP who lost his seat in the election says a Scottish independence referendum should be held next year.
Ged Killen was one of six Labour MPs who lost their seat north of the border as Boris Johnson secured a Westminster majority and the SNP won 48 out of 59 seats north of the border.
Nicola Sturgeon has challenged the PM to give Scotland the powers to hold referendums and Ged Killen, who lost Rutherglen and Hamilton West to the SNP, said he wanted a referendum within the next 12 months so the Holyrood ­elections were not dominated by the ­independence issue.
He said: "Looking at examples of places like Quebec, we are going to have another referendum before this issue will be ­considered settled.
"We have to be realistic, as a Labour Party and as a movement, that if people voted for it, as democrats, we have to accept that.
"When we had the 2014 referendum, there should have been some thought given to this issue, maybe a minimum time period built in or a more explicit set of conditions that had to be met before another one was held.
"There wasn't any thought given to that, it seems, and we now are in this place where there is a lack of clarity over what constitutes a mandate.
"One way or another this issue has to be resolved and I would prefer it is resolved before the 2021 Scottish Parliament election. If not, it is going to be another election about the constitution, instead of what of it should be about, which is public ­services in Scotland and the SNP's record on those issues."
At Holyrood on Thursday, only two Labour MSPs opposed the Scottish Government's referendums bill, which would set out the rules for future votes.
Mr Killen said: "Do we want to agree with Boris Johnson that there is no mandate for a referendum or do we say we are democrats and accept that is what people voted for and that there should be one?
"Those are the only options we have and I know which one I prefer.
"I'm still not convinced by the SNP's case for independence. I haven't changed my view on that. They still have big questions to answer on the economy, public spending and currency.
"But it doesn't mean I am afraid of the question. I think we can defeat that argument. But I don't think it is a sustainable position to continue to deny what people seem to be voting for."
Paul Sweeney, who lost the Glasgow North East seat to the SNP, said a second referendum should offer voters more than a Yes or No vote to independence.
He said: "The future of the UK is up for question and the current government and Labour need to respond to it.
"But the SNP's Growth Commission prospectus and their agenda doesn't deliver socialist outcomes and entails far worse austerity than what we've seen so far.
"They are intellectually bankrupt when it comes to presenting a case for a separate Scottish state under their model.
"That said, I think there needs to be a fundamental restructuring of the British state. We need to move towards a more federal arrangement.
"If we are going to have this discussion in Scotland, it can't just be about people being shanghaied into a Yes or No situation again. There has to be a plurality of options that are discussed and considered as destinations for Scotland's future as well as the rest of the UK."
Another former Labour MP, Martin Whitfield, said supporting a second independence referendum would be "the most naive thing the party could do".
He won the East Lothian seat in 2017 a majority of more than 3,000 but lost this month to former justice secretary Kenny MacAskill in a 6% swing to the SNP.
He said: "The last thing the county needs is further divisions in society and another binary constitutional battle, which detracts from the urgent need to improve our public services.
"The Labour Party must also continue to oppose nationalism, because there is nothing progressive about breaking up the UK and making people poorer."