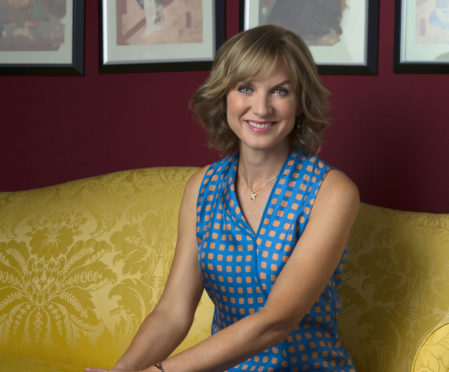 Britain's favourite antiques show will soon be taking the road to Scotland again.
The edition being screened in two weeks' time will come from the V&A in Dundee when presenter Fiona Bruce will be on the Tay, 40 years after the programme's debut in 1979.
It's still as popular as ever with around six million people regularly watching the show on Sunday evenings. Ahead of the visit, Bill Gibb compiles 40 fascinating facts about the Roadshow's colourful history:
---
An important lost work by artist Richard Dadd came to light at the Roadshow in 1986. It was eventually sold to the British Museum for £100,000
A family teapot brought in by avid fan Norah Ambrose during the programme's early years proved a life-changing moment when she bought her council house on the proceeds of the sale.
Only one expert remains from the first series. Roadshow veteran David Battie has attended hundreds of shows.
A rare Leica Luxus 2 camera later sold for an eye-watering £385,000.
Ozzie the Owl is the most famous ceramic to come to light on the show. Valued at £20,000, its owner, Pat, sold it and used some of the proceeds to support a charity helping street children in Brazil.
Perhaps the spookiest object featured was a voodoo-type doll which had been pushed through the letterbox of a suffragette supporter at the turn of the 20th Century. It is now in the collection of the National Museum of Wales.
The most valuable painting to be seen was a work by war artist William Orpen, which he had disguised by signing it backwards. It was valued at £250,000.
Legend has it that the greatest let-down in Roadshow history was the evaluation of a glass bottle which the owner had paid handsomely for but was in fact an olive oil bottle from Tesco. The embarrassment was not shared on camera.
Jewels found on a rubbish tip elicited one of the best reactions when a mum told her son: "Find yourself a girl and you can have these".
Among the Roadshow experts are a former long-haul airline pilot, rock journalist and celebrity hairdresser.
Among the most shocking objects brought to a Roadshow were two ceramic bowls melted after the nuclear bomb was dropped on Hiroshima.
The highest audience figure was 15 million in the 1990s.
Between 15,000 and 20,000 items are valued per episode. Between 50 and 60 are filmed for the two shows made at each location.
"To Una who worked like a slave"; that's the dedication, written by Ian Fleming to the secretary who typed his first two Bond books, later brought proudly by her to a show. It was valued at £60,000.
The first outdoor show was at Heveningham Hall in 1993. Before that, town halls and sports halls hosted.
A British soldier presented a cigarette packet once given to him by Nazi general Erwin Rommel.
A white feather letter sent to a First World War conscientious objector triggered protest from some viewers who said it was unpatriotic.
A Faberge flower blossom was valued at £1m after being presented by an Army regiment. Previously stored under a commanding officer's bed, it now takes centre stage during regimental dinners.
When the Roadshow filmed at Hopetoun House, near Edinburgh, so many people arrived that traffic closed the Forth Road Bridge.
A lost jewel by arts and crafts designer William Burgess came to light after an appeal on the show. The lucky owner sold it for £31,000.
Perhaps the most moving object seen was a small ring kept hidden under Second World War concentration camp survivor Zdenka Fantlova's tongue.
Recent history was brought vividly to light when a Tombola, complete with cards signed by many Conservative MPs, was brought in to a recording. It had been found in the wreckage of the Brighton hotel bombing.
Artist Banksy's donation to a Bristol boys club was valued by Rupert Maas and was later sold for more than £400,000 to a private collector.
Judith Miller, from Galashiels, values ceramics and miscellaneous and has been with the Roadshow for 15 years.
"Sometimes it's the value and sometimes it's the stories that make items stick in the mind," says Judith.
"Someone brought along a tureen from a Belgian factory called Tournai. It was really rare and we valued it at £20,000 to £30,000, but it'd be more now.
"Then there was a hand-painted jigsaw which was very nice but didn't have huge monetary value. But the lady said that her older brother, who was an artist, had been a prisoner of war in a German concentration camp and painted this there. He had asked one of the guards if they would post it so his sister would get it on her birthday, and he did.
"It might not change your valuation much, but it makes it such a precious thing."
A 1654 Silver Scots Corporation Cup at Kelvingrove in Glasgow in 2007 was inscribed: "The gift of James Kinnear first Master of the Scots Corporation, January 1683/4." Expert Alastair Dickenson said: "I would think if this came up at auction, it would fetch £100,000.
A special programme in which Holocaust survivors brought in fragile artefacts moved and shocked many viewers. Most reviled was a "game" called "Jews Out", made for families before the outbreak of war.
Lots of objects brought in have been found in strange places. Diamond jewels were found sewn into an upholstered chair, while two important paintings were discovered in a loft.
A signed photo of golfer Old Tom Morris on the course at St Andrews was brought along to a Dundee show in 2008 after being found after a house clearance. Describing Morris as "one of the legends of golfing history", expert Marc Allum valued it at between £2,000 and £3,000.
The show's most important silver collection was discovered under his father's bed by Richard Hobbs in 1993. His mother thought the silver was dreadful – it later sold for £350,000.
There have been five hosts: Bruce Parker, Angela Rippon, Hugh Scully, Michael Aspel and Fiona Bruce.
Lawrence of Arabia's watch was a remarkable find during the '90s. The owner, unaware of its significance when he brought it in, went on to sell it for £34,000 to a collector in Geneva.
One of 600 Steiff bears made as a memorial to children who lost their lives on the Titanic was valued at £200,000 in 2016.
A Rabbie Burns poem brought along to an Edinburgh show in 2006 thrilled experts who confirmed the two verses were in Burns' hand and would be worth between £8,000 and £10,000.
Putting on a Roadshow is a massive undertaking, according to series producer Robert Murphy.
"It's planned with military precision and I've already been to Dundee to check things out a few times.
"We'll have our articulated truck arrive on the Friday with all our set and Saturday morning we rig everything up.
"We have two big marquee tents. One has become famous as our tea tent and the other is for make-up and for people to wait to be filmed.
"When I make documentaries you might have a sheet of 10 people involved – with Roadshow the call sheet is a book with hundreds of names. And we might have about 50 local stewards to keep things running smoothly.
"We average about 4,000 to 5,000 people, with the first ones looking to bag their position from 7am. We admit the public from 9.30am until 4.30pm and we will keep filming until 7pm. We pledge that everyone who is in the queue for a valuation will be seen by an expert, so sometimes we will run on a bit."
The Roadshow was the first factual BBC programme to be filmed in High Definition, at Arundel Castle back in 2006.
Graham Guyan, 57, from Aberdeen, took Sir Harry Lauder's walking stick to Crathes Castle to find out its value.
"My late wife Jan bought it at a dealer's in England somewhere many years ago," Graham revealed.
"I grew up with Lauder's music but the stick really just lay around the house.
"It turned out that it was presented to Sir Harry around the time of his knighthood in 1919. It was valued at between £2,000 and £3,000. I've since been advised that interest from America could see it go for much more than that, but I think I will probably leave it to a museum."
Antiques Roadshow has featured many celebrity-owned objects; a diamond bracelet from Rita Hayworth, Marc Bolan's guitar, even a loo roll rejected for use by the Beatles. A jacket once worn by JFK was valued on the show at up to £300,000.
Silver specialist Gordon Foster, from Dunblane, has been with the Roadshow for 15 years.
"There are a couple of finds at Scots shows that stick in the mind. At Balmoral there were a pair of lovely silver stags gifted to the owner's grandparents by the Duke of Atholl. They were valued at about £15,000 each.
"And at Crathes Castle someone brought along a pair of silver communion cups from about 1680. They were about £60,000 for the pair."
A painting brought in by a vicar was spotted by Fiona Bruce, who had the hunch it was by Van Dyck. Extensive investigation and restoration eventually proved she was right. It's owner, Father Jamie MacLeod, who bought it for £400 in a Cheshire antiques shop, was shocked when told it was estimated to be worth £500,000.
Roadshow veteran Paul Atterbury's favourite piece seen on the show is the camera used to take the fake photos of the Cottingley fairies back in 1917.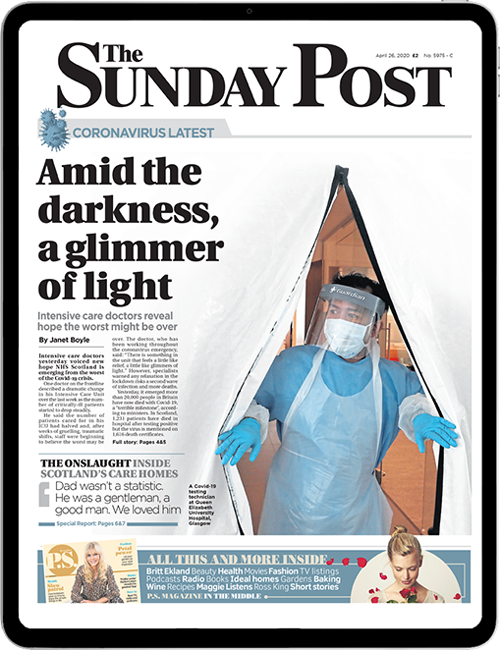 Enjoy the convenience of having The Sunday Post delivered as a digital ePaper straight to your smartphone, tablet or computer.
Subscribe for only £5.49 a month and enjoy all the benefits of the printed paper as a digital replica.
Subscribe