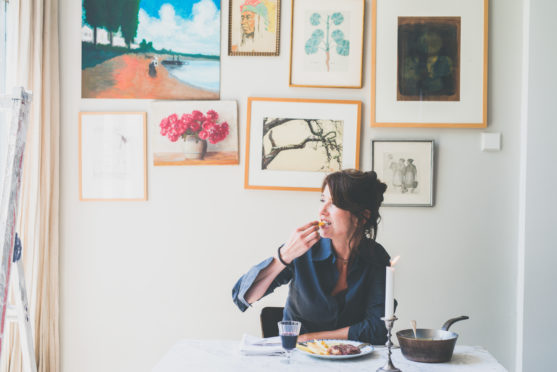 Cooking, eating and sharing a meal is one of the social activities we all enjoy, be it on a weekday with family or during a dinner party with friends.
So, what happens to your appetite when you are faced with eating solo every night?
That's the new-normal many singletons are facing during the current coronavirus lockdown – but just because you live alone doesn't mean you have to settle for beans on toast.
In her new cookbook, Solo Food, Janneke Vreugdenhil has brought together a range of tips, tricks and recipe ideas that make cooking for one a joy rather than a chore, including how to make the most of store cupboard staples, freezing your favourite foods, and creating tempting treats.
"More and more people are living solo" explained Janneke, who is a culinary journalist based in the Netherlands. "Like me, some of them are divorced, others are widows or widowers, or simply haven't yet found the love of their life.
"Whatever the reason, more and more people are consciously choosing to live on their own – in the UK the number of people living alone has doubled in a generation.
"Cooking for one really does require a different approach from cooking for a family or an entire army, and is not simply a matter of quartering a recipe meant for four. Solo cooking requires an approach that is both smarter and simpler.
"The challenge is to make a proper meal using just a few ingredients because you want to throwaway as little as possible, and not spend too much time on it – you don't want to spend an hour in the kitchen every day making something that will take just 10 minutes to eat!"
As well as encouraging solo chefs to experiment and not beat themselves up when dishes go wrong ("Even if what you come up with turns out to be inedible, there's no harm done. That's why they deliver pizzas."), Janneke also details how to make quick fix meals, such as tagliatelle with prawns, and even meals designed to be served in front of the TV.
She explained: "Now that solo seems to be the new togetherness, I feel it's high time to finally take the single cook a bit more seriously.
"Whether you're alone by choice or by chance, whether you eat alone every night or just now and then, I hope this book will help you discover that cooking for yourself can be very satisfying. You're essentially your own ideal guest – you know exactly what this person likes to eat."
Solo Food, by Janneke Vreugdenhil, published by HQ, is out now.